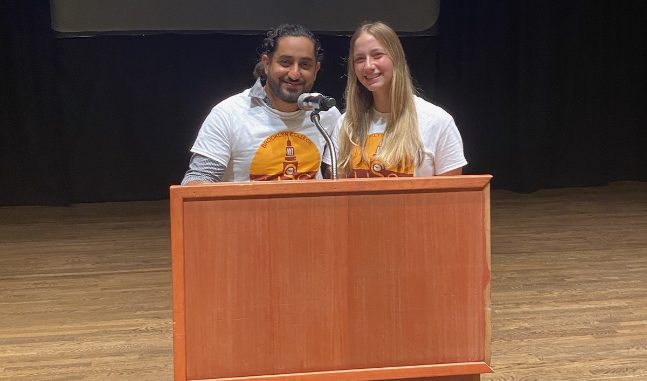 By Gabriela Flores
   Brooklyn College's Undergraduate Student Government aims to boost student life and morale after the university's pandemic shutdown by planning several on-campus events this fall. Members want to engage more students and address the college's ongoing decline in student enrollment and retention. 
   "Less people are enrolling into college, and I want Brooklyn College to stand out as a school that has student life," said Aharon Grama, USG's second-term president. "All CUNY schools are a commuter school, but we'll try to stand out as being a commuter school who has student life."
     BC's preliminary enrollment figures show an 11.74% decrease in total enrollment from fall 2021, according to the Institutional Research and Data Science's Sept. 1 report. During the semester's first week, the student government hosted three events to encourage more students to interact with their student representatives and organizations. 
     "It's been only a week and a half, but I've been having a lot of fun getting to know so many new people and getting involved. It's been a blast for me. I hope it's been a blast for other people," said USG's Vice President Carrie Ebbin, who is serving her first term. 
     Last year, the government established its channels of communication with students and improved how members engage in legislative matters. Members are making efforts to ensure those elected are engaged in committees and discussions, including senate meetings. 
    "Once we're accountable and we are able to show up, we can also hold the administration accountable," Grama said. "I've worked with them [adminstrators], and they're willing to listen and hear out our side, our suggestions. We just need to be over there."
    With the body consisting of newly elected and continuing members, USG aims to continue tasks from last semester, including pushing for the passage of its proposed referendum that calls for the reallocation of student activity fees from inactive organizations like Night Call News and other changes. Next spring, the government will include the referendum on the ballot again for students to vote during election season. USG also aims to use student activity fees from reserves, where the college safe keeps money that was left over from organizations in previous years, for current projects.
    Moving forward, USG will also work with the administration to switch the provider of Bulldog Connection, a platform where Brooklyn College students can access club and student activity information. The possible move to a new vendor called Campus Groups could lead to an app that focuses on BC student life and allow the college to design its features more directly, according to Grama. 
   "I know we have a ton of apps, regardless for all Brooklyn College students – the idea is gonna be to combine them as much as possible," Grama said. "It's gonna be a chat app that people can chat with," he explained, noting that students and faculty can engage with organizations more easily. 
    The body also plans to install more electronic signs at the college's entrances that could advertise events, times of transportation departures for nearby subways, among other notices. So far, USG's goals for the fall are rolling out as expected, with members jointly working with one another. 
   "It's playing out exactly how we expected, where like we have the veterans who kinda lead the way and teach us what to do," said Ebbin. "But at the same time, there have been times when a new perspective, a fresh perspective, can change the way we think."
   USG's next event is set for Tuesday, Sept. 13, with Student Affairs for a welcome bash.