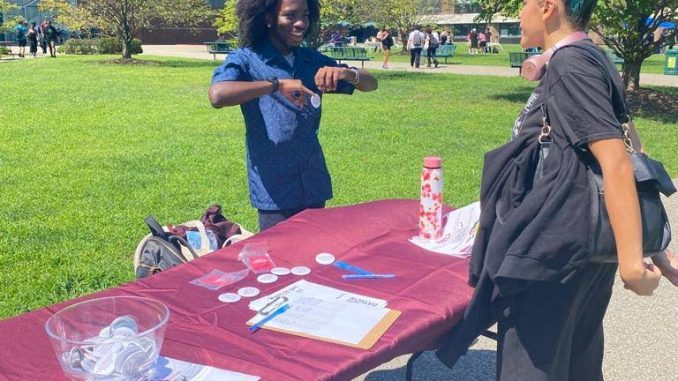 By Gabriela Flores
   In pre-pandemic times, Brooklyn College's up-and-coming broadcasters went on air to share their takes on buzzing topics, music, news, and everything in between. While some students worked in the booths, and others were bustling behind the scenes, WBCR remained alive and afloat. But once COVID-19 abruptly made it close its doors, production stopped – that is until a few aspiring journalists decided to revive the college's staple. 
   "I believe in the power of college radio," said Joel Dave Duncan, the radio's general manager. "And I believe that once college radio is able to provide someone with the opportunity to prove their worth to themselves and to other people, maintain an audience, tell a story, however the case may be, I think that that gives them a great start into the media industry."
   Duncan, who has been working on rebooting WBCR for nearly a year, is no stranger to radio production. Back in their homeland Jamaica, Duncan first worked radio in their church. Once they arrived in the States, they enrolled in Borough of Manhattan Community College in spring 2020, where their first semester coincidentally aligned with the university's COVID lockdown. But with a passion for radio and journalism at large, Duncan eventually joined Brooklyn College to follow the footsteps of one of their role-models: Don Lemon, a BC alum. 
   "So that was what lured me to come to Brooklyn College and more specifically coming to Brooklyn College because of the radio station," Duncan said, who's interest expanded to media analysis of America's discourse and religious lens on gender and sexuality. 
   But when they arrived during the thick of COVID-19, the radio was closed and its team was gone. It didn't stop Duncan from eventually landing at the forefront of reopening WBCR after their professor, Charles Carr, shared that the radio needed rebooting. At the heart of Duncan's decision to join the radio's revamp laid their hope of allowing students to find their niche in a low-stakes environment. 
   "The point of college radio is to give students the ability to experiment and figure out what is it that they like. And that's also an integral part of the college experience where one finds their identity and more so their career identity," Duncan said. 
    Alongside Duncan in the rebooting efforts is Professor Carr, their faculty advisor MJ Robinson, and Kaylin Guzman, WBCR's treasurer and the Vanguard's photo editor. Starting a radio station from scratch came with its challenges, as Duncan and Guzman had to figure out the ropes, replace equipment and furniture, and get the hang of student organization resources. From figuring out which department to contact for funds, to finding a new team to keep WBCR alive for years to come, Duncan and Guzman are preparing their station for its October relaunch.
    "I had no previous history within the radio within Brooklyn College's radio station. I went in blind," Duncan said, noting Robinson guided them through it all. "It was a process of trial and error determining what needs to be done without you having no prior knowledge of what was done previously in order to get the station up and running." 
     But laying the groundwork for WBCR came with its fair share of lessons for both Duncan and Guzman. Whether it be understanding the challenges of a career in radio or even having the patience to let go of things that are out of their control, the two student journalists are taking what they've learned and ensuring the radio comes back to life. With its reboot date set, the new and revamped WBCR is bringing back some of the radio's quirks from pre-pandemic times with changes. 
   "We want to incorporate ourselves into the radio station, like our own music likings, and have a more diverse voice included," Guzman said, who's determined to stay with the radio till she graduates. "Pushing it [WBCR] forward is most important to me because I don't want to give up on something that I've already started."
   As the program line-up develops for October, the growing team at WBCR has some show ideas. Duncan envisions working more as a field reporter and researcher, providing their skills and knowledge to future radio shows that interested students create. Radio listeners can potentially catch glimpses of WCBR's blooming media diversity, including satire, investigative journalism, radio drama, or even fiction. 
   "I think the ability to capture the human interest or capture the human mind just through spoken word and sound effects is so fascinating and something that I'm really excited in possibly revamping with myself or other interested students as well," Duncan said about possibly returning a storytelling hour. As for Guzman, who took her chances in joining the revamp after having her interest in radio piqued during Professor Carr's class, her future at WBCR will have a mix of everything. 
   "I'm most interested in writing and being the host, and producing – so everything," Guzman said. "I think it's interesting to be on either side of that. Writing a story and then mixing it, putting sound effects, and making it come to life is really awesome. Being all of that is interesting to me."
     As they work to get more students on their team, the duo is encouraging those interested to take a chance and explore their radio style at WBCR. Because without risk, as Duncan and Guzman explained, there is no chance of discovering one's radio forte. 
   "Everyone has to start somewhere. Everyone has to start with something. If you're interested, take a chance. Make sure you don't regret not participating in the future," Guzman said, noting that giving radio a try is better than wondering if a career in the field would stick. "Live with an 'oh well' instead of a 'what if.'"