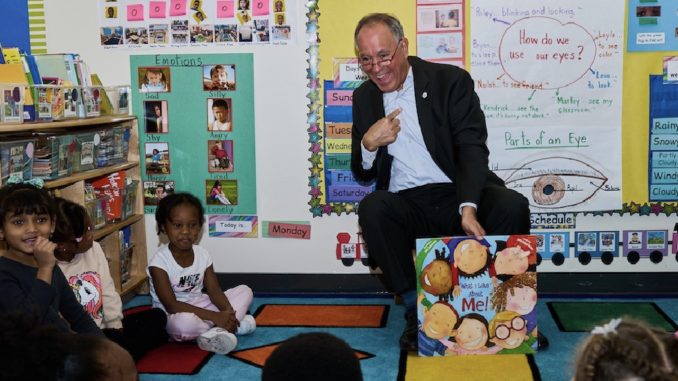 By Michela Arlia 
Reporting Assistance By Serin Sarsour
   Brooklyn College's Early Childhood Center is now offering universal pre-K on campus after Governor Kathy Hochul announced a $15.6 million expansion to the childcare budget on CUNY and SUNY campuses.  
    Of the total expansion budget, $4.8 million will be allotted for additional childcare services at CUNY campuses, with the remainder $10.8 million reserved for SUNYs. In a two-phase plan by the governor to ensure that students and faculty have access to quality childcare, this announcement is the second phase of the larger initiative. 
   "Expanding high-quality, affordable childcare options is an essential piece of creating a more equitable and accessible higher education system for New Yorkers," Hochul said in her announcement. 
   Starting this academic year, childcare centers across the university are open to students, faculty, and the community. In previous years, facilities only served undergraduate student-parents.
   "I was happy to hear that they also included faculty, staff and community members as populations for the CUNY centers to serve because traditionally it's been for students, undergraduate students," Kaity Kapetan, the interim director of Brooklyn College's ECC, told the Vanguard. "So that was good to hear because there is a great need for faculty, staff, and the general community for childcare, especially for the younger ages, birth to two years old."
   The expansion of childcare at CUNY comes as enrollment declines impact several campuses like Brooklyn College, where recent enrollment reports show that the total fall 2022 enrollment is 20.13% lower than "approximately this time last year."   
     "As it pertains to childcare, I look at it like this: is it set up in a way where we are able to attract students to come to Brooklyn College, student-parents," said Graduate Student Organization President Louis Di Meglio, a student-parent at BC. "The easier we make that for student-parents, the more student-parents we can get to enroll here."
   To announce the expansion, CUNY Chancellor Félix V. Matos Rodríguez visited Bronx Community College's childcare center, hopeful that the news will allow for childcare centers to be expanded to campuses that do not currently have one. Of CUNY's 25 campuses, 17 contain operative childcare facilities.  
   "Expanding childcare services at our colleges means removing a barrier that would otherwise prevent New Yorkers from pursuing a college degree or educating our students, said Matos Rodríguez in a press release. "Providing the more than 10 percent of CUNY undergraduate students who are parents with the resources they need to focus on their academic and career goals is just one way that we have their backs."
   For BC, the opening of their universal pre-K program has been long overdue, as Kapetan noted the college's program was closed much longer than other preschool and universal preschool programs. 
   As of press time, no decision has been made as to how funds will be distributed throughout CUNY, and how much, if any, would go towards Brooklyn College's ECC, according to Kapetan. So far, $1.2 million of the funds have been allotted for a new center at Queensborough Community College, leaving $3.6 million for the rest of the CUNY schools. 
   "They just made the announcement, I think we still have to see how the money is going to be dispersed, but we're all eager," said Kapetan. "We're reading the press releases so yes, we are definitely eager to hear how that's going to be done." 
   As the parent of a toddler, Di Meglio says he doesn't have much to worry about personally since his four year old is enrolled in a local elementary school, but he is concerned that BC may be overlooked when it comes to distribution of funds.
   "My concern is they're going to look at Brooklyn College, they're going to see that we already have existing student activity fee money allocated, and they're going to say Brooklyn College doesn't need as much, we need to send this money off to other campuses," Di Meglio said.
   Student-parents under this initiative will also be able to enroll their children in a CUNY childcare center other than the one in which they are currently enrolled. This change will provide flexibility for student-parents who may attend a CUNY far from their place of residence, or should they need overtime care late at night or on weekends. 
   While registration at BC remains open, the campus' ECC will continue prioritizing full-time BC student-parents who are "grant eligible," according to the center's website.