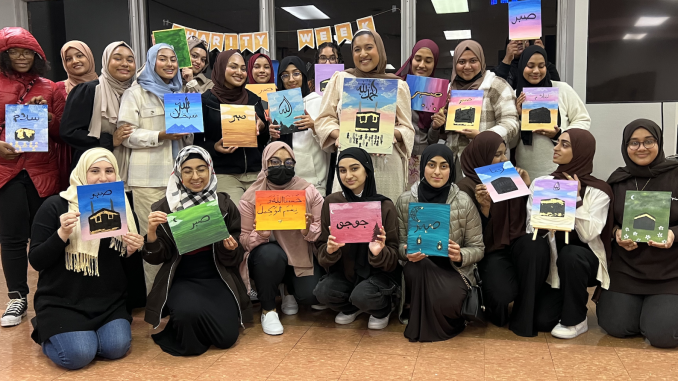 By Haritha Lakshmanan
   Brooklyn College's Muslim clubs hosted a Charity Week to raise money for orphans and children in need across 20 countries. Charity Week took place from Monday, Oct. 24 to Sunday, Oct. 30, and was hosted by the Islamic Society, Muslim Women's Educational Initiative, and Muslims Giving Back. 
   This past week included a bake sale, an event led by a religious organization in the Muslim community, charity bazaar, game night, self-care night, and a paint night. With tight scheduling and great planning, they were able to get a great turnout.
   "Our purpose was to raise money and awareness for these children across the globe," said Showda Shahid, MGB's president. This initiative is hosted by student associations across the globe, even in the United Kingdom in order to help children facing malnutrition, lack of education, and other challenges.
   "In 2021, Charity Week and its partnering campuses and groups raised approximately 2.5 million dollars for children across the world," explained Adnaan Syed, treasurer of Islamic Society.
   As an organization that has been raising money for the past 18 years, Charity Week encourages all campus and youth groups to compete in raising the most amount of money. This year, the organization is meeting in New York, so Brooklyn College's Muslim clubs will soon find out how much money they raised.
   The Muslim associations embarked on this journey to unite their "Muslim brothers and sisters, and anyone on campus interested in supporting this effort to provide funds, donations, and awareness" said Shahid.
   Their two most eye-catching events were the bake sale, hosted on Oct. 24 with tables outside of Whitehead, and the Charity Bazaar, an event with many stalls for students to look through and purchase goods on Oct. 27. However, there were a few other great events hosted by the organizers, such as a discussion led by a religious leader in the Muslim community on Oct. 25. 
   "The unity and the amount of foot traffic we got for our outdoor events was really great," Ahmed Aziz, the treasurer of MGB stated, noting that they received a larger crowd than they had anticipated, especially for their religious talk.
   The Charity Week's game night for "the brothers" and a self-care night for "the sisters," explained Salma Bari, president of MWEI. The sisters' self-care night was sponsored by a small business called Ibby and Lulu's with cookie decorations and card decorating. Shahid explained that the self-care night and the game-night were meant to be "unwinding" events where students could meet new people.
   Thursday's Charity Bazaar featured a bouncy house, a popcorn machine from the Undergraduate Student Government, support from the Psychology Club, and other booths. 
   "One of the key features of the Bazaar was the traditional Arab clothing sold by alumni," Syed said. 
   Friday featured the paint night where BC alumni came and supported the Muslim clubs on campus with donations.
   In the beginning, the three clubs had some concerns about low student turnout. 
   "Some students may feel as though our events and clubs were mainly meant for existing members of the clubs, so we worried that we may not be able to get new faces to attend the events," explained Syed and Bari. However, much to their delight, there were many new faces that joined the fun. 
   "It was great that everyone was able to unite under the cause of charity and not ethnic origins, gender, or any other labels," said Syed.
   Additionally, Shahid stated, "It was great to see students we see in the prayer rooms and students we don't." 
   MGB, ISO, and MWEI estimate that they raised around $15,000, but they will only find out for sure after the Charity Week conference in New York City. 
   Overall, they are extremely thankful for all of those who took a minute and stopped by their events in the past week, as well as all the students who made contributions to Charity Week. They look forward to more events in the spring, such as a grand Iftar dinner similar to the one hosted last year. 
   "[We] hope to invite everyone to show how Muslims across campus celebrate their religion and culture," said Bari.