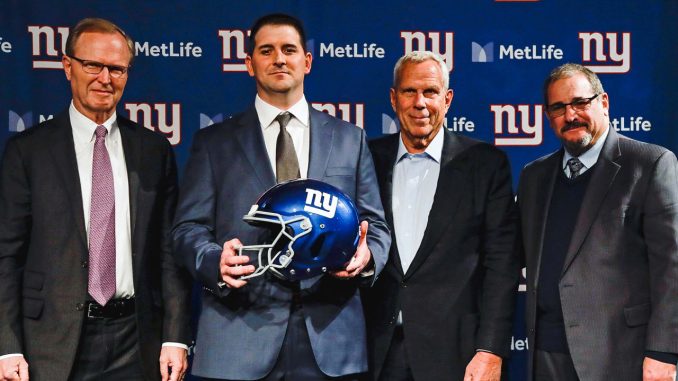 By Owen Russell
   The NFL trade deadline has come and gone. In an unusually hectic manner, a staggering number of big name players packed their bags, heading to new teams across the map. Teams like the Chicago Bears and Jacksonville Jaguars looked to invigorate their young quarterbacks by adding talented wide receivers. Even the Kansas City Chiefs bolstered their astonishing offense by acquiring wide receiver Kadarius Toney from the New York Giants. 
   The Giants' divorce from Toney may prove to be for the best, but from an outside perspective, it boggles the mind as to why the Giants didn't follow up with any offensive acquisitions. 
   New York has managed to defy expectations and play well above its class this season. After three disappointing seasons of the Daniel Jones-Saquon Barkley experience, the Giants finally look like a playoff team. Eight weeks into the season, New York is 6-2 and in the mix to secure a wild card spot, earning a postseason berth for the first time since 2016. An entertainingly good defense and a watershed season by Saquon Barkley have helped shoulder New York thus far, but one key aspect of their game still lacks.
   Before the boys in blue (Giants fans, not the police) come calling for my head, let me preface this by saying Daniel Jones has made strides as quarterback. So far, Jones has posted his highest Quarterback Rating and lowest Interception Percentage of his career. He takes care of the ball like never before, and has even managed to lead five game winning drives. Now that that's out of the way — the Giants passing attack is not good. It stinks.
   It is easy to be fooled. The 6-2 record and Jones' maturation as a signal caller each give Giants fans delusions that their offense is running at optimal capacity. But delving into the numbers, it is fair to say the G-Men have room to grow. 
   New York ranks third to last in team passing yards, last in plays over 20 yards, and have allowed 25 sacks. Daniel Jones has thrown six touchdowns, ranking below Davis Mills, Jacoby Brissett, Justin Fields, and the recently benched Matt Ryan. To sum up the Giants passing offense in the kindest terms, they have played conservative. 
   Because of such mayonnaise numbers, analysts and fans alike assumed that the Giants would be in the hunt for a playmaking wide receiver. Though the Giants were rumored to be eyeing Denver wide receiver Jerry Jeudy, New York never seriously considered trading for an upgraded wide receiver. The price for Jeudy proved to be too high for Giants' new General Manager Joe Schoen, according to the Athletic. Jeudy was rumored to cost at least a second-round pick, but what about the wide receivers who did move at the deadline?
   Former Steelers wide receiver Chase Claypool was shipped to the Chicago Bears on the Nov. 1 trade deadline. Chicago sent a second-round pick to Pittsburgh in order to secure the 24-year-old pass catcher. Calypool's stats have simmered since his breakout rookie year, notably his touchdowns, but he remains a solid option. He has only 311 receiving yards this season, but that could be due to poor quarterback play in Pittsburgh. Whether or not the asking price was too high, Bears' first-year general manager Ryan Poles exhibits rational thinking. 
   "You can never have enough weapons and guys that help your quarterback gain confidence," Poles told ESPN. Bears' quarterback Justin Fields resembles Daniel Jones in many ways. A young quarterback with potential, natural speed, but inconsistency through the air. By adding Claypool, Chicago is committed to helping Fields grow. Can the same be said about the Giants and Jones?
   Jeudy and Claypool both garnered second-round picks, a price seemingly too exorbitant for Joe Schoen and the rest of New York's front office. But those weren't the only receivers available. The Jacksonville Jaguars acquired Calvin Ridley from the Atlanta Falcons for one fifth and conditional fourth-round pick. The elephant in the room here is that Ridley cannot play football in 2022. He received a season-long suspension for gambling, but the talented wide receiver can be reinstated as early as February 2023. The Jaguars have a promising young quarterback of their own in Trevor Lawrence, who has shown flashes of elite play. But Lawrence has lacked a number one target since entering the league in 2021. By betting on Ridley, Jacksonville hopes that he can return to form and give Lawrence the support he needs. 
   The Giants' refusal to target an available wide receiver is frustrating considering how good they have been this season. A talented wide receiver could have opened up New York's passing game and made the team a dual threat. In the Giants' week eight loss to the Seattle Seahawks, the run game was neutralized. Barkley rushed for 53 yards on 20 attempts, giving him his lowest yards per carry of the season with only 2.65. It was only one week, but could this be a sign that defenses are figuring out the Giant's one-dimensional offense? Too early to tell. But it is fair to say that when defenses stifle New York's running game, the Giants lose. 
   Daniel Jones completed 17 of his 31 attempts against Seattle, accounting for 176 yards but no touchdowns. He ran for 20 yards on six carries, but it was the kind of mediocre performance New York has come to expect from their quarterback. Veteran wide receiver Darius Slayton hauled in five of his six targets for 66 yards, all of which led the team. That is not the stat line a team wants from their #1 wideout.
   It is hard to argue with results. Eight weeks into the season the Giants are 6-2, with a stout defense and impeccable run game. With eight more games remaining, New York seems poised for a playoff spot. Yet something just doesn't feel right. Their passing game ranks among the lowest in the league. It can't be totally attributed to Daniel Jones, he barely has anyone to throw the ball to. 
   With such a promising season, why wouldn't New York go out and get immediate support for their franchise quarterback? The Bears traded for Chase Claypool, and the Jaguars took a flier on Calvin Ridley.  Even the 5-1 Minnesota Vikings reinforced their offense by acquiring versatile tight end T.J. Hockenson from the Detroit Lions. The Giants ignored the wealth of options because they are committed to playing it safe. Just like their quarterback, New York refused to take any risks at the deadline. They were conservative and convinced that their draft capitol was too valuable. 
   For now, Jones and the offense will make do with what they have, but sooner or later the front office needs to invest in their quarterback.