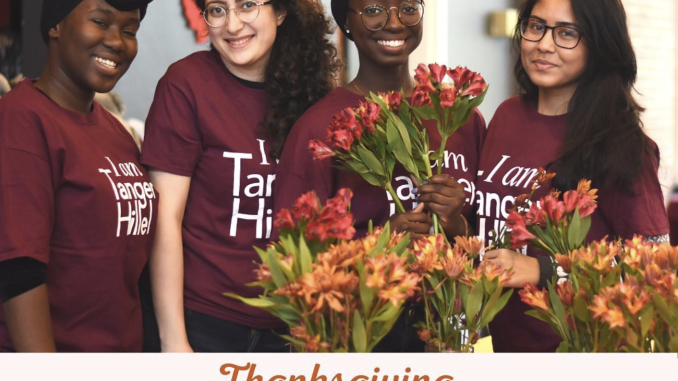 By Haritha Lakshmanan
   The Tanger Hillel at Brooklyn College hosted a Thanksgiving dinner for the unhoused on Wednesday, Nov. 23. With student leaders from over 10 organizations and more than 80 volunteers participating in the event's planning and execution, Hillel resumed its annual dinner for the first time since 2019 after its COVID hiatus.
    "We are a nonprofit organization that aims to create a safe space on campus, and to help Jewish students on campus," said Sarali Cohen, an engagement associate at Hillel. "However, the Hillel also aims to ensure that all students feel safe and welcome on campus."
   As an organization that hopes to create bridges between all students and provide support for Jewish students, Hillel hosted this dinner with respect to essential aspects of the Jewish culture. 
   "Helping repair the world and helping others are crucial parts of Jewish culture, and these values propel us to host this dinner every year," Cohen said.
   The event was run by student volunteers primarily from several student organizations, including BC's Greek Council; Russian Speaking Jewish Club; Hillel Club; United for Israel; Alpha Epsilon Pi fraternity; Orthodox Club; L.I.N.K., a Jewish women based club at Hillel; Creative Coexistence; the Newman Center; and the Student Center. "The dinner was entirely a collective effort by the community," said Cohen.
  Student volunteers conducted and assisted with the event in several capacities, such as speaking with vendors to get donations, helping to prepare meals, serving food, and entertaining the children who attended the dinner.
   Most of the attendees were children from the ages of six through 12. With that in mind, the organizers hosted several fun activities like face painting, cornhole, and giant Jenga. After the dinner, the children got to dance and let loose. The event also featured gifting the children with presents, such as games, socks, and gloves, to get everyone in the holiday spirit. Hillel donated several products and everyday necessities to a shelter after the event, including baby wipes, diapers, and feminine products.
   "Everyone has something to give," Cohen said. "Doing something for the sake of doing something can be really beautiful."
    Hillel plans to have a blood drive in March, a toy drive during the holidays, and food deliveries during Passover for the elderly.