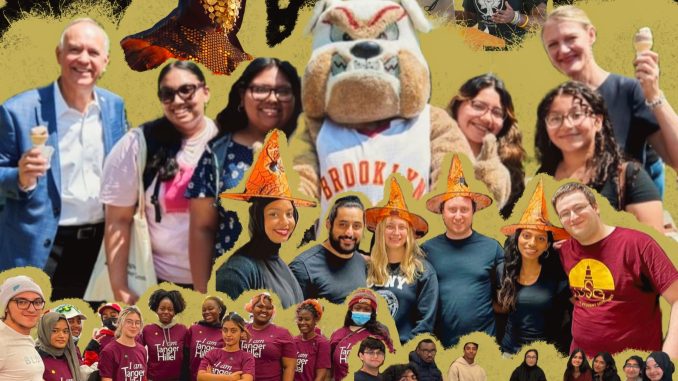 By Michela Arlia 
   The end of the fall semester is upon Brooklyn College students. With most classes continuing on campus after the COVID shutdown, students reflect on their time during the past few months as they gear up for finals week. 
   Over the course of the semester, student clubs and organizations have ramped up events, allowing for the maximized potential of student and community involvement. With events like the annual Club Fair, Diwali celebration, Halloween costume contests and more, the goal for many was to ensure that students receive the opportunity to be involved in the BC community as much as possible. 
    "This semester has seen a great shift in student involvement, as many more events are being held in person as opposed to online," wrote USG Press Director Flavia Shyti in a statement to the Vanguard. "On the other hand, we have seen a surge in people wanting to get out of the house, so we have seen amazing turnout at our in-person events like movie night on the quad and haunted Sabbath dinners."
   For BC junior and psychology major Jaden Haynes, having more of his classes in person allowed him to make connections with a broader range of students. By attending events this semester alone, he has been offered opportunities for volunteer work and study abroad. 
   "Last semester, because everyone was getting more adjusted, it was still more distant," said Haynes. "But like this semester, yeah, I definitely made more friends, reached out to more people than compared to other semesters."
   After having difficulty connecting with students through Zoom, Haynes was glad to be offered new on-campus experiences, his most recent being an Italian Heritage seminar hosted by Professor Elisabetta Franchi, in which a study abroad program to Italy will begin again after a COVID-19 hiatus.
   Other student clubs and organizations have also seen a major difference in student participation, as noted by Skyla Meina, president of Stuck in the Library, the college's literary magazine. 
   "I think that there is definitely a lot more student involvement this semester than any other semester. I came back in person last fall and campus was practically dead," Medina said. 
   As student enrollment is seeing a downward trend this semester, Shyti explained this should be taken as an advantage for current students while they register for spring 2023 courses.  
   "I don't think a decline in student enrollment significantly hurt the student body, there is a lot to be enjoyed on campus and I bet students are feeling a bit less rushed to register for classes in fear they will fill up," Shyti said.
   As the colder weeks roll in, USG plans to host more events for students to wrap up the semester for all. One of their most recent events was the Gold Fest, a volunteer fair for students to explore service opportunities on and off campus, such as volunteer work for soup kitchens or shelters. 
   "Our events give people from all different communities in the college to meet and share one common space, a very rare opportunity as most club events are interest-based," said Shyti. "This allows people to get to know each other in a setting that would not have been possible online or at any other event."