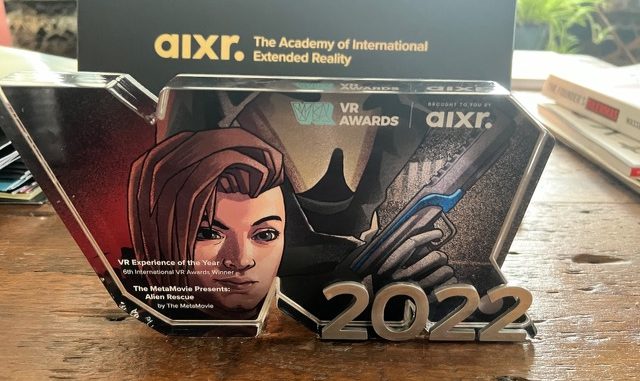 By Samia Afsar
   Brooklyn College's very own Professor Jason Moore scores big by winning the VR Experience of the Year at the 2022 VR Awards for his virtual reality MetaMovie, "Alien Rescue."
   "Every artist dreams of winning a big award, stepping onto the stage, and making that acceptance speech, and when I was in the audience, I really didn't think I was going to win," Moore told The Vanguard. "I was just there having fun with other members of my team, and when they called the name of our project, I almost had a heart attack. […] I was so shocked that it took me a minute or two to collect myself and get out of my chair." 
   Combining elements of cinema, live theater, video games, and role-playing, Moore's immersive VR experience, "Alien Rescue," puts audiences inside a virtual reality movie where they are granted an unprecedented level of agency. Users can say or do as they please, a feature that is unique to this particular VR experience. 
   In the approximately 75-minute-long immersive film, users go on an adventure alongside a crew of characters, making decisions along the way that dictate the story's multiple branching storylines and six different endings.
   As an independent producer and director having to compete amongst big companies with larger budgets, such as Google and Meta, Moore was thrilled to even be nominated. His work "Alien Rescue" also won "Best Multiplayer Experience" at the 2021 Raindance Festival.
   "It was an incredible feeling to be nominated in the first place," Moore said. "The VR awards are like the Oscars or the Academy Awards for the VR industry and to just be nominated amongst the other companies and projects was a thrill." 
   Although his win came as a surprise, Moore took the opportunity to inspire other independent artists to pursue their own filmmaking dreams in his award speech.  
   "Walking down to the stage, it felt like I was in a dream. I never had a feeling like that, and of course, I didn't prepare a speech because I honestly didn't think I was going to win," Moore said. "[…] So, I just spoke from the heart and thanked all my collaborators and gave a shout-out to all the other indie creators out there, because I think that when an indie person wins, it sends a really good message to other people who are trying to work in the space and maybe a little bit intimidated by the competition."
   In his course, TREM 3881 Storytelling for Virtual Reality, Moore exposes eager students to the new refreshing affordances that VR has to offer. During the semester, students go 'world-hopping,' exploring what it means to be embodied in avatars, and attend classes virtually through VR Chat, all while learning the fundamentals of virtual video production. Although Moore faces some challenges teaching this remote course, such as his inability to physically help students from their homes, it still remains his favorite course to teach. 
   "It's quite fun to be at home, but also with the rest of your class in a virtual space where we can all see each other and make eye contact and wave at each other," Moore said. "But I think just sharing my passion and love for VR with my students is really the best part."    
   Moore will also be offering an Advanced Storytelling for VR course sometime in the near future, and advises enthusiastic students interested in the VR world to enroll and expose themselves to a whole new, but very virtual, world. 
   "There a lot of affordable VR headsets for sale, and if you can afford one, I would say just buy a headset and, start playing around," Moore advises to students interested in pursuing a career in virtual reality. "There's lots of information available on the internet, but really, just come take my class and I'll teach you everything you need to know."