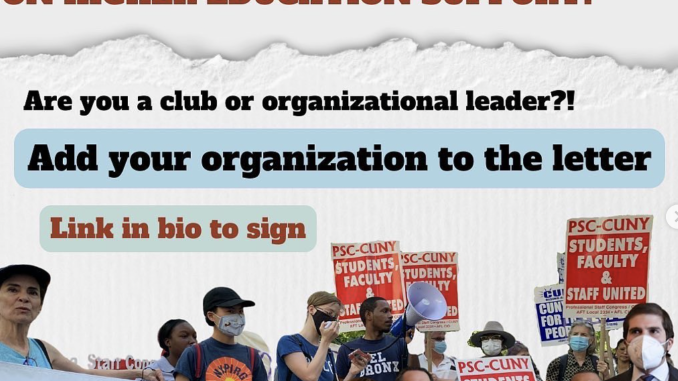 By Gabriela Flores
   The New York Public Interest Research Group garnered over 250 signatures across CUNY and SUNY campuses through a letter to Governor Kathy Hochul demanding more investments in the university's public education systems. Organizers and their supporters are calling on Hochul to consider in her upcoming executive budget providing each university a $500 million operating budget, funding for community colleges to stay afloat through enrollment declines, expanding programs like the Tuition Assistance Program, and other resources. 
   "Students, faculty, and staff have been sounding the alarm on higher education funding shortfalls for years," read the letter shared on a Google Form. "And while the state's last adopted budget begins to answer the call, the work is far from over to meet the financial needs of New York's students, faculty, staff, and institutions." The letter emphasized the importance of investing in New York's public college education, given that it is "an engine for economic growth" in the state, where over 80% of CUNY graduates stay to work in New York.  
    Last April, Hochul and state lawmakers passed a $220 million budget for CUNY, with $53 million for hiring full-time faculty across senior and community colleges. The budget also saw $150 million to expand TAP for currently-ineligible students in CUNY and SUNY taking at least six credits in classes. Though the executive funds mark a boost in funding for the university, supporters of the New Deal for CUNY, a $1.7 billion proposal that advocates making the university tuition-free again, thought that more funding needed to be allocated. 
     Within their recent letter, NYPIRG mentioned the proposal, while outlining how $500 million operating budgets for CUNY and SUNY respectively would allow smaller class sizes, more mental health resources, "phase-out of tuition charges for all students," and other benefits. 
    "This financial ask of a $500 million operating budget is not only necessary for the current needs of CUNY and SUNY students, professors, and staff, but long overdue," wrote Sadiya Hoque, the chairperson of NYPIRG's Board of Directors, in an email to The Vanguard. Hoque, along with other student leaders, aided in collecting signatures for the letter. The groundwork and push for the governor to increase funding for public higher education came about from local organizations like NYPIRG. 
    "NYPIRG and our partners worked hard to build the political momentum for these investments, and it's a no-brainer that this upcoming fiscal year should have a budget that reflects the same," said Hoque. 
    The letter also called for the expansion of resources that would help students with basic necessities outside of academia, including free and reduced-price transit fares for the MTA, LIRR, and MetroNorth, supporting programs that address food insecurity, and other demands. NYPIRG and other organizations will rally on Wednesday, Dec. 14, in the state's Capital building in Albany, where they will continue pushing for more state funding. 
    "It's important to highlight that every student should support the state fully funding higher education regardless of the major they are studying in school," said Hoque. "Access to higher education should be just and equitable, and having a fully funded higher education system in place would help not only our economy but the society as a whole."