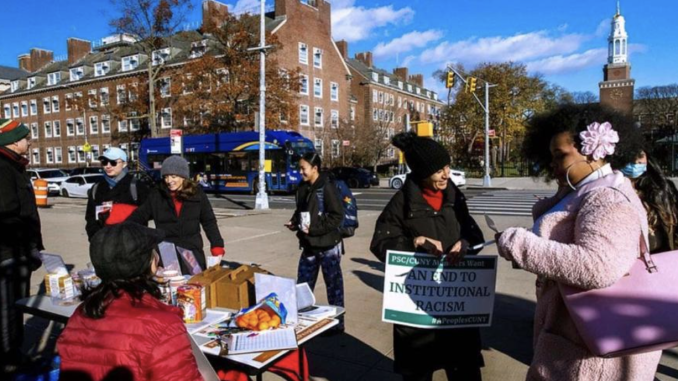 By Alejandro Barrera
   Adjunct lecturer Anthony Harb is a doctoral candidate at the CUNY Graduate Center and is one of the few among his peers to be receiving grant assistance to complete his dissertation and obtain his doctorate. Even so, the past six years have been an uphill battle. 
   "The more things you have on your plate as a student, the less time you have to do your schoolwork. I needed to finish my dissertation to get into a full-time position in the university, and when I was teaching two or three classes […] that consumed my entire life," said Harb, who teaches in the Anthropology Department at Brooklyn College. 
   For the past six years, he has been balancing his life as an instructor and a student with aspirations in higher academia. Harb's experiences as an adjunct professor led him to become an active member of his union. He is currently the secretary of the Executive Committee at the Professional Staff Congress, the largest union that represents thousands of faculty and staff across CUNY campuses. In preparation for the expiration of their current contract in February, the PSC is gearing up for another round of negotiations. 
   PSC represents many different positions within the CUNY system, which means there are different goals for the new contract that will encapsulate the needs of adjuncts, full-time employees, and other staff. Harb's priorities lie with the conditions and compensation of adjunct faculty since he believes that the disparity in wages and job security is unfair compared to that of full-time faculty. 
   Due to CUNY policy, classes may be canceled for a semester if a minimum number of students fail to register, and Brooklyn College is facing an enrollment crisis with this fall seeing an 11% decrease in total enrollment from fall 2021. This, combined with adjuncts only getting paid for their "contact hours" inside the classrooms and office hours, creates a difficult situation for many. 
   "I have insurance through the Grad Center, so I'm lucky in that way, but there are so many adjuncts who don't have that net, and so for those adjuncts, when they lose a class they really lose their entire livelihood," said Harb, noting the unpaid labor he and other adjuncts do for their classes, such as the preparation that takes place in between semesters. 
   Beyond the lack of secured support for adjunct lecturers, other PSC members are looking to address the unrealistic workloads placed on professors. Across the university, departments are experiencing understaffing and its subsequent challenges. 
   "So many staff and faculty on campus are struggling to pay their bills and are overworked," said Professor Naomi Schiller, associate professor of anthropology and the Graduate Center, and a member of the Executive Committee of BC's PSC chapter. "There's so many things that I will never ask my colleagues to do because they are not being paid to do it."
   According to Schiller, many faculty feel that the time they spend in classrooms is not sufficient to meet the needs of their students. With better conditions and compensation, professors could have the security and leeway they need to invest more energy into students outside of contact hours, she explained. 
   Supporting professors could in turn support student needs that extend beyond the classroom and their academic careers, many PSC members believe. "The work that a lot of faculty do, particularly faculty that are Black, and brown, and women; we see the work that we do that goes far beyond narrow definitions of research, teaching, and service," said Lawrence Johnson, assistant professor of sociology, and co-chair of the union's Anti-Racism Committee. "College is not just a place where students come eager to learn and stuff like that. They have to deal with all the stresses of living in New York City. We have to address those things," he added.
   Johnson's role in the preparation of negotiations for him and his colleagues focuses on the language used in the contract and the PSC's bargaining, and how the university should better articulate all the duties instructors undertake. 
   "[We need] to rewrite not just what faculty do, but what the university is. What staff do, and who are our students," said Johnson. He feels that the current PSC contract staff and faculty work under only covers the bare minimum of what instructors are actually expected to do. Besides giving lectures, instructors guide and teach their students how to cope with challenges that fall outside the purview of what they would learn in a classroom, according to Johnson.
   "How we define our students helps us redefine our faculty, helps us redefine the university," he said, expressing his belief that including more "human-oriented" language in the contract would encourage more of his colleagues to act as advisors, as well as prepare them for that expectation. 
   Increased workloads are felt by staff throughout the college, including higher education officers (HEOs), or staff members at CUNY that deal with administrative matters, such as the financial aid and admissions offices, student services, and departmental events. 
   "If someone leaves, generally if the job can be done or absorbed by someone else, it is. […] We keep losing people. They're retiring, leaving for other positions, so that's more or less the crisis," said Crystal Schloss-Allen, administrative executive associate to the Dean of Natural and Behavioral Sciences. She explained that faculty have a "staffing index" that models exactly how much faculty they need to perform certain tasks. 
   "With the staff, they don't think about it like that. They just try to squeeze everything they can out of the minimal amount of people," she added.
   Schloss-Allen advocates for the colleagues that share her position. Another one of the issues she raises is that of "workplace bullying." Many HEOs have been in their positions for many years, up to even a decade, but the directors who supervise them move in and out of departments with much more flexibility. She believes that some deans and directors make the job harder for experienced HEOs by demanding that they ask for permission before completing the tasks they already know have to be done. 
   "If you just start doing the things that you're already doing, they get upset and write you up," she said. This pattern can lead to HEOs getting poor annual evaluations, and three consecutive ones are grounds for termination. 
   Outside of the PSC, students and faculty at Brooklyn College have mixed opinions about the efforts to better adjunct circumstances and other issues looking to be addressed by the university's union.
   "Of course I believe adjuncts should receive decent wages, but if they don't have the same expertise as full-time professors, I don't see why they would be paid at similar rates," said Amir Ismaiel, a freshman at BC. 
   Ismaiel questions how the unionization and advocacy for changes in how faculty are treated at CUNY would impact students. "I mean, I do support their right to unionize, but I don't really see how their demands positively benefit me," he said.
   Jake Xie, a Macaulay Honors student at Brooklyn College studying psychology, thought differently, expressing frustration at the guidance he and his peers lack. He thinks that advisors are overloaded that they're hard to come by for students. 
   "There's a lot of really brilliant adjunct professors that aren't able to, like, teach full time because they're adjunct professors […] the fact that they're adjunct doesn't mean that they're any less qualified," said Xie. "I think just in general, like, more opportunities for advising could lead to everything being more organized and smoother and just a better educational environment."
   Recently, the PSC held tabling events on Nov. 30, Dec. 1, and 7. They hoped to solicit student feedback through an online survey, as well as promote PSC membership to any faculty and staff that may not be a part of the union. They also have tentative plans to invite students who visited their table to an organizing event at the beginning of the spring semester. 
   "We are the ones who are on the front lines, interacting with [students], who are also on the front lines. That's where the knowledge comes about what the contract should be about," said Harb. "We do have different roles, and we do have different capacities, and we do have different things about our experiences at CUNY, but at the end of the day, the conditions – that is, bettering the conditions – is really something that benefits everybody."