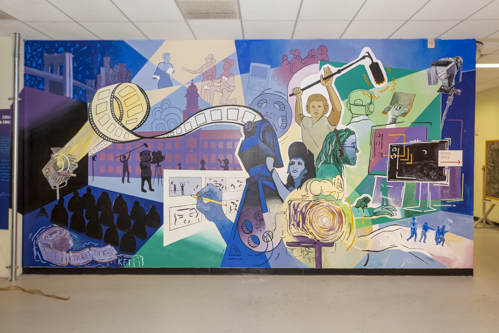 By Michela Arlia 
   If you're walking through the second floor of the West End Building this semester, you might have noticed a pop of color splattered on one of its walls. This is due in part to professor Julia Cocuzza and her new experimental art course that completed its first semester this past fall. 
   Cocuzza is an accomplished mural artist, adjunct professor, and alumnus, who assisted in converging the visions of the art department, film department, and many more, in this project that has been in the works for years. 
   The end result: a mural completed by 12 undergraduates and one graduate art student that was unveiled on Dec. 14. 
   Cocuzza first moved to Brooklyn in 2004 to pursue goals in the art world, hailing originally from Reading, Pennsylvania. Before graduating in 2011, she earned her M.F.A. in painting and drawing while working in higher education. Post graduation, Cocuzza moved into other mediums of art, including installation, sculptures, and eventually, murals.
   "I still have a studio practice, but I don't know, at some point I shifted away from kind of like studio work and the gallery pursuit into something more engaging with the public, something more for the people," Cocuzza told The Vanguard. "I wouldn't say that was a result of Brooklyn College, but obviously the learning, you know, everything I learned from Brooklyn College helped me get to that point where I decided to make that shift."
   Serving as a liaison and advisor on the committee to the project was Professor Derrick Adams, a renowned multidisciplinary artist whose work often centers around his Black identity. With Adams' expertise in muraling, and the overview of the art department's head, Mona Hadler, the project came into fruition with substantial support. 
   "He [Adams] was definitely helpful, especially I would say during that process of showing the design to all the different stakeholders, you know, making little tweaks to get everything sort of thumbs up all around and green lit," said Cocuzza. 
   Before forming part of the mural's making and its associated course, students with art majors or concentrations were tasked with taking prerequisites in either introduction design or introduction to painting. Together, the newly created team tackled a large-scale project in just 16 weeks. 
   During last fall, the class was structured partly on mural history, and the majority on direct application and painting. In order to find the best timing and spacing to work, the course met on Saturdays with Cocuzza setting shifts for the students. 
   "It was all pretty smooth in terms of outside time," said Cocuzza. "I had some students maybe come early and leave early. I had other students kind of like, come late, leave late, and I would just be there all day." 
   Each hour spent on the mural created a vivid and colorful presentation of the film department and its inner subcategories. Depictions of sound, lights, camera, and monitors in various complementary shades of blue, purple, and green shows a true representation of the department and the students within it.  
   While bringing this project to life, a majority of the planning and creation went without a hiccup – except for one bump on the road: popcorn.
   As a part of the original design idea, Cocuzza and her class had a bucket of popcorn to metaphorically tie into the film department. This, however, received mixed reactions. 
   "If there was anything with the design that needed to be changed, that's literally it. Which is like kind of a cute problem, you know what I mean?," Cocuzza said.
   Many of the stakeholders and departments involved were thrilled to have a beautification addition to campus, and the final product allowed a light to be shed on all the artistic talent that exists on campus. 
   "It was incredible to see students, staff, and faculty come together to help both beautify the campus and create a learning environment," wrote Alan Gilbert, the college's senior vice president for finance and administration, to The Vanguard. "I was pleased to help connect the parties and lend some guidance, but much of the credit really goes to the students and the faculty who helped create this project between the art and film departments."
   Due to the high success of the trial run course, the department has officially added a mural painting class to its roster, ART 3414, that's set to begin in fall 2023 with Cocuzza.    
   There are no solidified plans at the moment for which department is up next to receive such a long lasting work of art, but Cocuzza noted talks will begin soon.
   Students or departments on campus who are interested in having a mural in their halls can contact Mona Hadler, chair of the art department, for more information.