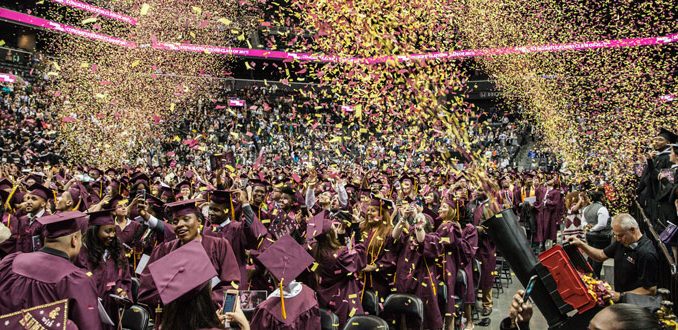 By Gabriela Flores
    With the undergraduate and graduate years of upper seniors coming to an end this spring, Brooklyn College finalized the commencement date for June 2 at Barclays Center. This year's ceremony follows the college's return to Barclays for 2022 graduates and its Comeback Commencement in July, where alums who graduated in classes 2020 and 2021 celebrated at BC after their ceremony was canceled due to COVID.  
     "I just want to give credit to the graduating seniors for persevering through the pandemic and online classes," said Jana Orellana, a psychology major who is set to graduate this spring. 
     As of press time, there is no estimate on how many students will be in attendance for this upcoming commencement. Students who graduated, or completed their credits and degree requirements in summer 2022,  fall 2022, and this past winter intersession, will be seated at Barclays alongside students graduating this spring and the upcoming summer 2023. The college has not announced the keynote speakers for this June.   
    For many who are graduating, celebrating their academic accomplishments with their peers has been an experience they have worked and longed for. 
     "Man, I've been looking forward to this day since I started. Listen, I love college, but the point to where it becomes diminishing is when you finish every major requirement and you only have to do classes that – let's be honest – you don't have a big interest in," said Luis Flecha, a graduating television, radio and emerging media major. "That's why I'm ready to go."
     Several graduating students like Flecha and Orellana are appreciative of the professors in their respective departments, the opportunities, and the connections they've made so far as Brooklyn College students. 
     The last day to file via CUNYFirst for spring graduation is Feb. 15. Those graduating in the summer must file by Mar. 15. For monthly updates related to commencement, subscribe to the college's newsletter: https://cuny.us1.list-manage.com/subscribe?u=b6b1f93a018d8441f6ca8c64e&id=7dd475593d.