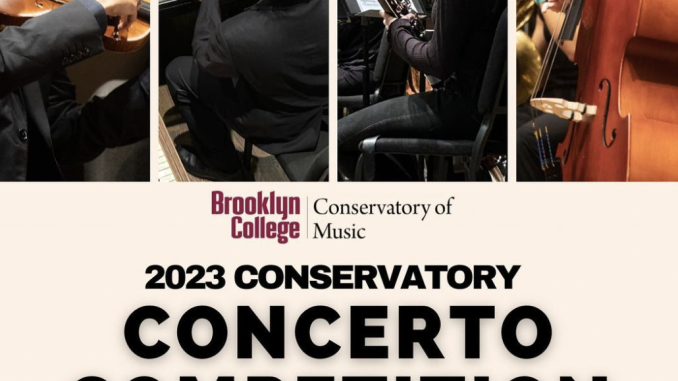 By Allison Dubrow 
   Brooklyn College's Conservatory of Music held its annual concerto competition on Friday, Feb. 10, in the Whitman theater in the Tow building, where five conservatory students competed for the chance to perform as a soloist with the Conservatory Orchestra this spring.
   The winner of the competition was Samuel Braiman who played Violin Concerto in E minor, op. 64 by Felix Mendelssohn. He moved fast while playing, and at one point, it sounded like there were multiple violins at once even though he was the sole performer. 
   In order to be chosen for the competition, the five finalists – Iva Verba on the oboe; William Swinick, Samuel Braiman, and Ajin Kim playing the violin; and Maxwell Hinton on the piano – applied in early December. Through mentorship from their professors, the students examined the pieces that they wanted to play, and decided whether they were a good fit in relation to their selected compositions and their respective instruments. 
   One of the judges was chair of the performance program, Professor George Rothman, who also directs the Brooklyn College's orchestra and teaches conducting. 
   In an interview with The Vanguard post-competition, Rothman explained that one of the most important things Brooklyn College can do is encourage the talent students have and help support them. In order to be successful in life, one has to have confidence in their ability to perform, and Rothman's students get that confidence from experiences like Friday's competition. 
   "[Performing] builds character, it builds your confidence, and it also teaches you what you need to learn to do, and it's an experience," Rothman said. "This is a very, very valuable experience, and I know all of them grew immensely through this experience," he said.
    The competitors played pieces from Antonio Vivaldi, Camille Saint-Saëns, Felix Mendelssohn, Sergey Prokofiev, and Wolfgang Amadeus Mozart. As each of the finalists went on stage, they may have had some nerves, but the second they all started to perform, they were in their element. All the performers let the music flow through them, allowing their instruments to become an extension of their bodies. 
   The performers seemed to really enjoy playing, and looked happy to be given a chance to show off their skills and compete. All of them had laser focus and grand finishes to their pieces. Each of the competitors played with a lot of intensity and passion. Arguably, this concert had the ability to make anyone a fan of classical music and left the audience wanting more. 
   At some points throughout the performance, Rothman would ask some of the competitors to move on to a different section of the piece, which seemed to throw the performers off a little, but once they realized what they had to do, they picked it right back up again.
   "[Students] come in with this desire," said Rothman, "I mean, all these people want to be really great players and we nurture that. That's our role here at the conservatories, to nurture our students, and every one of our faculty members is so dedicated to all of these kids, and we're very proud of them."
   Braiman will be performing the concerto with the Conservatory Orchestra on Mar. 30 in the Tow building.