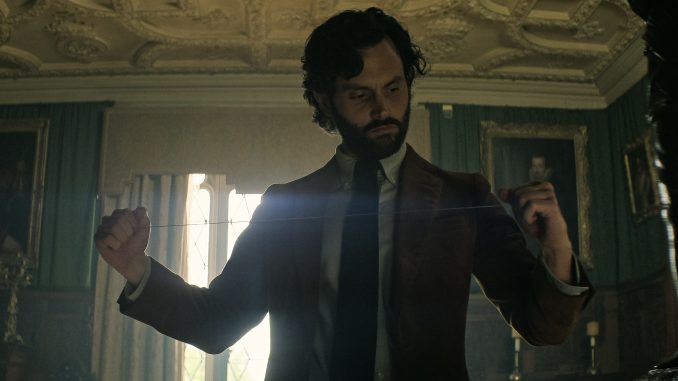 By Samia Afsar
   After over a year of eager binge-manics patiently waiting, Netflix has finally released season four to its most highly anticipated mainstream original series, besides "Stranger Things": director John Scott's "You." 
   The fourth season of "You" is split into two parts, the first, which consists of five episodes, hit the streaming platform on Feb. 9, and its second part is set to release a month later on Mar. 9. 
   Last time viewers met with Joe Goldberg (Penn Badgely),  he narrowly escaped death, murdered his wife, Love Quinn (Victoria Pedretti), gave away his son, and fled the suburbs of Northern California to Paris, chasing his most recent obsession, Marienne Bellamy (Tati Gabrielle).
   This season's premiere reveals that instead of relentlessly pursuing Marienne, Joe travels to London and is attempting to settle down as a quiet, soft-spoken literature professor under his newest alias, Jonathan Moore. 
   An alias which he is, once again, hoping is his last. 
   This time, however, Joe is victim to a stalker of his own. And with an "Eat the Rich" serial killer on the loose, Joe's stalker is adamant on pinning various crimes on him, as is expressed through various mysterious texts sent to Joe through Evanesce, a shady text-disappearing app.
   But everybody knows that old habits die hard and in pure "You"  fashion, after a drunken night with the British elite, a puzzling murder, and a growing obsession with the neighbor's wife, part one to season four of  "You" delivers familiar, or rather, repetitive character tropes. In its prime, "You" introduced tired telephiles to a new and refreshing storyline. One that prompted viewers to involuntarily adopt a sadistic outlook, rooting for a crazed and obsessive killer. 
   Perhaps it was Joe's deluded, yet determined devotion to those he loved that drove viewers to an enthralled obsession of their own, following along his string of murders and mystery. Or maybe it was simply Badgley's charismatic charm and rugged beauty that prompted others to tune in. Whatever the case may be, one thing is for certain — "You" delivered a story unlike any other pre-existing series, and viewers were undeniably hooked. 
   But too much of a good thing can, in fact, be bad. And now four seasons into the psychological drama, I personally can't help but be deluged by its predictability and repetitiveness. 
   Especially when considering the recent releases of  "The White Lotus," "The Menu," and other classist satires,  the "eat the rich" subgenre is one that has been done time and time again. And if not executed carefully, it can prove to be a mechanically mundane narrative that has already been heard, such as in the unfortunate case of "You."
  Even through its seemingly relevant twists and turns, "You" is simply a story of a man battling his obsessive compulsions and miscarrying justice in the name of what he calls love. It's a story that hauntingly, yet beautifully illustrates the thin line that exists between love and obsession, but, still a story we have already become familiar with in its previous seasons.  
   One can only hope that part two reignites the passions and mystery that once throned "You" as the engrossing and riveting series we all had come to know and love. Perhaps, it will serve as a gentle reminder that some stories can and should eventually come to an end. Either way, I will definitely be tuning in, with hopes of it altering my final perceptions of the show and quite frankly, as an excuse to stare at Badgley's face for another five-some hours. 
   Part two of "You" season 4 will be released exclusively on Netflix on Thursday, Mar. 9.