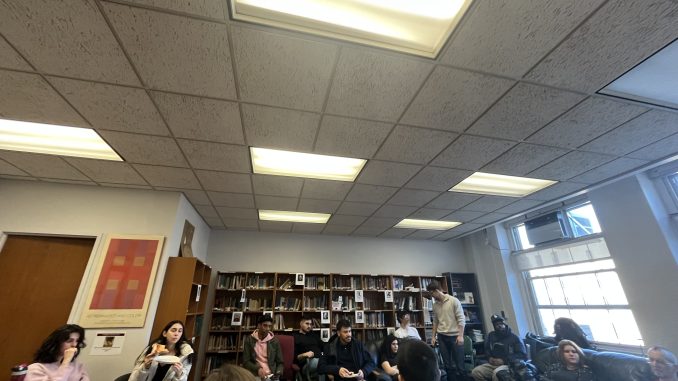 By Serin Sarsour
   Brooklyn College's Philosophy Society put a new spin on the meaning of Valentine's Day after hosting an event called "Happiness Day" on Tuesday, Feb. 14. Rather than focusing on the romantics of Valentine's, students delved into discussions led by Philosophy Professor Christine Vitrano on happiness and the meaning of life. 
   "We tried to steer clear of the typical meaning of Valentine's that students associate this day with. Avoiding typical conversation, we aimed to talk about happiness and self-love," said Angela Sierra, a senior at BC and the president of the Philosophy Society.
   The club welcomes diverse ideas and thoughts as they promote and embrace philosophy. Members collectively aim to make the field more accessible and easier to understand for everyone, regardless of their knowledge of the discipline. Last Tuesday was no exception, with Vitrano sharing her philosophical knowledge of happiness. Having written publications like "The Nature and Value of Happiness," Vitrano's expertise aligned with the club's intentions behind the event. 
   "Since the Philosophy Society aims to create its events around philosophical topics, eudaimonia (happiness) seemed like a perfect way to recreate Valentine's Day […]," said Sierra.  
   Members also got to partake in a tie-dye station to customize their Philosophy Society t-shirts after eating lunch and sweet treats together. Tie-dying was one of Sierra's favorite parts of the event, along with hearing from new members during the insightful discussions.
   Although many Valentine's Day-themed events were happening throughout campus that day, the club was excited to host the 20 students and several faculty members that attended.
   The Philosophy Society has more events in store for the spring. For the first time, the club is collaborating with the Undergraduate Student Government and the BC Speech and Debate Team. They will be hosting a lunch with JP Howard, the spring 2023 BC Tow Mentor-in-Residence, on Tuesday, Feb. 28, in the Student Center's State Lounge on the fifth floor.
   The club is also working on holding discussions, including one titled "The Black Experience in America's Justice System," which follows the death of Tyre Nichols, a Black man who was recently killed by police in Memphis, Tennessee. 
   In the future, the club hopes to get the word out about its events on campus more efficiently. "We also do not want the idea of philosophy to overwhelm anyone," said Sierra. "It simply means the love of wisdom and what we choose to do with that passion."
   Sierra enjoys meeting new students at events and hearing different perspectives and interests, especially since she initially joined the club last spring as a transfer student in hopes of connecting with other students majoring in philosophy.
   As a senior, Sierra hopes that her mark on the Philosophy Society and the legacy of Happiness Day lives on after she graduates.
    "As president, it's a day and an event that I hope will continue to emphasize the importance of understanding how to be happy, what makes us happy, and why it matters," she said.