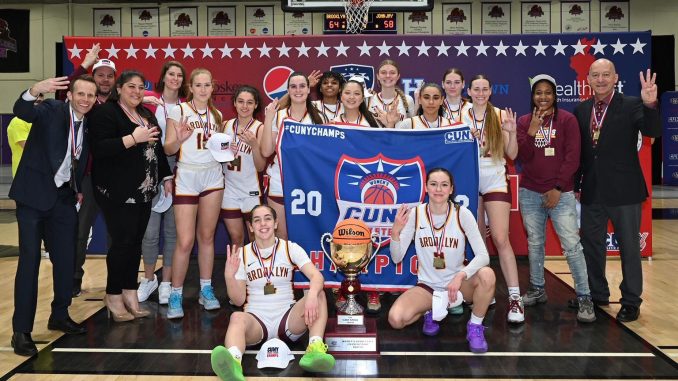 Women's Basketball Are CUNYAC Champs Again
By Owen Russell
   The women's basketball season comes to a close after losing in the first round of the NCAA Division III National Championship. The Bulldogs' season may have ended in defeat, but it does not take away from the fact they won their third straight CUNYAC Championship.
   Brooklyn fought against York College to advance in the CUNYAC tournament on Feb. 22. The Bulldogs played the Cardinals in their last regular season game on Feb. 14, in a contest decided by 15 points. This time around, York gave Brooklyn an even heartier challenge. York raced out to a 7-0 lead, but Brooklyn eventually caught up. The first quarter, marked by defense, ended 14-13 in York's favor. After that, the Bulldogs obliterated York, scoring 24 points in the second quarter. York punched back, scoring 21in the third. The Bulldogs felt their backs against the wall for the first time in a while but held strong. By the buzzer, Brooklyn stood victorious and advanced to the CUNYAC Championship against John Jay. 
   Bulldogs versus Bloodhounds: a centuries-old rivalry (maybe?) played out in the CUNYAC Championship. Coming into the game, Brooklyn had won each of their two previous meetings with John Jay by double-digits. Their third encounter should have been more of the same, right? Well, the Bloodhounds dug their heels in, squaring down for a defensive slobber-knocker. Brooklyn only managed to score 64 points, less than their season average. Thankfully, the Bulldogs played some staunch defense of their own. Brooklyn locked down John Jay, holding them to just 58 points. Senior guard Gianna Gotti put together a typically masterful performance, scoring 26 points, swiping six steals, dishing six assists, and grabbing eight rebounds. Gotti was named MVP of the championship
   Friday, Mar. 3, saw the Bulldogs take on top-ranked Christopher Newport University in the NCAA Tournament's first round. Brooklyn carried an impressive 15-game win streak into the tourney, while CNU carried a perfect 26-0 record. It was a battle of momentum, which CNU won. The Bulldogs were unable to keep up CNU's scoring outburst, allowing 27 points in the first quarter. Brooklyn played tough, but in the end, suffered a crushing defeat. The final score wound up 89-52. 
Men's Volleyball Loses Two Games
By Owen Russell
   The men's volleyball team continued to skid this past week, losing its two matches. The two losses bring their losing streak to five. 
   On Feb. 25, the Bulldogs took on Baruch for their second CUNYAC matchup of the season. Brooklyn failed to do much of anything against the Bearcats. The Bulldogs fell in three straight sets (25-17, 25-20, 25-13). Baruch outclassed Brooklyn, allowing only five aces while scoring 13 of their own. On top of that, Baruch managed 34 kills. Brooklyn managed 13. Brooklyn's top contributor was most likely junior Tommy Min, who scored two aces and earned nine assists. 
   Brooklyn sought redemption against Lehman College on Feb. 28 but came up empty-handed. Like last time, the Bulldogs lost in three straight sets; however, they put up more of a fight. Brooklyn kept things close in each set (25-18, 25-21, 25-22). Brooklyn continued to allow easy points on the serve as Lehman scored 12 aces. Tommy Min made his presence felt in the box score once again with five kills, 14 assists, and eight digs.