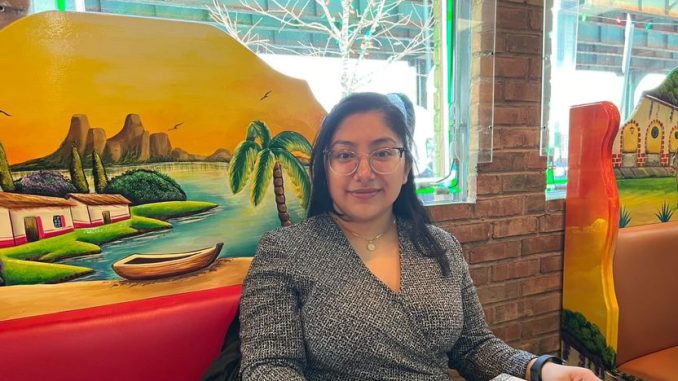 By Gabriela Flores
   Full-circle moments can appear coincidental. But for Leslie Ramirez Carbajal, the Immigrant Student Success Office's new program coordinator, aiding students regardless of their documentation status has seemingly been predestined for her as a formerly undocumented student. At the heart of her drive to help Brooklyn College students is her push to help her communities, her Mexican roots, and most of all, people like her mother. 
   "It feels like a full-circle moment because I see myself in them [students]," said Ramirez Carbajal. 
   At 24 years old, the John Jay graduate has long advocated for others, whether it be developing an immigrant student center in her alma mater or helping constituents living in her borough, The Bronx. Before becoming the leader she is today, Ramirez Carbajal made the long journey to The Bronx from her Mexican town San Nicolás Tolentino in Izúcar de Matamoros at three years old with her mom. Growing up undocumented in the States, young Ramirez Carbajal was aware of her status and the limited resources that were available to her. Nonetheless, she found a home away from home, facing challenges and uncertainties head-on. 
   "It still felt like we had a little piece of Mexico with us," she said about her neighborhood. 
   With the support of her family members, she dreamed big, even thinking of potentially becoming America's president. 
   "I remember there was one time I told my uncle, 'I want to be the president of the United States.' Mind you, I knew I was undocumented, but yeah, I just wanted to be the president," she said. "And he was like, 'Perfect. Plan a strategy and with hard work, you'll get there.'"
    The echale ganas mentality, where hard work pays off, is prevalent in her family. As she noticed later in life, however, the accessibility of resources and opportunities plays a significant role in success. Being a straight-A student in high school and a curious learner did not grant her the same experiences her peers had, including a school trip to France or a full ride to a university. 
   Back in her sophomore year of high school, she began the long legal process of applying for residency. At one point, she questioned if she would be able to attend college and apply for financial aid. Despite her worries, Ramirez Carbajal remembered the sacrifices her mother made by leaving behind her life in Mexico, where she thrived in social work. Hearing about her mother's college experiences and love for her former occupation motivated Ramirez Carbajal to pursue a similar experience for herself.  
   "I was like, it's been a lot of years since my mom has seen her family. It should be worth it for something, which I realized wasn't the best way to think about it, but I think that was something that helped drive me to continue and look for help," she said. 
   It took four years for the community advocate to gain her residency. After high school, she went on to Bronx Community College before she transferred to John Jay, where she double-majored in Spanish Legal Interpreter/Translator and Criminal Justice. November 17, 2018, officially marked the end of an unpredictable wait, during which she faced moments of anger and guilt, but saw that patience is essential while applying for documentation. 
   "It made me think, all this work for this little card," she said laughing. 
   Being someone who dealt with the country's immigration system firsthand, she understands its shortcomings, especially for the students she works with today at ISSO. 
   "We're very behind in how we're approaching immigration. Especially with DACA being in the limbo for so long, so it's just crumbs for our students in having to pay the fee, getting the social security, and the work permit for two years. I would say we're definitely behind, and there's a lot of unsureness when it comes to applying," said Ramirez Carbajal. 
   Once she was able to hug her family members in her native Mexico, the reality of her documentation status sank in. After transferring to John Jay in 2018, she soon became involved with the college's Immigrant Student Success Center, the first of its kind in CUNY. Working with Dr. Cynthia Carvajal, the university's director of immigrant student success, and others, Ramirez Carbajal learned how to expand initiatives from the ground up. The center started with a small office, with its limited space making it uncomfortable for students to share confidential information. Eventually, with collective efforts, it expanded and offered new programs like Undocu-Ally training, which Ramirez Carbajal helped develop to train faculty on how to assist immigrant students. She also picked up how to request and write reference letters, which has proven handy during her ongoing run at BC. 
    "I really enjoyed my time at John Jay – being able to create programming, to interact with students, help them advocate for themselves," she said.  
   Although she initially thought of heading to law school and studying corporate law after John Jay, she realized the lifestyle did not suit her. Instead, she went on to work full-time in her local district office as a community affairs liaison. Alongside seasoned members in the Senate, she learned how to advocate for herself, and engaged in several communal initiatives, including informing her Mexican community of their rights and the office's existence. 
   However, working through the height of COVID-19 and long hours made her realize it was time to take a breather in February 2022. During her break, she took months caring for herself and later looked after her grandmother in Mexico for a month. 
   Once she had a chance to reconnect with friends and do what made her happy, she went on to apply to several jobs, including BC ISSO's program coordinator position. She officially started her work at Brooklyn College this past Jan. 17. 
   With nearly two months on campus, she's quickly grown bonds with students who visit ISSO in Roosevelt Hall 117. Whether it be listening to their troubles, or creating events and programming to better engage the BC community, Ramirez Carbajal remains committed in supporting those who come to her and ISSO for help. 
   "We accept anybody who wants to be an ally or identifies as an immigrant, and we don't ask students to disclose their status. If they decide to disclose their status to us, it's up to them. Everybody is welcome," she said.