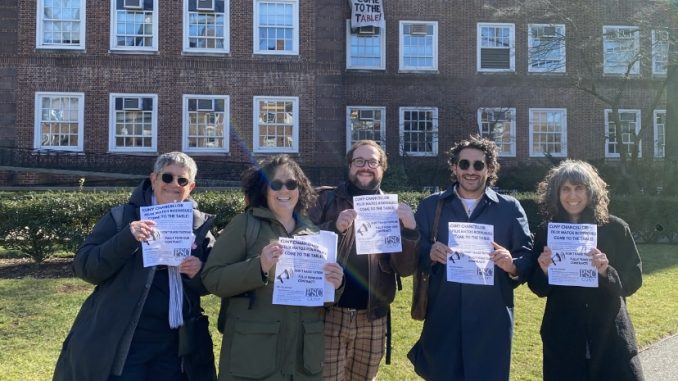 By Serin Sarsour
   Legislation advocating for a better and brighter tomorrow for the CUNY system continues to make waves on the Brooklyn College campus. The bill, New Deal for CUNY, calls for a tuition-free university where faculty and staff are no longer underpaid and more resources are made available across campuses.
   "Everybody likes to talk about how CUNY is an engine of economic mobility for students, which it is, and that is something that should be valued in our society and therefore free. So for me, the investment in an institution and students and faculty and staff is what makes an institution run and we need that investment," said BC Sociology Professor Carolina Bank Muñoz.
   The New Deal for CUNY was first proposed in February 2021 by the Professional Staff Congress along with a group of CUNY advocates and state legislators. Besides its call for free tuition, the New Deal aims to increase the diversity and number of CUNY faculty and staff, including more academic advisors and mental health counselors.
   For BC junior and New York Public Interest Research Group representative Damien Andrade, the bill's plans are more important now than ever before. "I want to be at a place where students don't have to fear the burden of tuition costs in order to debate going to school or having enough money to pay rent," he said. "I also believe that we need more academic advisors and more mental health counselors for each campus because we are still in a pandemic and people still stress."
   At the heart of CUNY and the New Deal are first-generation students who come from low-income families and are pushing for a chance at higher education, but tuition costs are currently in the way of their academic pursuits. Andrade noted that CUNY used to be free until the 1970s, so he has faith that the efforts being made from the PSC union and the CUNY community have the potential to make the university free again. 
   "For me, the New Deal for CUNY is trying to live up to the actual mission of a public university that provides quality education for New Yorkers, for people in the city, and to support their faculty and staff and everybody that makes this university run by putting resources, money, and opportunity into the brilliance that already exists in this university and building it from within," said Anthony Harb, an anthropology professor at BC.
   The New Deal for CUNY also advocates for more investments into the infrastructure of CUNY buildings. There are buildings on the campuses that date back to the 1930s, so updated repairs and maintenance are long overdue, according to many supporters. Bank Muñoz noted that pushing off this maintenance has repercussions for students, staff, faculty, and their experiences inside these buildings, as well as how technology works or doesn't work in them.
   A group of BC faculty and staff took action last Tuesday, Mar. 7, after hanging two banners on campus for a few hours: one hanging from a window in Ingersoll Hall and another hanging from a window in Boylan Hall. These banners were meant to send a message to CUNY Chancellor Félix V. Matos Rodríguez and other officials.
   "I think a New Deal for CUNY will address the critical underfunding that has been happening for decades," said BC Anthropology Professor Naomi Schiller, who accompanied Bank Muñoz and Harb during the banner drop last Tuesday. "Our buildings are falling apart, our students don't have enough career counselors, there's not enough mental health counselors. So many of our classes are taught by adjuncts who are really woefully underpaid and exploited, and our students deserve better," she said.
   A protest for the New Deal occurred on the same day as the banner drop. Andrade was among one of the protesters and is looking forward to participating in future demonstrations to fight against slashed budgets and for a more accessible, affordable CUNY.
   "The state should take responsibility and fully fund our institutions. This tuition hike that Gov. Kathy [Hochul] is proposing is like a tax increase for the working class, which makes it harder for students to earn a higher education degree," said Andrade.
   Student organizers are now planning their annual "March In March For CUNY: CUNY Is We, We Are CUNY" rally, which will take place on Sunday, Mar. 19 from 12 PM to 3 PM. CUNY students, faculty, staff, and advocates will meet at Brooklyn Borough Hall, march over the Brooklyn Bridge, and end at City Hall to fight for the New York State legislature to pass the New Deal. 
   Harb's message for President Anderson, Governor Hochul, Chancellor Rodríguez, and other officials is to make some kind of effort now. "Put your money where your mouth is. Come to the table in good faith for negotiation, ready to make significant commitments to CUNY and the people that make it great," he said.