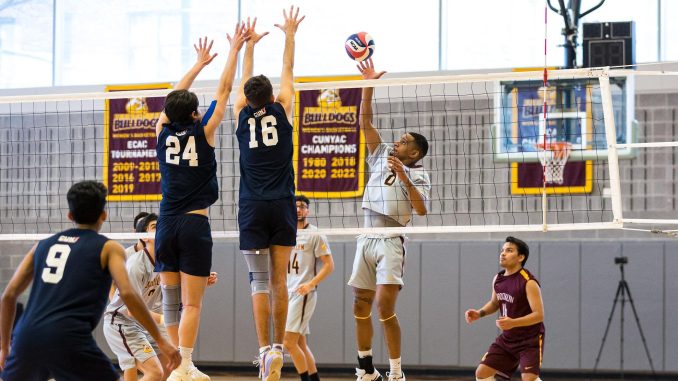 Men's Tennis Starts On Wrong Foot
By Owen Russell
   The men's tennis team kicked off the spring season this past week with a 6-3 loss to SUNY Purchase on Thursday, Mar. 9.
   The Bulldogs struggled primarily at the top of their lineup, losing their top two doubles contests and top four singles contests. Their sole doubles victory came in the #3 doubles match when the team of sophomore Mujibur Shaad and freshman Allen Mardakhayev defeated the challengers from SUNY Purchase. Mardakhayev tacked on a singles victory in #6 singles, marking an undefeated day for the freshman. Junior Mordecai Lev scored Brooklyn's remaining victory in #5 singles. 
   Brooklyn started its season on a questionable note, but will have plenty of time to turn the tide. The next match comes on Friday, Mar. 17 against York College.
Men's Volleyball Finally Wins
By Owen Russell
   Men's volleyball snapped a five-game losing streak this past week with a win against York College on Tuesday, Mar. 7.
   The Bulldogs came into Tuesday's match desperate to stop the bleeding of their five game skid. Brooklyn earned its victory in emphatic fashion. The Bulldogs swept the Cardinals, winning each set by double digits (25-3, 25-5, 25-9). En route to utter dominance, the Bulldogs suffocated York with aces. Brooklyn scored 18 aces while only allowing one to their competition. In outskilling the Cardinals, BC scored 24 compared to York's eight. Junior Tommy Min made his presence felt, scoring 10 aces and earning 18 assists. Freshman Wai Lin led the team in kills by scoring seven.
   Brooklyn failed to carry Tuesday's momentum into their Thursday, Mar. 9 match against CCNY. The Bulldogs battled valiantly, but suffered a sweep nonetheless (25-20, 25-14, 25-20). The Beavers proved to be too much for Brooklyn, despite being close statistically. CCNY scored 31 kills, while Brooklyn scored 25. The Bulldogs were solid defending the serve, allowing only one ace. Senior Fidel Maldonado Jr. led Brooklyn in kills, scoring nine.