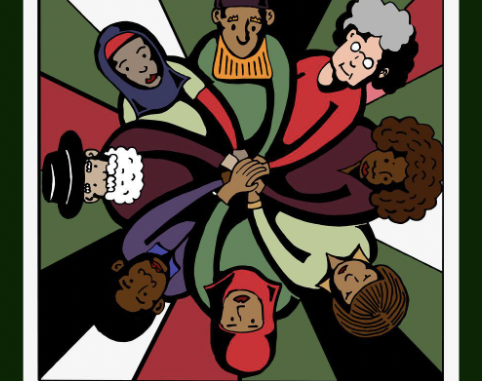 By Gabriela Flores 
    In an effort to address repressive and racist actions at the university and city, a new coalition called the People's CUNY officially launched last Thursday, Mar. 9, at the CUNY Graduate Center. The organization intends to hold CUNY and city officials accountable for their "anti-Palestinian racism, anti-Blackness, Islamophobia and other forms of systemic racism and racialized violence," according to its official statement. 
    Throughout its launch hearing, People's CUNY hosted community leaders, students, and professors on two panels. The first focused on the university's shortcomings in addressing racism, police surveillance, labor exploitation, and other forms of repression. The second panel discussed how said issues relate to struggles outside of CUNY. 
   "Today, we are collectively launching the process of mobilizing our voices in a people's hearing," said Professor Corinna Mullin from John Jay, who opened the event alongside Professor Saadia Toor from the College of Staten Island. 
   The idea for creating People's CUNY began last July after officials from the New York City Council's higher education committee and CUNY administrators named CUNY Law student Nerdeen Kiswani during a hearing that intended to address antisemitic allegations. Kiswani, a Palestinian activist who protests against Zionism and the state of Israel, was singled out and not defended by the university, according to the People's CUNY organizers. The administration's lack of support for the Palestine liberation movement and Kiswani, along with the push for CUNY to adopt policies that "limit our ability to even mention Palestine within the university space," ultimately led to the making of People's CUNY. Organizers were especially driven by the lack of attention officials gave to issues like anti-Blackness, labor exploitation of faculty and staff, along with other struggles. 
    "As such, we felt strongly what was needed was in fact a people's hearing, to hold the city and university accountable to its students and workers, and to the wider community in which it's embedded. CUNY must not be seen as a bubble separate from the broader context of New York City," said Toor, explaining that the repressive experiences discussed throughout the event are not specific to CUNY, but also present in the city and United States more broadly. 
   Before delving into the panel discussions, organizers delivered a land acknowledgment of the stolen Lenape land that CUNY and NYC sit on today. In the event's first panel, historical CUNY movements that were led and continue to exist were mentioned, including anti-war efforts led by Jewish immigrant students at City College in the 1920s and 1930s; the actions of a Puerto Rican and Black students coalition in the 60s; and the CUNY for Abortion Rights group that formed in response to the overturning of Roe v. Wade.
    "So why do we gather here? Why do we gather for a people's hearing on racism and repression at CUNY? Because we have the most ethnically diverse chancellery, Board of Trustees, college presidents, and city government, but that doesn't inherently produce an anti-racist People's CUNY, does it?," said Conor Tomás Reed, who forms part of Rank and File Action's Reclaim the Commons initiative. "As we challenge all forms of repression and exploitation, we must not let [the] ruse of representation to cloud our judgment." Reed also noted that in the CUNY Graduate Center, almost 1,000 signatures have been collected for a no-confidence statement against the school's president and provost. 
   "We want the president and provost out – they do not represent us, they are not handling their jobs well. They need to go," said Reed. 
    In calling for reforming CUNY through radical changes, speakers discussed a range of concerns and experiences — from Black politics and how it's not properly addressed in the institution for the community's benefit, to the problems that can arise with assigning synonymy between antisemitism and anti-Zionism. Kiswani, and Rachel Pincus from CUNY Law's Jewish Law Students Association, discussed the university's address of movements supporting Palestine and opposing Zionism.
    "By conflating anti-Zionism with antisemitism, we are in essence saying that every Palestinian is anti-semite," said Kiswani during the event. "And this often extends to all Muslims and Arabs, and racialized people in general who stand against the state of Israel."
    During the second panel, community leaders that form part of solidarity initiatives with Puerto Rico, the Philippines, Haiti, and other countries described the struggles they face daily in their respective advocacies. Tristan Dutchin, who forms part of the Amazon Labor Union, was one of the speakers, articulating how the booming company exploits laborers and should be continuously held accountable. 
    "It wasn't really easy unionizing that place [Amazon]. We went through a lot of barriers. A lot of bizarre stuff to get where we needed to get, and that's what you have to do to get into this working-class labor movement. You have to go through the odds," Dutchin said, later noting that he was fired from Amazon after helping successfully launch the company's unionization. 
    Later, Gabriela Malespin from the NYC chapter of Boricua Resistance took to the podium, mentioning how her organization aims to free the island from imperialism and capitalism. During her talk, she called out officials, including CUNY Board of Trustees member Robert Mujica, who has a stake in Puerto Rico and CUNY's state. 
    "I want to highlight all these different people who are connected to CUNY and to the public system because A) we all deserve better. We don't deserve these horrible, imperialist people taking over our institutions, our budgets, impeding our access to education […]," said Malespin. "We're calling on specifically for him [Mujica] to be removed from the Board of Trustees." 
    Following closing remarks, the People's CUNY later spoke informally with those who attended through an "organizing huddle," where they further discussed ways to address the university and city's forms of repression.