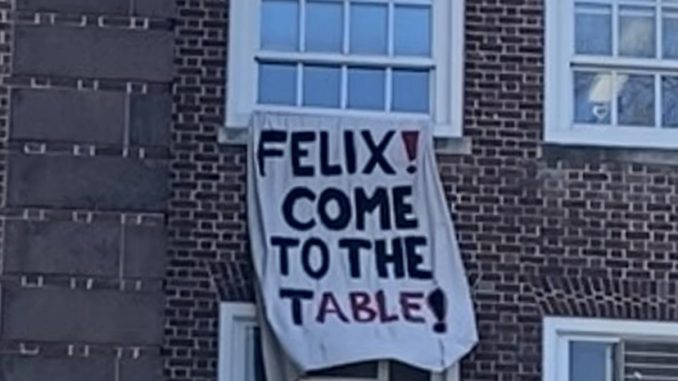 By Serin Sarsour
   A group of Brooklyn College professors rallied together to unveil two banners on campus in favor of the New Deal for CUNY last Tuesday, Mar. 7. The legislation they demanded calls for a tuition-free university and more faculty and staff, among other demands that advocate for more investment in the entirety of the CUNY system.
   "A New Deal for CUNY is legislation that has been proposed for a few years now that will provide free tuition to students, increase the number of mental health counselors, increase the number of advisors, and more money for infrastructure to fix CUNY's buildings. It's basically a call for greater state investment in the CUNY system," said BC Sociology Professor Carolina Bank Muñoz, who chairs the college's Professional Staff Congress chapter.
   The New Deal for CUNY was first proposed by the PSC, state legislators, and CUNY advocates in February 2021. Last Tuesday's banners were up for a few hours and addressed to CUNY Chancellor Félix Matos Rodríguez, formally asking him to "come to the table" to negotiate a fully-funded contract that is fair to CUNY faculty and staff after it ended on Feb. 28. One banner hung outside of a window in Ingersoll Hall as the other hung across it from a window in Boylan Hall.
   "I think these banners are a message to the governor, to the chancellor, to the mayor, that what makes New York City and New York state great is our incredible public university system. But that system is critically underfunded and we need the support now," said Naomi Schiller, a BC professor in the anthropology department.
   The PSC represents 30,000 CUNY staff and faculty in a labor union and demands raises and job security for adjunct professors. The CUNY New Deal also calls for commitments to fixing the infrastructure of CUNY campuses to ensure a better, safer school and work environment.
   "I hope that the state passes a New Deal for CUNY; that's 100 percent in the purview of Hochul's authority," Bank Muñoz said. She also noted that there is more than double in the state budget that could be put towards CUNY. "And at the more local level, our chancellor needs to sit down, needs to come to the table and bargain with us over a fair contract," said Bank Muñoz.