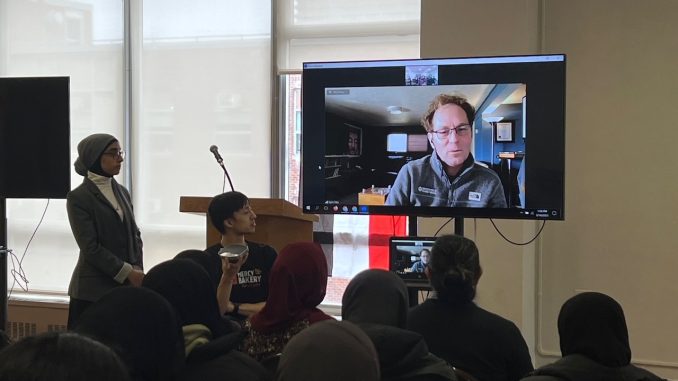 By Kate Dempsey 
   Yemen is facing what has been described as the world's "worst humanitarian crisis" by the United Nations, yet the crisis is also a forgotten one. Nine years into the civil war, more than 21 million people, about two-thirds of the country, still need humanitarian aid. The crisis has had an especially devastating impact on an extremely vulnerable population: children. 2.2 million children under the age of five need treatment for acute malnutrition, and millions of Yemenis are on the brink of starving to death.
   To raise awareness, Brooklyn College's Bridges for Yemen club, in collaboration with the non-profit Humanity for Relief and Development, hosted a screening of the Oscar-nominated documentary "Hunger Ward" on Tuesday, Mar. 14. Following the film, the organizers hosted a Q&A discussion with its director Skye Fitzgerald. 
   The documentary follows Dr. Aida Alsadeeq and nurse Mekkia Mahdi as they work in hunger treatment facilities for children in the northern and southern parts of Yemen. 
   "We try to spotlight what's going on in terms of the humanitarian crisis in Yemen and the ongoing starvation of the children, and we had this opportunity to collaborate with Humanity for Relief and Development," said Hanan Yafai, president of Bridges for Yemen and a senior at BC. 
   Humanity for Relief and Development, which operates in Yemen, Pakistan, and Turkey, has created "Mercy Bakery" and "Mercy Kitchen" in affected areas, creating a self-sustaining means of providing daily food for impoverished communities. The project, which started with Yemeni friends and families coming together in America to help those abroad in Yemen, has now served 26,322 people total in the country, according to their 2023 January Project Report.  
   "Our focus is just on humanitarian aid, so it just started with giving out free bread," said Eric Tien, community engagement coordinator for HRD. "I think that's what we should all try and take away from this movie is what can we do here in America."
   The documentary was distressing and heart-breaking for those in attendance. Multiple children are seen suffering from wounds or extreme malnourishment, and after many children die in the documentary, the viewer is taken directly into a family's grief after losing their child. For viewers of the documentary, it's a difficult watch but also a necessary one.
   "It was really emotional, I almost cried, but I think it's also very important to spread knowledge on what's going on," said BC freshman Basamat Hamdan. "If you don't know what's going on, as sad as it is, change is never going to happen." 
   Yemenis at the viewing wished that their "voices could be heard." The lack of attention on the crisis has left many feeling neglected by the global community. Director Fitzgerald, in the Q&A portion of the screening, explained that the purpose of the documentary was not only to raise awareness about the crisis and provide a platform for the voiceless, but to also spark change by getting more people to help the cause.
   "These stories need to be heard, they need to be seen," Fitzgerald said. "Change starts with each of us. It's hard to think about the scale of suffering in Yemen, where so many children are dying every day […], but what you can do is you can save one child and you can save another child." The director encouraged the screening's participants to use the tools they have readily available to make a difference. 
   Fitzgerald reflected on the physical and mental challenges of filming the documentary. Getting permits to film took eight months, and he became the first western journalist to be in Yemen in six months. Traveling to and from territories controlled by different belligerents in the war was dangerous, and many were hesitant to speak with a foreigner from the west. Coming back to America, Fitzgerald felt it difficult to walk into a supermarket having just seen so many people starving. Nonetheless, his persistence to create the documentary has inspired many to continue the effort to ensure Yemeni voices are heard. 
   "Yes, your voice can be heard. Every single one of you here," Yafai said. "Small thing you can do is just keep it going. Keep talking about it, just don't get discouraged. That's one of the roles that you have to take it upon you as a human. You don't have to be Yemeni, you don't have to be even Muslim or any religion […] this is your responsibility as a human."
   To view "Hunger Ward" and learn more about the film, visit hungerward.org.