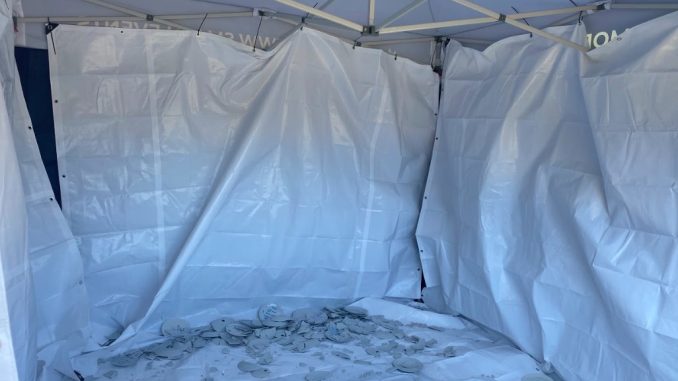 By Michela Arlia
Reporting Assistance By Gabriela Flores
   The West Quad became a place to let off steam as the Undergraduate Student Government held a "Rage Against Midterms" event on Tuesday, Mar. 21. During common hours, students were encouraged to let out all midterm season frustrations in the best way possible – by breaking plates. 
   The event was originally scheduled for Mar. 14, but pushed back a week later due to weather. USG hired a mobile rage room company called "Smash" to come to campus. After signing a waiver, students were able to pick up a ceramic plate, write a message, and smash it to the floor. 
   "The main point is to throw a plate so, take your anger out of throwing a plate," said USG Senator Fouad Altaffi.
   Students passing by on the quad stopped in for a quick relief session, walking away both excited and relaxed. For a BC student named Kaitie, who did not want to share her last name, it was a relief to write things down and rage against all negativity around her including bad grades.
   "I think it's amazing. I think like its fun and people can really get their anger out," she said.
   The idea for the event was first thought of by Graduate Student Organization President Louis Di Meglio, with USG organizers planning the final details in December 2022.
   "I was like oh it's a different event, we haven't done an event like this on campus ever, so it was like, we always have you know the regular movie night or something like that," said Mariam Alex, USG's events director. "Also, although we're all burnt out and tired, and have a lot of rage against a lot of issues going on, whether it's in school or outside, so I just thought it would be a cool event." Alex commented not having to be as stressed with event planning as she was last semester, noting she was pleased with the turnout and positive feedback from students on campus for this event.
   "I'm excited for the end of the year, I'm excited for the rest of our events. I love seeing the campus come back to life, today is such a beautiful day," said Alex. 
   USG plans to host more events in the coming weeks and months leading up to the end of the semester, including the second annual Grand Iftar dinner, a carnival in May, movie nights, and even a puppy therapy event during finals week.