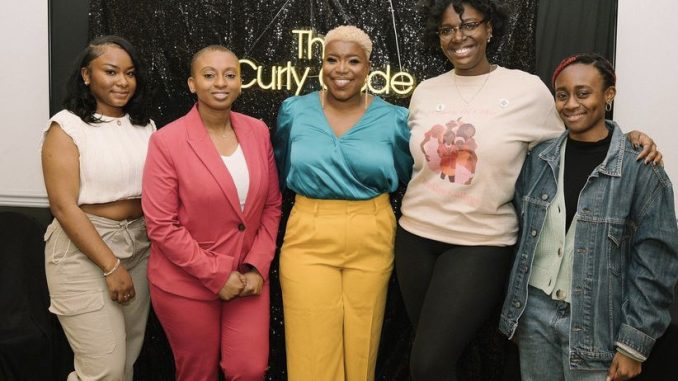 By Serin Sarsour
   Natural hair is often left out of the conversation surrounding hair care. To become a part of changing this reality, Brooklyn College's Women of Color club held a "Natural Girl's Protective Hair Guide" on Tuesday, Mar. 28. WOC partnered up with The Curly Code, RejuvaScalp, and Hair by Ayoka D to provide guests with tips and tricks for natural hair.
   "It [natural hair care] takes a long time, it takes a lot of energy and sometimes, we get criticized for it no matter where we are, who we're presenting ourselves to. And so this was a way to just remind people, your hair is beautiful no matter what texture, what color, what type," said Ariscelys Turay, the president of WOC and a senior at BC. "You just gotta take care of it."
   Natural Black hair can look and feel all sorts of ways, ranging from wavy to kinky-coily hair with different textures. Black hair types are usually fragile, drier than other hair textures, and require a lot of moisture and conditioning, according to Byrdie.
   As a woman of color who has had a unique journey with her own natural hair, BC junior and WOC's treasurer, Rhema Mills, believed this event was extremely important to have to educate others on how to protect and take care of what they were blessed with. "A lot of Black women have issues dealing with their hair, and sometimes like you talk to your mother and their grandmother and they don't necessarily know what to do because they have the same issues and no one has ever taught them how to fix it," she said, noting that the hair experts who joined the event provided an extra sense of confidence that their recommendations would yield good results. 
   After taking a look at the demographics of members of their club and students on campus, WOC noticed that several women wear wigs, so hosting a wig installation class was something the club had been wanting to do for a while, especially during Women's History Month.
   The Curly Code, a natural hair community that strives to teach young Black girls and women how to love and care for their skin and hair, reached out to WOC in hopes of collaborating. The club then made the executive decision to combine their wig installation class with The Curly Code to make it an evening full of education on not only wigs, but also covering natural hair and protective hairstyles.
   "The founder of The Curly Code was talking to us about the different kinds of shampoos that we can use for our hair and the different methods that we can use to wash our hair, which I thought was very, very helpful," said junior and member of WOC Jainoir Richardson.
   Following The Curly Code, a member from the RejuvaScalp team explained to guests what scalp health is and its importance, along with different kinds of scalp elements and tips. RejuvaScalp is a company that uses jet machines to massage and exfoliate the scalp, which unclogs the pores and extracts toxins for a more hydrated scalp with fuller and healthier-looking hair.
   As for the wig installation portion of the event, a hairstylist with a small business by the name of Hair by Ayoka D gave the audience a very informative tutorial. She installed a wig on a student who won a contest during the event.
   Turay left the event having learned a lot of valuable information, like how many factors determine which specific shampoo must be used at a certain time. "If you're about to put on a wig or you're going to take a wig off, this is a shampoo for you. If you have this colored hair, this is a shampoo for you. If you're about to take out your braids, then this is a shampoo for you," she said, noting that many people also forget to take care of their scalp when taking care of their hair.
   The event exceeded the club's expectations, selling out all tickets and welcoming 60 to 70 guests. Three lucky attendees won blow dryers during the games and contests held during the evening.
   WOC has three more events up their sleeve for the spring semester. The club will be hosting its annual Battle of the Sexes event with the Phi Sigma Chi fraternity on campus, a self-defense class, and a dinner to celebrate the 10 year anniversary of WOC at BC. Current and incoming e-board members will get the chance to network and socialize with past WOC members.
   "We always wanna make events that make our members feel seen and make them feel appreciated, where they can just learn about themselves and the lives they're gonna live," said Mills.