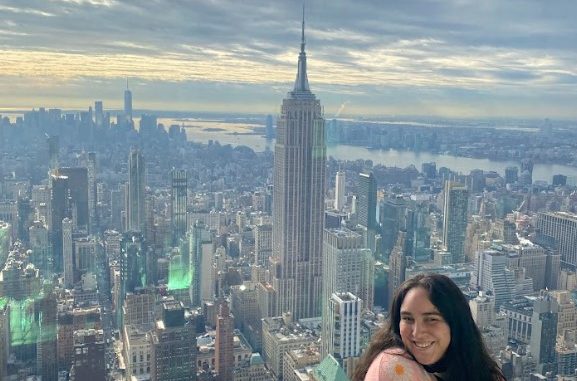 By Kaylin Guzman
   I have never been good at communicating my innermost thoughts. Goodbyes have always been challenging, so I always say see you later. 
   I have enjoyed my time here at The Vanguard. I have developed a new love for photography and art because I have had the space to create new things. After feeling trapped at home for two years, I needed something new to do. Brooklyn College had only just returned to in-person classes, something that was terrifying as I didn't know anyone on campus. I need to become comfortable in a place I have only seen through pictures and videos. I decided to resort to social media to prepare myself for my journey ahead.
   I started following the Instagram accounts of clubs all around the campus. As a double major in Television, Radio, and Emerging Media, and Journalism and Media Studies, I knew I had to join The Vanguard. After following The Vanguard account for a few days, I noticed they were looking for a new photo editor.
   I nervously sent a message to the paper's Instagram inquiring about the newly open position. I compiled a portfolio and sat for a Zoom meeting with Gabriela Flores and John Schilling. They welcomed me with open arms to the newspaper. 
   I would like to thank both Gabriela and John for allowing me to join the team. I didn't think I had what it took to join, but I like to think they saw potential that allowed them to take a chance. I appreciate that very much. 
  I would also like to thank Gabriela and Michela for their patience throughout my time working under their reign. For allowing me to mess up and make mistakes. For always hyping me up when they really loved a photo I captured. For being my friends and making sure I knew I could count on them. Thank you, I can only hope to find more leaders like you out there.
  When photographing events for the paper, we must capture what is presented to us. From people and objects that are physically there, to the emotions people brought to the causes they were representing. 
   This is what draws me to photography — capturing the once-in-a-lifetime moment. Allowing the subject to be their authentic self makes that moment live forever. 
   I was able to attend a few events that impacted my understanding of human emotion and expression. Protests and celebrations were some of my favorite events to cover. Protests allowed me to see anger, sadness, and the fierce determination people had when defending something they believed in. Celebration allowed me to see happiness and creativity. They expanded my knowledge of things I had not yet encountered in my life. 
   I was able to explore more than just visual expression at Brooklyn College. I was introduced to audio and the stories that could be conveyed through them. Telling stories through the voices that should be heard.
   JD Duncan recruited me to become the new treasurer of WBCR. They gave me the opportunity to join them on a crazy journey that allowed them to bring back the radio station. WBCR taught me patience, teamwork, and communication with those who need to hear me. Thank you, JD, for allowing me to take on this challenge with you. 
   This is what I expected my college experience to be like. The students at Brooklyn College helped deliver on those moments and the education I lacked. Although there was a conflict in my time here, I learned and grew with every obstacle I overcame. Many of the people I consider my friends have taught me that a life lesson can come from anywhere and when you least expect it.
   This is how I will remember my time here at Brooklyn College. For the people that took the time to teach me something, to the people that allowed me to make mistakes, to the people who took a chance on me and opened a door I didn't think I wanted to be opened – I am forever grateful for those that have allowed me to thrive here.