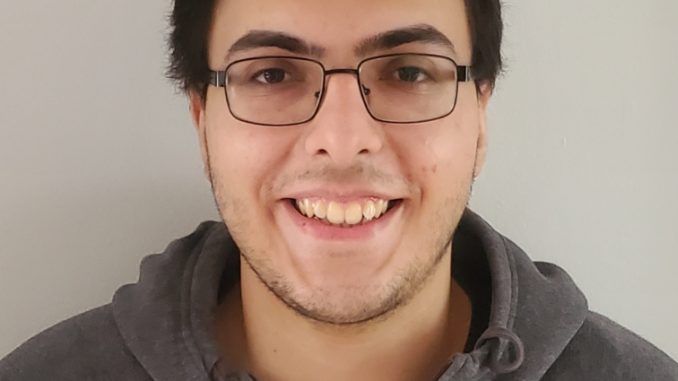 By Radwan Farraj
   I look back at the start of my college career at BC and comparing it to now, I can't help but laugh about the chances and opportunities that happened to place me here at this moment.
   It was a comforting thought as a freshman in the fall of 2019 to think that college would be a fresh start and an interesting change of pace from high school. Horizons that I thought would be expanding outward as I started spring 2020 suddenly seemed to get smaller. For no small amount of time, I couldn't tell what I wanted to do with my degree, let alone figure out what kind of degree I wanted.
   Pre-med lost its shine as soon as the pandemic started and I found myself quickly jumping ship to become a history major. I figured I would know what to do with a degree in history hopefully later rather than sooner, and instead focus on surviving the dreary and monotonous land of Zoom. At the start of online learning, I struggled to keep up with my classes and responsibilities and would not see my motivation for learning come back until fall 2020.
   A year later in fall 2021, I was nervously writing an email to The Vanguard asking about how to join. I had to work up the courage across two weeks to even start my email and ask if there were available writer positions for the news section. Even after a warm invitation to join from our Editor-in-Chief Gaby, I tremblingly asked for some time to think about joining for full-time writing. Eventually, I got the courage to accept and never looked back.
   Fast forwarding to today, it is only now that I can reflect on the honor and privilege I had to write for The Vanguard and to work with my fellow talented writers. Time and again, I've been stunned to see the work ethic and quality of work that The Vanguard puts out, especially since we were all online when I joined.
   Since I've joined, I've constantly feared that my writing or contributions were not enough or that I could have pushed myself more than I did to meet the requests asked of me. Balancing online learning, weird fluctuations in motivation, and fun times with low self-esteem have made for an interesting mix that I can only thank a few individuals for helping to make easier.
   I worked under Matt Hirsch, who preceded me as news editor and acted as my mentor for the time I knew him before he graduated in spring 2022. At every turn and hiccup of mine, Matt was there not to help make sure my pieces were in by a weekly deadline, but that my writing was as strong as it could be. Matt's expertise, welcoming presence, and patient understanding lasted longer than any self-doubt of my own making, and I cannot thank him enough for being a guide on a turbulent and mostly online journey.
   Spring 2022 was my first fully in-person semester back, which also meant my first in-person semester at The Vanguard and an opportunity to work face-to-face with everyone else. It meant in-person reporting, more interviews with students and faculty, and it meant finding a place for myself at The Vanguard.
   I can't talk about persevering through setbacks and challenges without talking about Gaby's presence as our editor-in-chief. Beyond being our "boss," Gaby has been our mentor and team captain through all the hiccups that came with transitioning from online learning to in-person learning and from digital publishing to print publishing.
   To Gaby, I have her to thank for keeping me in The Vanguard and for reminding me that it's alright to fall five times as long as you stand back up at six. Gaby is the hardest-working person I've come to know at BC, and it is no exaggeration to say that either I or The Vanguard would be where it is without her efforts and guidance. I have become a better writer in my time at The Vanguard in no small part because of her presence and contributions to my learning. I still have a notepad with writing tips she's given me that I would hope do her justice when I reflect on them as I write.
   For Michela Arlia, our managing editor, I can only thank her for being the glue to have kept The Vanguard together, and for being a well of knowledge and expertise both inside and outside of our newsroom. I cannot understate Michela's influence on The Vanguard and on my own path as a student writer. I have her to thank as well for making sure I stayed with The Vanguard through all sorts of bumps and issues.
   Both Gaby and Michela have been kind enough to grace me and The Vanguard with their dedicated thought, time, and attention, and the impression they have left on me as a writer is indelible, and I think I would do everyone at The Vanguard who has worked with me a disservice if I even thought of forgetting their influence on me.
   For the future, I think I will wish that my college experience was not so screen-heavy and that I had a college experience that was expected of everyone pre-March 2020. My experiences as a student at BC have been invaluable, and I could only wish for more time. 
   I would hope my fellow writers cherish the time we had together and hope future writers at The Vanguard do not fear to learn from their mistakes. To my fellow writers, professors, and friends, I give my deepest thanks for sticking through all these challenges with me.