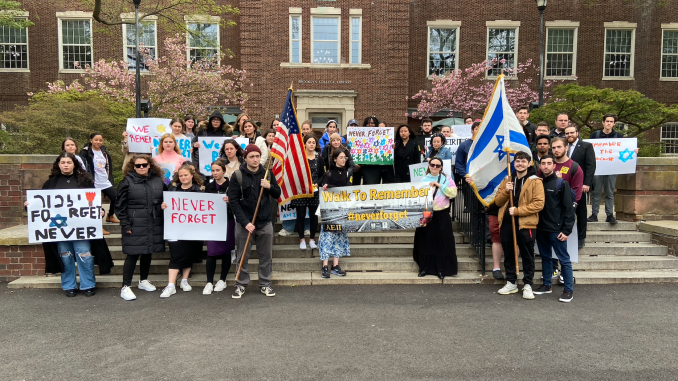 By Allison Dubrow 
   Brooklyn College students met near the main campus gate on Bedford Avenue to march in honor of the Yom HaShoah, or Holocaust Remembrance Day Commemoration, on Tuesday, Apr. 18. The march was followed by a ceremony and lunch at Tanger Hillel. 
   Holocaust Remembrance Day memorializes the six million Jews who were murdered in the Holocaust. It is also a time to recognize the bravery of those who survived and of rescuers. 
   During the march, students were silent to honor those who died in the Holocaust and to reflect on the atrocity. The walk illustrated to bystanders the importance of remembering the genocide and to stand up for injustices around the world. 
   "It was so amazing because none of us were talking so it was this beautiful walk of just remembrance," said Isabella Gurevich, a BC student who participated in the event. 
   Students marched around the campus twice holding signs that read "Never Again" and "Never Forget," eventually returning to Hillel where they had Holocaust survivor Yehuda Lindenblatt speak. Lindenblatt is originally from Budapest, Hungary. He spent time as a volunteer for Hatzalah, one of several Jewish volunteer emergency medical services assisting mostly Jewish areas around the world, though they serve everyone regardless of religion, race, ethnicity, or ability to pay. 
   In his talk, he reflected on what he went through and how he survived during World War 2. His main message to students was to treat people with kindness, to stay strong, and be proud of who they are. 
   "I think it's so important to listen to survivors and understand how dangerous the world can be, and if we don't listen to them we're bound to repeat mistakes," said Sarali Cohen, the engagement associate at Tanger Hillel. 
   After students listened to Lindenblatt over lunch, they lit six candles to honor the six million who were murdered.