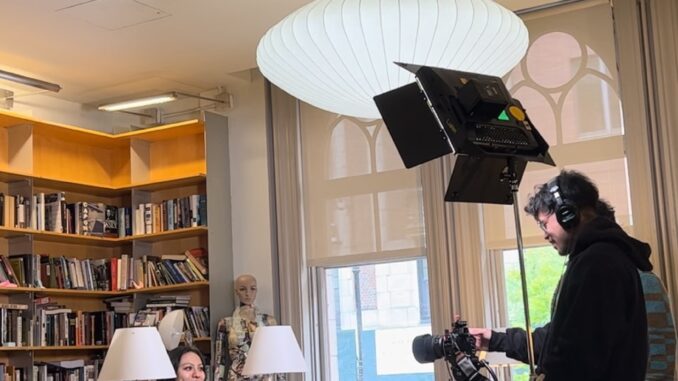 By Paulina Gajewski (Reporting Assistance By Serin Sarsour)
   In a world in which an online presence is becoming increasingly significant, CUNY is taking steps towards becoming a part of this modern world. An interview with Brian Ramos, a recent Brooklyn College graduate, shed light onto how CUNY students have tried to increase their presence on social media and engage with one another in an online manner.
   Through a student-led Instagram account profile called CUNY By Students, social media interns are able to provide content that appeals to other students. The account was created in October 2020, and allows for a unique form of representation of students and media.
   Beginning in October last year, Ramos embarked on an internship with CUNY. He had been chosen as a model for CUNY advertisements, many of which were plastered inside trains and around the city. "From there, I asked if they had a spot for me and explained to them how eager I was to find an internship for social media," Ramos told the Vanguard. "My internship officially ended in June, and I would say it's one of the most valuable opportunities I've experienced so far in my career."
   Outside of a formal classroom environment, CBS is able to provide a space for the student community to express themselves. The page provides a casual format, allowing interns to use their personal humor and talents in order to showcase life both in and out of school. Ramos used his interest in fashion to launch the production of the series "What CUNY Wears," which exhibits diverse fashion across campuses.
   "Being able to share the stories of students, as well as give them the opportunity to be seen and heard, were our biggest goals," said Ramos. "We wanted to provide a space of creativity and overall community within CUNY." Ramos' internship also entailed working for CUNYEDU, which is the institution's main Instagram account.
   As a former business management major and marketing minor, Ramos' internship gave him the opportunity to work with the CUNY Office of Communications and Marketing, acknowledging that this would help him progress in his career and blossom his interest in social media management and content creation.
   "I knew that this internship would be a place where I could develop transferable skills for my future in social media marketing," Ramos said. "My job included going to different campuses and networking with students to create these reels for CUNY, directing multiple photo shoots, and editing videos that would be seen all over CUNY's websites."
   Ramos, whose personal social media experience dabbles in his hobbies, such as fashion and physical recreation, is also part of a leadership group that promotes public speaking and event planning for the youth.
   Since graduating from BC this spring and completing his internship with CUNY, Ramos hopes to continue down this creative avenue, go to graduate school for digital media or media management, and share content that positively affects society. Accommodating to a modernizing world means that we have the ability to create spaces for communities at a scale we have never had before, and Ramos is doing just that.