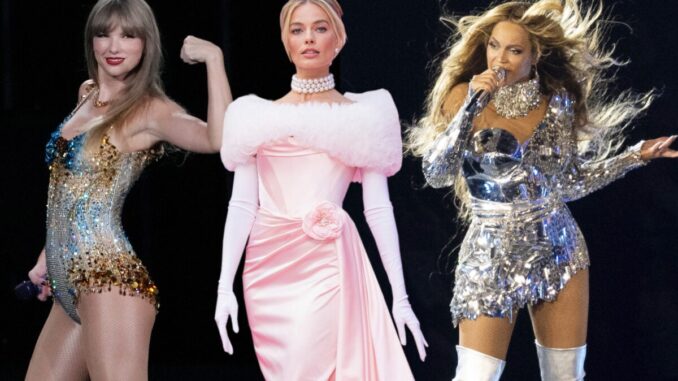 By Rami Mansi and Kiara Jones-Ford
   The summer of 2023 was headlined by four things: a potential economic crash, and then a potential economic relief from the trio of Beyonce's "Renaissance World Tour," Taylor Swift's "Eras Tour," and the "Barbie" movie.
   Created during the pandemic, Beyonce's "Renaissance" took the world by storm. With each of the 24 cities she performed in, a change in the local economy followed. A perfect demonstration of this is during her stop in Philadelphia, Pennsylvania. According to Thrillist, the travel and tourism industry saw a general financial increase. From beauty services by a 9% increase to restaurants by a whopping 30% increase, the impact Beyonce has on the cities she performs in is undeniable.
   Her first stop in Sweden brought in flocks of her fans (called the "Beyhive") to see the start of the tour. CBS News reported that the tour's shows in Sweden single-handedly caused inflation rates to rise. Called the "Beyonce Blip," inflation rose by 0.2%. With hotel and restaurant prices rising 3.3% from tourists, Beyonce proves she truly is "that girl."
   When the announcement hit that Taylor Swift was going on her first tour in five years, everyone rushed to the chance to finally see her on stage again. So much so that Ticketmaster got launched into a class-action lawsuit over misleading fans about ticket availability. This was the start of what would be an economic makeover from Taylor Swift's "Eras Tour," a tour that takes Swift's past ten "eras" and combines all these concepts into a show-stopping performance.
   From bead and sequin shortages to boosting economies by the millions in one weekend, according to Newsweek, Taylor Swift's fans' (affectionately called "Swifties") consumer spending could reach up to an impressive $4.6 billion as fans are spending an average of $1,300 for the concert. Other local economies have seen an uproar, like Chicago's hotel industry, with local hotels reaching the highest hotel occupancy seen in the city's history. After the cancellation of the "Lover Fest" tour, the fight to get her master recordings back, and scrutiny from the media at all angles, Taylor Swift proves that it's not endgame for her just yet. "The Eras Tour" is a sight to see and just shows that as a performing act, Swift is not going anywhere.
   Something else that isn't going anywhere is Barbie. "Barbie" – starring actress Margot Robbie as the titular toy – has shaped up to be the biggest blockbuster film of the summer. As of writing this article, the film has grossed over $1.3 billion USD globally, according to Time Magazine. The success of "Barbie" was not only the ticket sales, but also in part due to collaborations and sponsorships with the film. There were makeup collaborations with companies like NYX Cosmetics, clothing from mainstream department stores like Primark, and even ice cream from Coldstone Creamery. Across the board, it was bright, bold, and most importantly, pink. Women were spending money in droves to dress up and participate in what for many was a part of their childhoods.
   So what do Beyonce, Taylor Swift, and "Barbie" all have in common? They all influenced a female-dominant audience to spend money in an uncertain economy.
   In the past, women have been used as an economic measure of sorts. In particular, they are the group that is looked at with the proposed "lipstick index." Coined by Leonard Lauder, NIQ explains that his theory is based on the idea that during times of economic struggle, cosmetic sales will increase due to the idea that people want "affordable luxury." The general idea is that every once in a while during economic turmoils, a woman will decide to buy a lipstick, or an eyeshadow palette, or a new foundation because she was able to save up enough to give herself a smaller gift that wouldn't severely break the bank. While the theory refers specifically to cosmetics here, it can be recontextualized to talk about other "affordable luxuries," such as movie tickets, a new article of clothing, or new jewelry.
   But this past summer now questions whether or not the lipstick index truly means anything, if it meant anything at all. Before the summer, prices on essential goods were soaring while wages stayed stagnant. A concert ticket certainly wouldn't be considered "affordable," especially not when tickets could cost as much as $900. And even for those who did splurge, there probably wouldn't have been an urge to buy extra things just for a single event. The bills are still due, after all.
   Yet, the tours sold out due to the determination of those who wanted to go. "Barbie" is still in box offices, the final profit yet to be calculated. Restaurant and beauty industries benefited from the desire to dress up and participate. It was rhinestones for Beyonce, friendship bracelets for Taylor, and pink everything for Barbie.
   And while it's all fair to argue that none of this means the economy is better overall, it does give way to the idea that, when women are marketed towards in a way that matters to them, the index is rendered useless because women are being encouraged to spend. Perhaps it was never the tightness of money or the desire to have an "affordable luxury." Perhaps it was that women are more likely to spend their money in general when there's something that is marketed towards them and makes them want to pull out their wallets.