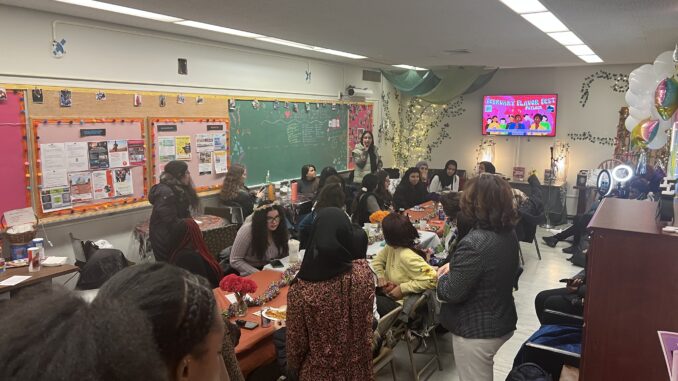 By Serin Sarsour
   The Women's Center at Brooklyn College is facing a severe staffing and funding crisis that could potentially lead to the Center's demise. While in the final stages of the hiring process for two full-time lines (or staff positions) at the Center last spring, CUNY Central set forth a hiring freeze in March. Since then, no one from the college's administration, including BC President Michelle Anderson, has officially addressed the Center or released a public statement about the freeze and the Center's current state.
   The Vacancy Review Board (VRB) at BC, which oversees the financial condition of the campus, suggested that President Anderson fulfill these hires as soon as possible after recognizing the importance of these positions. However, President Anderson has yet to respond, even after members of the Women's Center came together to create a petition over the summer, which has since garnered over 800 signatures.
   Although numerous students and staff have shown up for the Center, its search for hires cannot be completed without support from President Anderson and the rest of the administration. According to the petition, "Without this support, the Center will see its staffing reduced by 40%. These cuts will have a catastrophic impact on services and programs: a reduction of 80% in the number of events and programming, a reduction of 40% or more in hours of operation, and the closure of successful leadership programs."
   Some employees at the Women's Center were let go with no official notice during the hiring freeze, in which they were offered part-time employment for doing work that should be receiving full-time pay. As a result, students and staff are outraged that those who work towards creating a safe space on campus for women are being exploited for their labor.
   "It's not only one position we're fighting for now, but two. We have the program coordinator, and then we have the office manager […] which is currently like being paid on part-time lines, but is a full-time job and requires a lot of work. And if it's not being done, our office quite literally cannot function," said Iqura Naheed, a BC alumna and an employee at the Women's Center working as the program coordinator for the Muslim Women's Leadership Development Project.
   Other than offering free sanitary napkins, tampons, and contraceptives such as male and female condoms, the Center provides Brooklyn College students with crisis intervention, referrals, a place to study, a place to pray, and more. The Center also hosts events on campus, such as potlucks. But with the understaffing and underfunding the Women's Center is facing, the staff has concerns about the Center's ability to host many events. Without a program coordinator, there won't be anyone to lay out the calendar for the entire school year in terms of upcoming events.
   Naheed noted that the Center held about 40 events in the fall of last year and almost 40 in the spring, and that was with only four people working in the office. "Now this year with one less full-time person and just three part-time people, it's even harder. So I think we'll barely have 10 [events]," she said. "So I don't know if the doors will close. That would be like the very ultimate bad result. But it's definitely already cut back on the services we can provide for students and how much time we can have the office open because we need people to staff the office."
   For student employees, they are worried that a space they feel welcomed and comfortable in will be pulled away from them. The elimination of the two lines will impact the office's services, as well as its hours.
   "Honest to God, it breaks my heart because ever since I found the Women's Center, it has been such a beacon of light for me on campus," said Alleyah Charlton, the Center's social media manager and a junior at BC. "I know people say the words 'safe space,' but it truly is like that for me. They're there for you academically. They're there for you emotionally. And having a support system like that on campus being taken away, it's scary, honestly." Charlton also highlighted that a large portion of the women of color population on campus looks to the Women's Center as a haven.
   Charlton, among other student employees at the Women's Center, wants President Anderson and the administration to recognize the potential long-term negative effects the decision to not approve VRB's recommendation and appoint candidates to the positions will have on the Center and the Brooklyn College community as a whole.
   "I want them to take student voices seriously because we've been ignored since we began and we've tried talking to administration personally, and we didn't feel like they were being the most forthcoming with us. We even felt discouraged trying to fight for the center," Charlton said. "But, you know, we really had to comfort each other and re-find our voice."
   Although some employees did not want it to get this far, the Women's Center is planning to host a rally on Monday, Sept. 18, in between the Bedford gates just outside of campus, which will most likely last from 12:15 p.m. to 2 p.m. Council Member Shahana Hanif is coming to speak and advocate for the Women's Center, as well; she is the first Muslim woman to be elected to the New York City Council, as well as the first woman to represent District 39 in Brooklyn.
   If you are interested in signing the Women's Center's petition to invite President Anderson to fill the two vacant positions, please visit: https://docs.google.com/forms/d/e/1FAIpQLScdotXbK6VwgPmtqjrvtdHAxXDYtpf0N8gGkuUmbh82elSN3g/viewform.
Update – September 14th, 2023
The Vanguard received the following statement after we had already gone to print with the story:
"The Women's Center is currently staffed by one full-time staff member, three part-time staff members, and numerous federal work-study students. The College is deeply committed to the success of the Women's Center. The Women's Center is not at risk of closing because students pay a fee each semester to support their programs. The two full-time positions requested by the Center are on pause until funding becomes available, along with dozens of other positions across the campus that were also approved by the internal VRB committee."