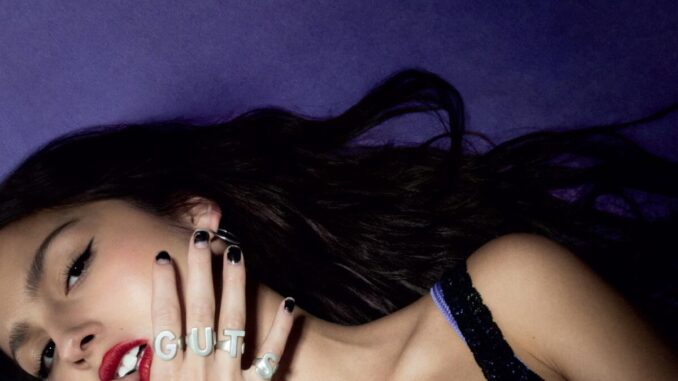 By Serin Sarsour
   After much anticipation from fans worldwide, Olivia Rodrigo finally released her sophomore album titled "Guts" on Friday, Sept. 8. Seeing as it has been over two years since she released her debut album "Sour" on May 21, 2021, stakes were high for the 20-year-old singer-songwriter to outdo – or at least match – the hype that she had received the first time around. This pressure is a topic she addresses in her song "Teenage Dream."
   But before we delve into Rodrigo's 12-song tracklist, I will say that I didn't consider myself a huge fan before now, even though I was tuned in for "Sour" and was obsessed with her song "Traitor." I was first introduced to Rodrigo not through her music, but through her role as the lead in the film "An American Girl: Grace Stirs Up Success." But most other people remember her from her notorious Disney days as one of the leads in both the shows "Bizaardvark" and "High School Musical: The Musical: The Series," which ultimately kick-started her singing career.
   After her rumored love triangle with Joshua Bassett and Sabrina Carpenter got out of hand in early 2021 (right around the time she released her debut single, "Drivers License"), I honestly became invested in all the drama and felt iffy about Rodrigo (team Sabrina!) for a while afterwards. Don't judge me, okay. This was when COVID-19 was still taking over our lives, and I had nothing better to do while I was cooped up at home all day.
   Fast forward to today, I was not expecting to love "Guts" as much as I do.
   Rodrigo opens up the album with a pop-punk banger cunningly titled "All-American B****," which prepares you for the rollercoaster the singer is about to take you on for the remainder of the album. I was shocked to hear a punk side take over the pop singer in this album, but I openly accepted it. I noticed that the chorus of this song resembles that of Miley Cyrus's "Start All Over," which was released about 15 years ago, so the Y2K vibes were instantly there.
   Rodrigo continues to keep the attention of the listener with the next track titled "Bad Idea Right?," which was one of her singles before she released the album. This song is the perfect anthem for people finding themselves falling into old, toxic relationships and trying to justify it. Although I've never been in a relationship before, and can't relate to this song whatsoever, I've listened to this track so many times that I practically know all the words by now.
   The album starts to slow down for a bit when you get to the third track, "Vampire," the other song Rodrigo released as a single. I found the analogy between a vampire and a clout-chasing, toxic ex-boyfriend who sucked the life out of her pretty clever. The fourth song, "Lacy," is not one of my favorites on the album, but I will always appreciate a good ballad when I hear one.
   "Ballad Of A Homeschooled Girl" brings us back to Rodrigo's pop-punk side as she rehashes all the awkwardness and embarrassing moments that came with being a homeschooled teenager who lacked social cues, still following the singer to this day. Out of all the songs on this album, I relate to this song the most because I'm a huge overthinker and little things like tripping in front of a group of people my age will keep me up at night. Anyways, this song is another banger.
   We then hear the lyrical perfection that is "Making The Bed," which is hands down my favorite song on the album (but let's be honest, I'll probably have another number one favorite by tomorrow). I think that Rodrigo's voice really shined the most on this track, and listening to her lyrics gave me literal goosebumps. She demonstrates that the grass isn't always greener on the other side. I love lyrics that make me question my entire existence, and "Logical" did just that, so it's no surprise that I also enjoyed every second of this track.
   "Get Him Back!" is another pop-punk anthem that I know Gen Z will be eating up – myself included. Moving onto "Love Is Embarrassing," we see Rodrigo continue to explore new instrumentals and remind listeners that Y2K pop-punkcore is still alive and well.
   "The Grudge" is not a song I will be revisiting as much as other tracks on the album, but I love how raw Rodrigo is here; you can hear her pain and frustration. She also further proves that bridges are her thing with this song.
   Now, "Pretty Isn't Pretty" really did something to me. The singer's ability to be vulnerable about insecurities, body dysmorphia, and relationships is what makes her so relatable, and what makes fans have no chance but to stan.
   Rodrigo's second studio album closes out with "Teenage Dream," outlining the pressures that come with being an internet sensation whose music career practically blew up overnight. She highlights the fear of plateauing and not being able to meet everyone's expectations following "Sour."
   "Guts" surprised me in more ways than one. Rodrigo took risks with this album and truly had fun with her artistry, tapping into her teenage angst and pop-punk era to release music the world has never heard from her before, which I appreciate. I hereby declare that "Guts" is a no-skip album, which is not a phrase I throw around often.