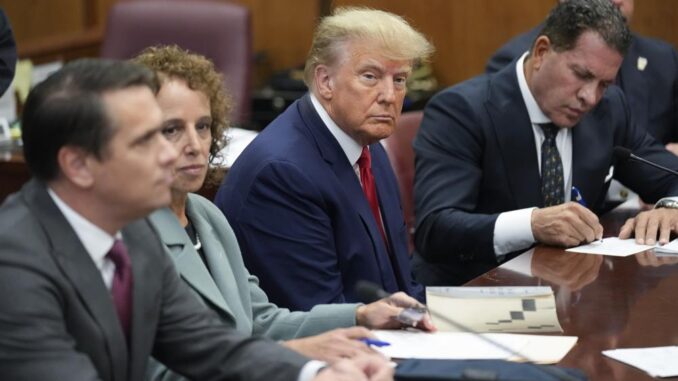 By Shlomie Katash
   Donald Trump pleaded not guilty to 13 felony charges related to his alleged efforts to overturn the 2020 presidential election results in Georgia on Aug. 31. Following his indictment the week prior, the former U.S. president surrendered to Fulton County authorities on Aug. 24, officially marking his fourth arrest since Apr. 4.
   Fulton County District Attorney Fani Willis opened her investigation against Trump after the release of a January 2021 phone call between the then-president and Georgia's secretary of state, Brad Raffensberger. The call, in which Trump suggested that the state official could "find" votes to overturn Trump's electoral loss in Georgia, has allowed Willis to amass evidence that was sufficient in convincing a grand jury to indict Trump and 18 of his allies.
   "[R]ather than abide by Georgia's legal process for election challenges," Willis explained in her announcement of the indictments, "the defendants engaged in a criminal racketeering enterprise to overturn Georgia's presidential election result."
   The felony charges against the former president are the latest development stemming from Trump's refusal to acknowledge, and reported attempts to reverse, his defeat to President Joe Biden in the 2020 election. Trump, the current front runner for the Republican 2024 presidential nomination, has been denying any wrong-doings for years.
   Continuing that trend, the Trump campaign argued, in their reaction to the indictment, that "Willis is a rabid partisan who is campaigning and fundraising on a platform of prosecuting President Trump through these bogus indictments," alleging that she "strategically stalled her investigation to try and maximally interfere with the 2024 presidential race and damage the dominant Trump campaign."
   Despite the indictment coming, it may be some time before anyone sees any significant movement in the trial. For starters, trials usually are not scheduled without granting both sides ample time to collect and review evidence; Trump's own cases provide an example of this, as his first trial won't begin until a year after the initial indictment. Additionally, the 19 co-defendants will almost assuredly attempt to slow the case down as much as possible. Indeed, several of the alleged conspirators have already begun by petitioning to have the case moved to federal court, with many more possible objections likely to come.