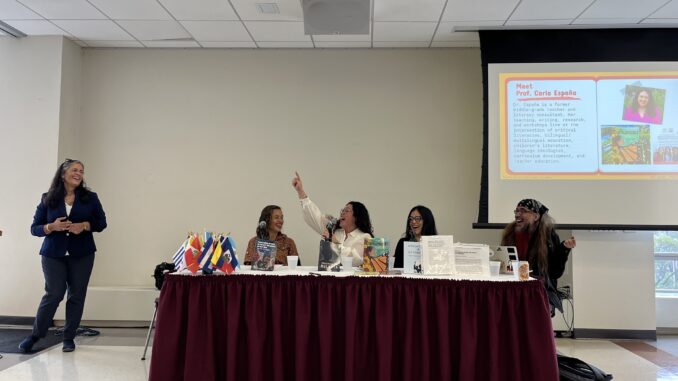 By Rami Mansi
   Latinx Heritage Month has been a subject of cultural diffusion within the Latinx community from the start of its creation. In honor of Latinx Heritage Month, Brooklyn College's Student Activities, Involvement, and Leadership (SAIL) Center, Black and Latino Male Initiative, Puerto Rican and Latino Studies Department, and Immigrant Student Success Office (ISSO), all came together for a discussion panel called "More Than A Month: Latinx Perspectives 365" on Tuesday, Sept. 26. The panel discussed the irony, dangers, and Eurocentric ideals embedded into Latinx Heritage Month.
   The panel consisted of moderator Dr. Maria Perez Y Gonzalez, and panelists Dr. Carla Espana, Dr. Jasmine Mitchell, Dr. Carla Santamaria, and Dr. Mike Mena, all of whom specialize in Puerto Rican and Latino Studies.
   Latinx, by definition, is the gender-neutral term for people of ethnic descent from Latin America. Originally called "Hispanic Heritage Month," Latinx replaced Hispanic for a more cultural, gender-diverse opening within the month. The month, lasting from Sept. 15 to Oct. 15, celebrates the achievements, culture, and presence of the Latinx community. The purpose of the panel's discussion was to deconstruct the challenges presented within the community and devise solutions to combat these issues.
   Dr. Mena questioned the legitimacy of Latinx Heritage Month. "If we're trying to attach Hispanic Heritage Month to selling Latino stuff, I don't know if people are starting to forget that capitalism is not in the business of equality." Capitalist companies have been using heritage months as a yearly marketing strategy that has only escalated in recent years, seen often as "Taco Tuesdays" in food chains and some newer ones like Target's "Más Que A Month." These strategies have led to mass stereotyping of not only Latinx individuals, but also any culture that gets used as a marketing strategy.
   Marginalized communities now face more stereotyping at the hands of these new marketing practices, which brought the panel to their second question: What can we do to push back against stigmatization and discrimination? To some of the professors on the panel, it requires escaping outside of one's "bubble" of the world.
   "Find those connections and get out of those tiny bubbles we're in because that will open your world to what is possible. One of the most powerful things we can do is dream beyond the confines of what capitalism offers us," Dr. Espana said, adding that once we abandon these selfish capitalist ideals and focus on others, we see our neighbors in a new light and the way we perceive and help others drastically changes.
   Dr. Santamaria questioned the reality of the month and its hidden irony. If this month is to celebrate the Latinx community, yet most communities are still underfunded and underprivileged, then what's being celebrated is in question.
   "Just because we have Hispanic Heritage Month, it doesn't mean that our communities are not experiencing the social inequality that we are facing every day. What is the narrative that they are trying to perpetuate? What are we really celebrating?"
   However, the speaker noted that there is hope within students by putting them on the frontlines to help future generations combat these socio-political issues, all the while educating themselves on how to help their communities. The professor reminisced that when she was a student, different student clubs and organizations came together to fight the ongoing discrimination happening on campus. Dr. Santamaria inspired the audience to keep fighting for not only themselves but for other generations claiming that the students of today are the key to tomorrow.
   With a panel dedicated to helping the audience learn about the faux credibility within Latinx Heritage Month, the audience was occupied by classes that were taught by two of the panelists, who are also the founders and leaders of the Puerto Rican and Latin Studies at BC, Black and Latino Initiative, MenTeach, and allied professors of the varying organizations.
   The catering was fit for a Latinx Heritage Month celebration, with food such as sweet platanos, rice, pork and beef, and a variety of empanadas. These delectables are all varying types of traditional Latin food, stemming from all over Latin America. These foods have lived on for thousands of years and have a history to be seen through the love that goes into cooking these flavorful cuisines.
   "Who do we want to be in communities with and how do we build bridges?," asked Dr. Santamaria, summing up the end goal of the panel. She emphasized that Latinx Heritage Month is all about bridging together the communities and cultures of Latin America to build a better future for everyone.