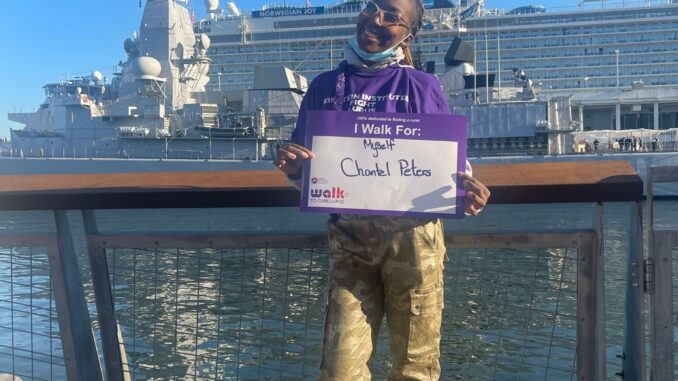 By Reima Choute
   Chantel Peters would have never thought that her own body would be the source of her postponement in life. After being diagnosed with lupus, an autoimmune disease that attacks tissues and organs, attending school soon became intertwined with dialysis treatments that remove excess water, solutes, and toxins from her blood.
   Peters is a junior at Brooklyn College majoring in journalism and media studies. Her journey at BC began in 2020 when she transferred from Monroe College after earning her associate's degree in applied sports management.
   Today, Peters holds the honorable position of treasurer of the Black Student Union (BSU) at Brooklyn College. Her journey with BSU began as a quest for more significant connections and to expand her network, while also finding a sense of belonging. "BSU has become a home away from home," she said. After being a member of BSU for three years, including a year as the club's secretary during the 2021-2022 academic year, Peters assumed the role of treasurer.
   "I would say this is my first year putting myself out there and joining different student life activities, from interning at the radio station to facilitating various BSU events," Peters said, reflecting on her involvement and experiences at BC. She has been actively engaged within the campus community, demonstrating her commitment to making the most of her time at Brooklyn College.
   Peters' path has not been without its share of challenges. She is a lupus warrior, receiving dialysis treatment three times a week. The impact of lupus on her academic journey delayed her graduation from Monroe College, a testament to her resilience and determination. "If I'm being honest, my journey has been tough and quite a roller coaster ride. I began dialysis in 2019 due to my kidneys failing from living with lupus for the past 11 years."
   Lupus is an inflammatory disease in which the immune system mistakenly targets healthy tissues. Peters recognizes the disease's prevalence within communities of color and emphasizes the need for awareness and early testing.
   "Unfortunately, there is no cure, only progress," she said. "I have a healthy support system that makes living life as a 'disabled' individual worthwhile. Lupus is notably prevalent in the African American and Latino communities, and I urge everyone to go out and get tested."
   Peters extends her gratitude to her professors at BC, acknowledging their support through her challenges. She emphasized the role of Josephine Patterson from the campus's Center for Student Disability Services, where she is the assistant director.
   "Mrs. Josephine from the disability office is the best. School would not be doable if it wasn't for her and how much she truly cared about us. We are not just another statistic for the school. We are actually seen as equals."
   Admitting to the occasional tough days, Peters acknowledges the emotions that accompany her journey.
   "I'm not going to lie, I do have my sad days, down days, good days, okay days," she said. "But every day is not going to be perfect, and I had to learn that from a very young age. Missing out on certain events or activities because of something I couldn't control is something I need help understanding from family, friends, and even therapy at one point in time."
   Through the ups and downs of her journey this year, Peters counts her personal growth as her most significant accomplishment, noting that she has come a long way and is not done yet.
   BSU is an integral part of Peters' journey, offering numerous events throughout the year, including their Black Student Mixer that was held on Tuesday, Oct. 17. This event included collaborations with other campus organizations, such as the Dominican Student Movement, Women of Color, Phi Sigma Chi Multicultural Fraternity, Caribbean Student Union, Haitian American Student Association, and African Student Union. BSU provides BC students with an opportunity to connect and build a sense of community.
   "Everyone has their setbacks, but it's up to you to decide how you will overcome them," Peters said. "Life is all about the journey, not the destination."