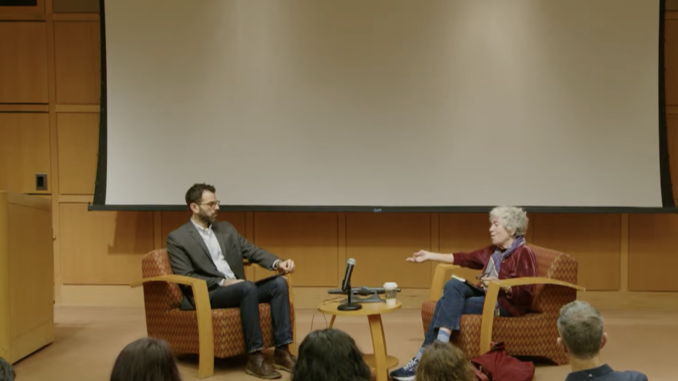 By Paulina Gajewski
   The Wolfe Institute for the Humanities joined two Brooklyn College professors, Allan Amanik and Rachel Brownstein, last Thursday, Oct. 12, to discuss the American experience of identity and nationalism in the twentieth century through the lens of a daughter telling a story of her mother's life.
   Amanik, one of the professors in conversation from the Department of Judaic Studies, specializes in U.S. history, American Jewish history, immigration, ethnicity, and gender studies. His works include, "Dust to Dust: A History of Jewish Death and Burial in New York," and alongside Kami Fletcher, "Till Death Do Us Part: American Ethnic Cemeteries as Borders Uncrossed."
   Rachel Brownstein, an emeritus professor of English at Brooklyn College and the CUNY Graduate Center, specializes in the novels of eighteenth and nineteenth-century literature, life writing, essays, and caricature. Brownstein's works include, "Becoming a Heroine: Reading about Women in Novels," "Tragic Muse: Rachel of the Comédie-Française," and "Why Jane Austen?" Her most recent work and topic of this talk, "American Born: An Immigrant Story, A Daughter's Memoir," was published earlier this year in March.
   To kick off the discussion, Brownstein was introduced by Ellen Tremper, the current chair of the English Department at BC. The pair met due to their shared interest in eighteenth and nineteenth-century novels back in 1973. They connected as a result of studying Jane Austen, a female English novelist of the late eighteenth century. "Whether medievalist or postmodernist, one at some point encounters Jane Austen," Tremper said.
   Just as the female novelists of centuries past breathed life into their female characters, Brownstein depicts a lively, seemingly quintessential portrait of her own heroine and mother, Reisel Thaler. The memoir also serves as a biography, beginning with Thaler's birth in New York City in 1905. Shortly after Thaler's mother passed away, her father moved the four children out of the Lower East Side, taking two-year-old Thaler back to Western Galicia, now Poland.
   Thaler was able to return to America in 1924 with the help of birthright citizenship. The book deals with an interesting duality of being both a citizen and an immigrant. Back then, it was significantly easier for an immigrant to find a job, so Thaler took up work as a seamstress. Working, to her, was a sign of independence.
   The biography features an amalgam of perspectives on Thaler from different generations in the family. Not only did the points of view vary amongst the family members, but they also changed as Brownstein herself grew older.
   "I loved how stories and anecdotes about Brownstein's mother were woven into her story about returning to America," BC senior Loralei Sirota said about the book following the discussion. "While parts of it were heartwarming, there were definitely sad moments intertwining with Jewish history in Europe that tug at the heartstrings."
   Brownstein's book tackles the ideas of immigration during a time period where its processes were different and held different opportunities. Balancing the identities of being American and Jewish, of being a citizen while also being an immigrant, Reisel Thaler's story is emblematic of the lives of many others.
   "This book is about my mother," Brownstein recounted, "but it's also about my journey into becoming an old woman."