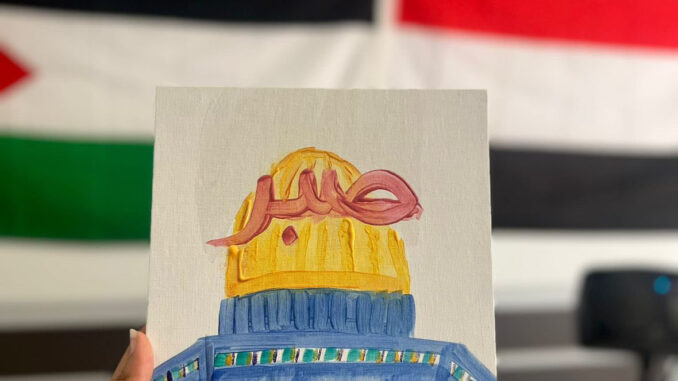 By Jason Lin
   In the midst of heightened tragedies in the Middle East, the Bridges for Yemen club at Brooklyn College hosted an art event titled "Brushes of Resilience" on Thursday, Oct. 19. Held in the Student Center, the event served as a means of healing and celebrating strength as students gathered together to paint in harmony.
   According to Bridges for Yemen leadership, the art event aimed to express solidarity for Palestinian students at the school, uniting the Muslim community on campus with the Palestinians' broader struggle.
   "Our goal was to foster empathy and understanding of the current events in Gaza. We aimed to create awareness and solidarity with the challenges faced by the Muslim community on campus in connection to the ongoing conflicts in Gaza," said a leader of Bridges for Yemen, who wished to remain anonymous in fear of being doxxed.
   At the Brushes of Resilience event, students used paint to express their voices through art. Attendees painted quotes and flags to display their hope and support for Palestinians. The club also offered pizza and drinks to keep the environment cozy during these tough times.
   "The event sought to create an environment where participants could express their emotions, giving them the mental tools to de-stress and recharge and then understand how to regulate their emotions and find solace through art," Bridges for Yemen leadership told The Vanguard.
   As the event followed BC's Students for Justice in Palestine club's protest held on Oct. 12, Bridges for Yemen hoped to not only create a safe space for Muslim and Palestinian students to express themselves, but also to feel like they are not alone.
   "It's not just about expressing themselves individually; art has this incredible power to bring people together. It helps them share their stories, their pain, and their hopes. It's like a connection that forms among those who've been through similar tough times," said Bridges for Yemen club leader.
   Bridges for Yemen has more events in store for the remainder of the fall semester, including a collaboration with BC's Muslims Giving Back (MGB) and Muslim Student Association (MSA) in hosting a Charity Week, and a short film screening night highlighting Yemeni filmmakers. For more information, you can check out the club on Instagram @bridgesforyemen_bc.