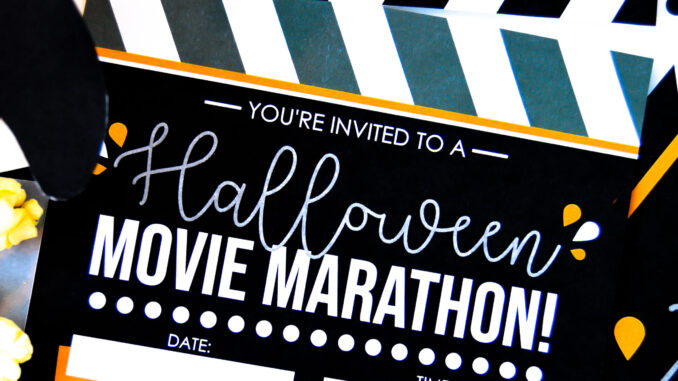 By Shea Stevenson
   To the uninitiated, choosing which (or how many) movies to watch on Halloween with friends is an arbitrary task, usually decided by whatever factors surround it. How many people will be there? Will they be paying attention? When will they get tired and leave? But to the true connoisseur of late October classics, the task is not so easy and can take years of tinkering to master. After experimenting on friends and family for a decade, the following method is sure to be not only a decent way to choose Halloween movies, but the best possible way.
   First, the matter of time: how many movies? Three. That may sound like a lot, but if the gathering starts in the early afternoon, the last movie will finish late into that Halloween night – the perfect time to lift the spell, with room for short breaks between screenings.
   I don't know your friends, your apartment, or your situation, but I can say that I encourage discussion during the screenings (short of outright ignoring it). Halloween viewings are a communal exercise, and the foundation of that is everyone seeing the movie, reacting to it, and sharing thoughts as it trucks along.
   The three movies will come from a set stock: the first will be a comedy, or at least lighthearted, but with a tinge of darkness. The second will be a balance of genuine interest and scares. The third, late at night, will be your crown of pure horror.
   Your first movie is a movie that it's okay to come late to, speak over, and joke about. It's an icebreaker movie and sets the October tone without making you and your friends uncomfortable. Classics like "Scream," "Death Becomes Her," "Blade," and "One Cut Of The Dead" all fit great in this position. But if you want extra points, it's always good practice to find a movie that is as near to your literal situation as possible to set the mood right. That means a movie set on Halloween and at least in the city or state that you're watching it in. If you're in Brooklyn or Manhattan, this is a simple task. But for this year, I particularly recommend an old favorite: "Arsenic and Old Lace." A genuinely bizarre Cary Grant comedy about a Halloween night in Brooklyn is sure to delight and prepare the audience for the more macabre things to come.
   Your second movie is ideally an attention-keeping movie that can give you a fright every once in a while. Many of the most essential Halloween movies find their home here: "Halloween," "American Werewolf in London," "Hellraiser," and "Ginger Snaps" will all serve you well. For an audience looking to dip into classic horror anime, "Vampire Hunter D: Bloodlust" is criminally underwatched. As a transitional movie between the humorous and the terrifying, the ideal second film is one that starts off light and descends into drama and/or darkness. For a recent pick, this year I recommend 2022's "Pearl" as a great descent from grim comedy to downright horror.
   And your final, third film should attempt to terrify your friends into a stunned silence. The first movie is for chatting, the second is for eating and the growing silence following the film's growing intensity, and the third is for exclamations of disgust, shock, or otherwise silent brooding. Favorites include "The Exorcist," "Hereditary," "The Witch," "Cure," and my recommendation for this year: "Pulse" (2001, not to be confused with its American remake). There is no horror movie that holds quite the same grasp on uncanny urban/internet horror that "Pulse" does. As with all of these movies, but especially this one, do some research beforehand to see if it handles topics you'll find upsetting in a way that isn't fun.
   And after the spell is broken, only candy will remain, and the conversation will flow from the dearth of emotions that have been stoked by the marathon. Your guests will leave scared, satisfied, and perhaps wondering what other movies they'll pick for next time. A perfect condition to leave Halloween with.