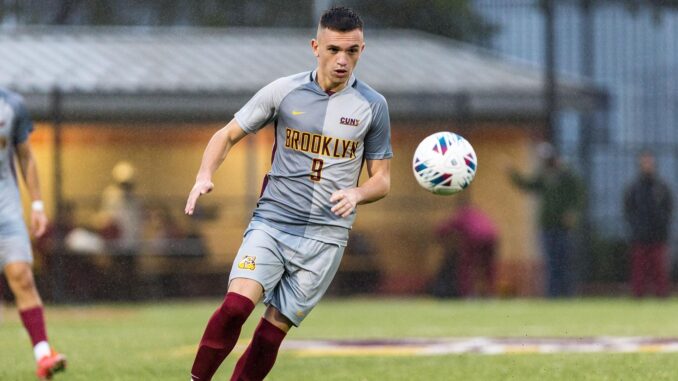 Men's Soccer On The Way To CUNYAC Final
By Oscar Docavo
   It was a sensational week for the Bulldogs, who found themselves in their first CUNYAC Men's Soccer Championship since 2014. Brooklyn College, who were the fifth seed in the CUNYAC tournament, beat fourth-ranked John Jay and first-placed Lehman College.
   BC met John Jay at Randall's Island for a 2-1 victory on Wednesday, Oct. 25. Their previous meeting this season on Oct. 18 had ended in a 1-1 draw.
   The Bulldogs struck early into the game through sophomore Bradlej Cupi. The midfielder scored the first goal of the game in the thirteenth minute, poaching the ball in John Jay's box and beating junior goalie Tyler Solis. The Bulldogs and Bloodhounds traded shots and fouls for the rest of the first half.
   John Jay went on to open the second half with a response. Bloodhound midfielder Brayan Alvarez scored his fourth goal of the year from a free kick at the 52-minute mark. Unbroken, the Bulldogs marched up the field to equalize five minutes later. Freshman forward Rayan Vukovic scored his fifth goal of the season after a give-and-go with fellow freshman George Koufos. Vukovic's strike was the winner. Senior goalkeeper Carl-Henry Obeissant was a standout performer for the Bulldogs. His ten saves were integral to Brooklyn's victory.
   Only three days later on Saturday, Oct. 28, the Bulldogs upset the CUNYAC number one ranked Lehman College 1-0. Lehman hosted their upset, with the CUNYAC semifinals game being played in the Bronx. This Bulldog unit looked completely different to the team that lost 4-0 to Lehman earlier in the season.
   The Bulldogs traded shots and fouls with the Lightning Bugs, outshooting their opponents 9-6 in the first half. Cupi showed his poise as the second-highest goal scorer in all of CUNYAC, grabbing the game-winner at the 16-minute mark.
   Cupi has emerged as the Bulldogs marksman this season as he leads Brooklyn in goals scored and has a chance to finish top of CUNYAC with one more match to play.
   Brooklyn went on to string together more attacks before halftime, but could not add to their lead. The Lightning Bugs struck back in the second half, outshooting the Bulldogs 9-3 and forcing Brooklyn into making 13 fouls.
   However, Brooklyn managed to keep a clean sheet thanks to big plays from their defenders, such as senior Luis Garcia and junior Anoh Boutin. Obeissant also came through with another valiant display, whose fifth and final save of the game came in the ninetieth minute, snuffing out any chance of a Lehman redemption story.
   "It was a great team win for the guys. Everyone played well and made plays when needed, from our keeper, to the backs, to midfielders, to the forwards. Looking forward to another competitive match against another tough opponent," Coach Luis Flores said, per the Brooklyn College Athletics website.
   The CUNYAC final will take place on Saturday, Nov. 4, at Queens College, where Brooklyn College will face Baruch.
Ashley Fung Achieves Bulldog Milestone In Women's Volleyball Sweep Of NJCU
By Oscar Docavo
   Brooklyn College's women's volleyball team welcomed New Jersey City University to the West Quad on Thursday, Oct. 26, winning the match with a 3-0 sweep. Fans at the arena were treated to a moment in Bulldog history. That night, senior Ashley Fung became the first player in program history to reach 1,000 career kills.
   Fung had eyes on the record books right out of the gate with a kill and three service aces to give Brooklyn a 7-1 cushion. Fung admitted the moment got to her a little at first. "I needed two kills in that game to reach 1,000," she said. "The first kill came so easily. Now in my head, all I could think is, 'Okay, 999, you just need one more.' However, because I knew that next kill would be important, I started doing too much."
   NJCU went on to claw their way back into the set, even taking a 13-12 lead after a Bulldog error. After the slight scare, Brooklyn came back to win the set. Junior Aleah Rafat, ended the set at 25-18.
   Fung reached her milestone early in the second set. After seeing a gap in zones five and six, Fung threaded the needle to get her one-thousandth kill. "I let go of that dream of making 'the perfect one-thousandth kill.' Second set comes around and I'm just playing ball," Fung said. Fung went back to work, adding to her performance by scoring more points for the Bulldogs.
   At one point, leading the set 15-7, Brooklyn College allowed NJCU to come back into the set and almost tie the game. It was 23-22 when Rafat grabbed the lead back with back-to-back big plays, including a kill. Fung added two more kills to her name on back-to-back plays as Brooklyn won the second set 26-24.
   "Every game, all I can do is put my head down and focus on my individual job, which is to be a threat on offense and defense," said Rafat, explaining her role in the comeback.
   The third set was far less competitive. At 12-7, the Bulldogs got contributions from every which way. Freshman Olivia Fan and junior Sydney Gdanski played crucial roles down the stretch as Brooklyn did not let up on defense or offense. After an 11-0 run, the Bulldogs cruised to the end of a 25-10 third set.
   It truly was the night of Ashley Fung as she finished with eight kills, four service aces, and 11 digs, the team leader in kills and aces against their New Jersey opponents. "The hard work and determination of a female collegiate athlete paid off and it truly means so much more than just a framed photo. History has been made and the only thing to do is celebrate!" said Rafat, expressing nothing but joy and admiration for her teammate of three years.
   Fung expressed the same appreciation of her teammates.
   "My team brought out the dog, the fighter, the grit, the athlete out of me that won't settle for just reaching 1,000. They made me hungry to completely surpass 1,000, to make it official," Fung said.
   Fans and teammates alike also appreciated Fan's defensive work. Fan is second in CUNYAC with 43 total blocks.
   Fans left the Quad with the lasting image of a beaming Fung. "I want to be remembered as the Brooklyn College Bulldog that had a lot of bark and also a lot of bite," Fung told The Vanguard. "I want to be remembered as the girl who has a massive love for the game of volleyball and a resilient individual who strives for greatness and pursued my dreams of playing college volleyball."
   The Bulldogs are now 10-11, with only two more matches to go before playoffs.
Women's Soccer Loses CUNYAC Semifinals Game To CCNY
By Oscar Docavo
   The Bulldogs' season ended at Randall's Island on Saturday, Oct. 28. City College's women's soccer team played like the number one team in CUNYAC that it is as they smothered Brooklyn College 4-1. CCNY put up 33 shots compared to Brooklyn's one.
   Sophomore Karen Pineda scored a brace for the CCNY Beavers before halftime. In the second half, CCNY junior midfielder MacKenzie Moreno and senior forward Sharon Garcia scored at the 53 and 58-minute marks respectively. BC junior goalkeeper turned goal scorer Angelina Vasta popped up with a goal at the 77-minute mark, but it was too late for Brooklyn, who did not manage a single shot on target before Vasta's strike. The Bulldogs could not secure a single corner kick as the Beavers looked like a true number one seed. Freshman Ceren Kosterelioglu and sophomore Sage Bernstein split time in goal. Kosterelioglu and Bernstein combined for 12 saves.