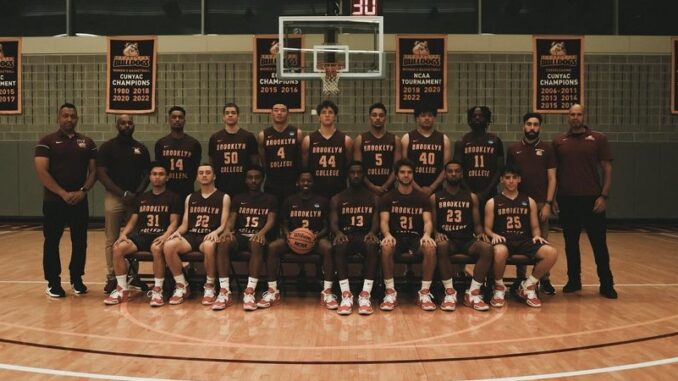 By Sean Markisic
   The Brooklyn College Bulldogs have always chased championships for their sports teams, and the men's basketball team is no different. With the 2023-2024 season starting this week, the Bulldogs will go up against some tough competition. Regardless of the score, the Bulldogs will play hard until the very end of the season. This mindset will be crucial with a young team filled with sophomores and juniors who have a lot to prove.
   Head Coach Jeffrey Jean-Baptiste believes his players will give extraordinary effort regardless of the opponent. Given that the team is filled with new players, one player in particular that Coach Jean-Baptiste expects to have a breakout season is junior Malik Dale. Last season, Dale averaged 8.5 points, 1.8 rebounds, and 1.1 assists per game after he played 24 games and started in a total of 14 of those games. This coming season, Dale should have the ball in his hands more on offense, which will allow him to get more opportunities to score and boost his stats from last year.
   Another player that really jumps out as a star on the team is Franz Depra, who will now be entering his sophomore year at BC. In his freshman year campaign on the Bulldogs, Depra averaged 3.2 points, 1.1 rebounds, and 1.1 assists per game after starting in eight of the 24 games he played. Depra has the potential to become a more consistent scorer this season.
   All across the board, the men's basketball team has potential; it's just a matter of finding good chemistry with one another and putting it all together on the court.
   The Bulldogs' season opener will be against William Paterson University, a non-conference matchup, in Wayne, New Jersey on Wednesday, Nov. 8. The first month of the season will consist of all non-conference schools, so the team won't play against any CUNY schools until Dec. 1 when they face John Jay. This will be a good test for the team as they go up against different competition. Then, looking ahead into the season from Jan. 3 up until Feb. 13, the team will only play against CUNY schools. Having this long stretch of games in the middle of the season works in the Bulldogs' favor because they will gain an understanding of what works and what doesn't from the games that they play.
   The Brooklyn College Bulldogs have had their ups and downs in past regular seasons, which has resulted in them winning a few CUNYAC Championship games throughout the history of the team – most recently in 2020. This season, they might not be expected to be at the top of the standing right out of the gate, but they have the potential to have a successful season even with all of the learning curves that come with having new players along the way.