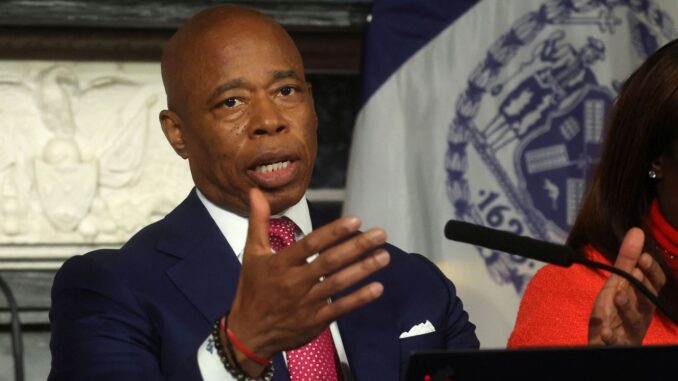 By Shlomie Katash
   New York City Mayor Eric Adams was approached by the FBI on Nov. 6 and complied with a court order to hand over at least two cell phones and an iPad as part of an ongoing federal investigation into potential illegal foreign donations made to Adams' 2021 campaign.
   This seizure is the latest step in determining if the campaign criminally conspired with the Turkish government to transfer funds for their electoral efforts, according to The New York Times. Though no charges have been brought yet, and the mayor himself has yet to be implicated, this is not the first time Adams or one of his staff have been improperly connected to Turkey.
   The probe became public when the FBI raided the home of Brianna Suggs, one of the mayor's longest-tenured aides and top fundraisers, on Nov. 2. Per The New York Times, the agents were authorized to search for travel and financial records that would link the campaign to the Turkish government, eventually confiscating several documents and electronic devices.
   In addition to foreign connections, the FBI was looking into possible links with several domestic plots that illegally funneled money to Adams' campaign. One was allegedly carried out by six people who were arrested this summer, including a social acquaintance of Adams who worked for the NYPD. Two others were Turkish nationals who, on Oct. 24, pleaded guilty to bypassing the legal donation limit by purchasing money orders with the identities of employees of their construction company, according to THE CITY. The mayor's campaign denied any knowledge of the plan, though members ignored multiple inquiries into the donations from the city's Campaign Finance Board.
   Moreover, prior to the beginning of the FBI's investigation, the Adams campaign accepted and then returned five $2,000 donations from a Turkish-owned university based in Washington, D.C. None of the donors are registered to vote, and despite citing total donation limits as the reason for their return, the campaign continued to accept donations in the following weeks and had not returned any others, according to THE CITY.
   Adams himself has repeatedly highlighted his strong relationship with Turkey, one that goes back to at least as far as 2015 when, as Brooklyn borough president, the Turkish consulate paid for his visit to the country.
   "I'm probably the only mayor in the history of this city that has not only visited Turkey once, but I think I'm on my sixth or seventh visit to Turkey," Adams said at a Turkish flag-raising event on Oct. 27.
   Adams' devices have since been returned to him, but the investigation remains active for the time being.