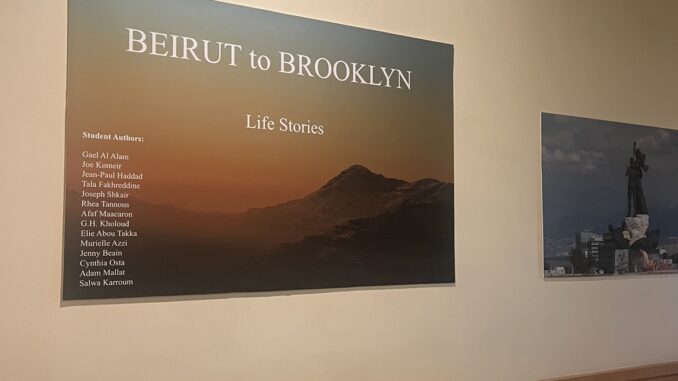 By Paulina Gajewski
   An art installation titled "Beirut to Brooklyn" debuted in the Brooklyn College Library this past Sunday, Nov. 12. Farid Elias Nassif, a BC English professor, designed an ongoing project at CUNY in an attempt to help his students understand Beirut identity and the way in which it is communicated and perceived.
   Nassif's cousin, Fida, is a college professor in Lebanon, and recognizes the ways in which student identification has been influenced by the Lebanese Civil War, which began in 1975 and lasted 15 years. The conflict, often attributed to the divide between Lebanon's Christian and Muslim populations, was exacerbated by social and economic disparities. The Cold War caused an even greater divide between groups who aligned with the Western world, and those who sided with the Soviet-aligned Arab countries.
   The lasting wounds of the war were opened up by both the Arab Spring protests and the port explosion in Beirut in 2020. Utilizing the same steps of understanding identity as he had used with his English students, Nassif guided the Lebanese students towards their own life stories.
   Dr. Eben Wood, also an English professor at CUNY, was Nassif's mentor and investigator of this project. This collaboration with students brings insight into shared traumas and challenges of life, deeply interweaving histories.
   The exhibition utilizes powerful photographs taken by Wood himself, alongside moving testimonies and life stories of a variety of students. The Lebanese Civil War was characterized by divides, and identities were severely impacted, including those whose own families represented each side of the conflict.
   "A Muslim mother with a Christian father during the time when every sect in this country was fighting for their own rightful reasons. Each thought they were right and everyone had a lawful claim to fight for," wrote BC student Joe Komeir.
   Families were diverse and interconnected, yet the war resembled a larger conflict that set groups against one another. Komeir reflected on his family dynamic as having parents from each of these two diverse groups in his work.
   Another BC student named Tala Fakhreddine provided a stark contrast between the life of a woman and the life of a man growing up in her written work. "The blindfold slowly started ripping off to see our world's truth," she wrote. "Reality scarred my schedule and bounded it within specific periods as it unfolded experiences of unfair hypocrisy."
   The exhibition was an amalgam of voices and perspectives, coming together to voice their personal life stories and the way in which they interact with their own identities. It is these experiences and stories that mold identities, and part of the larger story that Nassif hopes to share through the exhibit.
   "​​I am not a single experience, or a single trait," wrote BC student Gael Al Alam. "I am a mosaic brought together by every encounter, every experience, every person that tries to hurt me and every incident I tried to erase, every time I fell down and got back up."