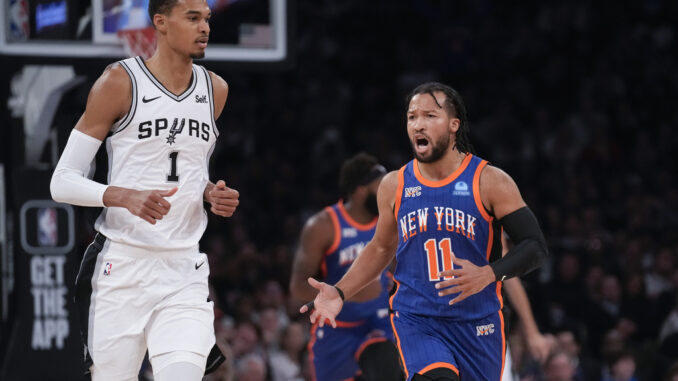 By Avi Wizwer
   The New York Knicks took on the San Antonio Spurs on Nov. 8 at Madison Square Garden. A new face for the new generation of players has entered the league, and a young talent in Spurs player Victor Wembanyama has started his reign. Standing seven feet and four inches tall with guard-like skills, an incredible scoring arsenal that allows him to score away from the basketball, and the ability to play center makes him an absolute nightmare. As he is only 19 years old, Wembanyama got his first taste of playing at the prestigious Madison Square Garden. With the whole world watching Wembanyama, fans got a look at his role in the upcoming season.
   The Knicks came out the gate swinging in the first quarter outscoring the Spurs 33-16, a dominant performance to say the least. The Spurs finally found their fitting in the second quarter, but still found themselves down in the ball game. As they cut the lead down to just a couple points going into halftime, the Spurs showed some resilience. The second half was more of the same from the Knicks, containing Wembanyama as he missed his first seven shots with two air balls through three quarters. The Knicks cruised their way into the fourth quarter, leading by as much as 20 points. A frustrated Wembanyama eventually heard "Overrated!" being chanted at him from the crowd as the Knicks closed out the victory, winning 126-105.
   The key scorers for the New York Knicks were Jalen Brunson scoring 25 points, RJ Barrett adding 24 points and six assists, and Julius Randle adding 23 points and 16 rebounds. Emmanuel Quickley contributed, as well, scoring 19 points off the bench. The Spurs' leading scorer was Jeremy Sochan as he had 16 points and six rebounds, and Wembanyama added 14 points.
   Fans will have to wait and see just how successful young rookie Wembanyama will be this season.