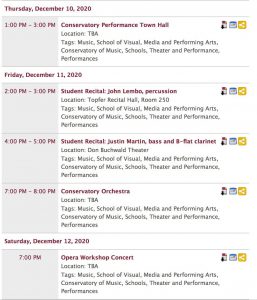 The Conservatory of Music at Brooklyn College will continue hosting online recitals through the end of the Fall 2020 semester.
   Among these events are student recitals, conservatory orchestra performances, and opera workshops. Some of these events will happen in real time and can be live streamed via Zoom, but others will be pre-recorded and uploaded directly to BCMusic.org, the conservatory's website.
   Previously, some recitals were recorded directly from the homes of the performers, but some of the coming events will take place directly on campus.
   On Friday, December 11, John Lembo, a bachelor's candidate percussionist, will perform live from Topfer Recital Hall at the Leonard & Claire Tow Center for the Performing Arts. Justin Martin, a bachelor's candidate clarinet, will also perform that day in a pre-recorded performance from the Don Buchwald Theater at the Tow Center.
   The opera workshops will feature a presentation on a comical opera called "Speed Dating," which will be led by Director Isabel Milenski and Music Director Dmitry Glivinskiy.
   Prior to these events, however, the conservatory will host a Performance Town Hall on Thursday, December 10, to reflect on what this semester has been like.
   Per the conservatory website, "conservatory students and faculty will meet for a town hall to discuss this semester's events, listen to sample performances, and socialize through break-out sessions."
   Prior to the Fall 2020 semester, conservatory events seemed grim with COVID-19 still spreading throughout New York City and in-door events being completely eliminated.
   This forced the conservatory to move online, but the process was not that simple. The first conservatory event of the semester would not happen until early November.
   "Given the nebulous circumstances surrounding the continuing COVID-19 pandemic, the administration is not ready to commit to allowing these events to be scheduled in the Tow Center, as we may have to hold these performances remotely instead," Concert Office Coordinator Bim Strasberg told the Vanguard back in October. 
   Since then, however, students have been allowed on campus in some cases to practice for their solo recitals in individual rooms while maintaining health and safety protocols inside the Tow Center.
   "Under such circumstances, all participants are subjected to an involved process or daily health checks in order to gain clearance from the Public Safety and Human Resource offices," Strasberg continued. "In addition to mandating proper mask use, extremely limited access, and social distancing—by providing signage in the building to insure one way traffic throughout—the college has also built Plexiglass screens for our large rehearsal and performance spaces to provide each individual."
   With COVID-19 still running rampant throughout the country, the conservatory will likely be online in the spring, but details for next semester have not yet been disclosed. In the meantime, events will remain online and can be viewed via BCMusic.org under the "Online Recitals and Concerts" tab. Here, students can find links to future events or pre-recorded performances from earlier dates.
   While the conservatory may have had a slow start this semester, the coming weeks seem to indicate that it will have a strong finish as Brooklyn College looks to what Spring 2021 will bring.