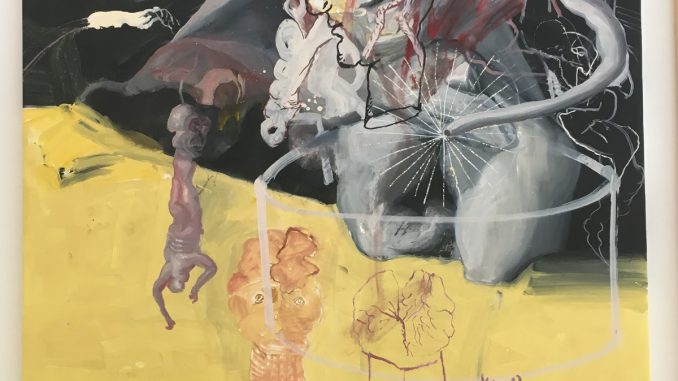 Late August to early September is typically when galleries shut their doors and take a break to get ready for the fall season. Finding an open gallery during this time is like finding a public bathroom in Manhattan: difficult, risky, but at times necessary.
It's relieving, then, that Shin Gallery in the Lower East Side is providing a stellar show during this off-season from Korean painter Keunmin Lee.
As you walk into the Grand Street gallery, three smaller-scale oil and graphite works, Media System, Dialogue, and Organic Plate (2019), offer a glimpse into the pastel colored, semi-abstract and psychologically driven visual space of Lee's latest. The handling of the canvas space is organic. Layers of amorphous forms and nebulous brush strokes build, yet are fused and natural. Here, Lee offers the taste of another brain; another mind; another world. These little pieces have the same ability to engage as the other, much larger, works, and in the corner of the gallery space, these glimpses become a whole, enticing, trance.
The Refining Hallucinations (2019) series looms and breathes over you. In the corner of the gallery, these larger scale works mingle with bodily forms. Suspended in soft pinks, reds, yellows, greys, and whites, these anatomical clouds float and morph, at times resembling teeth, intestines, or faces. At times, both the distorted innards and treatment of space can read as quite similar to some famous Francis Bacon works like Study for Portrait (1977), but Lee's freshness is seen in a poetic, rather than unrelenting, signaling of pain. This signaling is at the crux of these deeply personal mindscapes. The artist's mental illness is often highlighted as a source for what we see on these canvases; whatever it is, I'd urge anyone to fall into these song-like retellings of hallucinations.
"Redefining the Undefined" is up until September 15th at Shin Gallery, 68 Orchard St.
Oops, original article had a typo for the date of Francis Bacon's Study for Portrait.