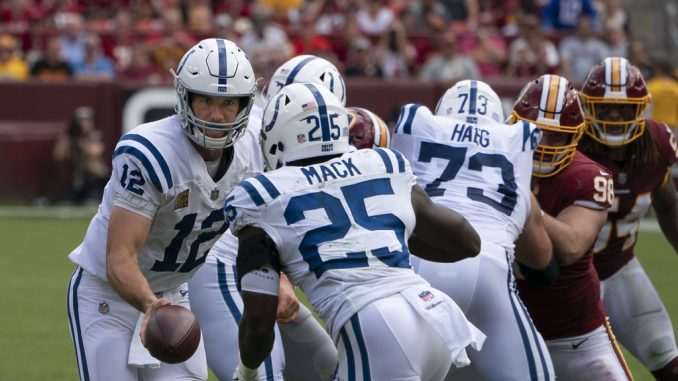 In a move some have described as one of the most bizarre sports decisions within the last decade, the Indianapolis Colts' star quarterback, Andrew Luck, announced his retirement from the NFL last Saturday, Aug. 24.
The news shocked the football and sports worlds, as Luck had shown now indication he was even considering hanging up his cleats. With the NFL season is just days from kicking off, Luck was present at the Colts' preseason game against the Chicago Bears when the news broke on the Internet, resulting in a cascade of boos as Luck was whisked off the field, probably for the last time in his life. Luck had already informed Colts management of his decision and was in the process of letting his teammates know. His initial plan was to announce the news in an official press conference the next day.
One reason this move was so bizarre is because Luck is only 29 years old. As current hall-of-fame-bound quarterbacks still playing into their late 30's and 40's have recently shown Luck could have been successful in the league for seasons to come. While the quarterbacks' strength and speed may deteriorate, their awareness and experience can overcome this. Just look at Tom Brady and Drew Brees, both passed 40 and still earning success on the gridiron.
But the most surprising thing is that Luck just came off his best year as a pro. The Stanford graduate and former number first overall pick of the 2012 draft put up a QBR of 98.7, a completion percentage of 67.3, and 430 completions last season, all career bests. After missing the entire 2017 season due to injury, Luck worked his way back to health and into the MVP conversation.
The Colts have a great Head Coach in Frank Reich, one of the smartest General Managers in the game in Chris Ballard, and their draft picks from 2018 have really panned out. Quenton Nelson is a beast at protecting Luck, and Darius Leonard embodies the new, strong, young defense the Colts have assembled. After a successful 2018 season, the team looks to go into September strong, healthy, and deeply optimistic about their chances at a Superbowl run. This news cuts deeply for Colts fans.
Luck was drafted by the Colts in 2012, and was brought into the team with little help. His offensive line was consistently among the worst in the league, causing him to take hits that would give most of us nightmares. It was no wonder that Luck was constantly injured or in concussion protocol. Among other things, Luck also endured torn cartilages in two ribs, a partially torn abdomen, a torn labrum in his throwing shoulder, and a lacerated kidney that left him peeing blood.
Luck still has two years left on his deal, and Colts owner Jim Irsay said Luck is walking away from 500 million dollars by retiring now.
But for Luck, an intelligent, charismatic man adored by his wife and family, the money surely isn't everything. We all know the deep-rooted effects of CTE (Chronic Traumatic Encephalopathy), even if the NFL tries to hide them. It's no exaggeration to say he is risking his life by stepping foot on that field every game. And at what point are extra millions of dollars worth risking your life, when you're already a multimillionaire?
Luck has been described by many teammates as one of the smartest people they have ever been around. Other sportswriters and fans have also described him as one of the nicest people they have ever had the pleasure to meet. There are other projects in Luck's future, ones that needn't be burdened by further head trauma. When everyone else in the world wrote his future for him, Luck took it back into his own hands.
With his decision to step away from football, Luck is showing the world he is more than just an athlete. I commend Luck for making this decision. Even though the outcome embodied lots of grief and anxiety, it was a noble one considering how he went against the grain and left on his own terms.
Sports are a wonderful way for everyday people to relax and forget about their problems. But it's important to remember that sports are not everything in life, and that athletes are humans too.