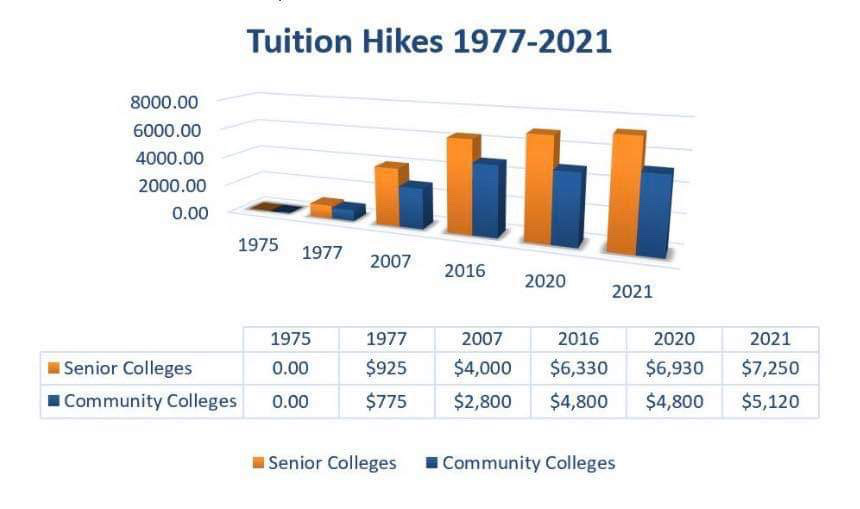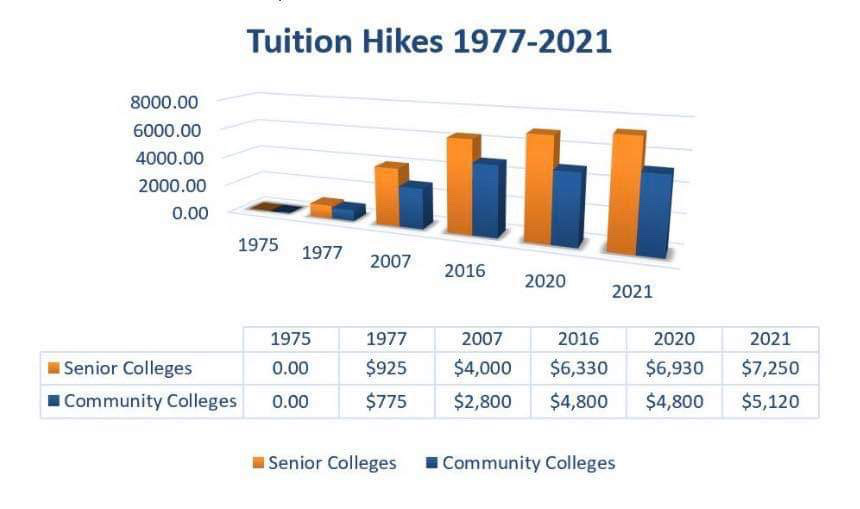 On, Dec. 16, 2019, the CUNY Board of Trustees approved a budget proposal for a health and wellness fee on student tution of $120 per year, on top of a $200 overall hike on students. The tuition hike passed despite protests by students and educators from Free CUNY!, an advocacy group that fights for free higher education for the city of New York.
   The health and wellness fee is a fee that students will be charged per semester that is dedicated to the health and wellness departments, which provide students with physical and mental health care on campus. According to CUNY, the health and wellness fee will help fund the health departments which serve students with physical and mental health, providing them with health professionals and counselors. 
   Student activists are not convinced.
   "The governor passed SUNY2020 back in 2011 promising that our tuition hikes would go towards enhancing student support services," explained University Student Senate (USS) Chairperson, Timothy Hunter. "Instead, our tuition dollars are filled in state budget gaps; while tuition has increased more than 40% since 2011, state investment per student has declined by 20%."
   Students and faculty gathered at the Board of Trustees' meeting at Baruch College Vertical Campus to protest the budget that affects all CUNY students. The meeting, they say, was not publicized.
   "The efforts they go to to keep this information hidden is done so they can quietly pass these violent tuition raises," said Hailey Lam, a Free CUNY! activist and Brooklyn College student. "Basically, the tuition raise is going to be continuous, it's something they've voted on years ago and they pretend to vote on it every year to make it more palatable.
   "The fee is what's new and unprecedented," Lam continued. "It enables them to skirt around a lot of processes that they usually have to go through for a tuition hike."
   Despite efforts by lobbyists, and the protests of CUNY students and faculty, the Board of Trustees went ahead and approved the budget. CUNY argues that the tuition hike and fees do not affect most students since many of them are granted financial aid.
   "We are proud of our affordable value: two out of three CUNY undergraduate students do not pay for tuition and fees out of pocket, and three out of four of our graduates leave debt free," CUNY's official budget request document for 2021 states.
   The NYPD was called were called to control the protesters at the Board of Trustees meeting. Lam was one of a few students detained by officers because of their affiliation with Free CUNY!.
   "They had me in cuffs, had done a background search and a physical search on me, and had the summons in their hands ready to give me," Lam explained.
   The efforts to bring halts to tuition raises extend past just Free CUNY! USS has also taken a role in combating the annual raises.
   "We have a packed semester filled with actions to get us a tuition freeze and eventually free CUNY. Also, hopefully within the month, we're looking to introduce in the state legislature a bill called 'a new deal for CUNY' which will be the first free and fully funding CUNY bill ever in history," said Smitha Varghese, USS Legislative Director. The USS staff is working tirelessly to help CUNY students afford their education. "I've actually been in Albany for two days actively lobbying senators against the tuition hike, calling for a tuition freeze, filling in the tap gap, and transitioning into a free and fully funded CUNY," Varghese explained.
   Although the tuition freeze would be beneficial, Free CUNY!'s long-term goal is for a free and fully funded CUNY system. "We use a diversity of tactics, including disrupting BOT hearings, to collaborating with city-wide community organizations," said Lam. "Our larger 2020 vision is a campus wide strike, which involves a series of escalating actions and solidarity building with staff, faculty and other students. Which is how we will attain a free CUNY."