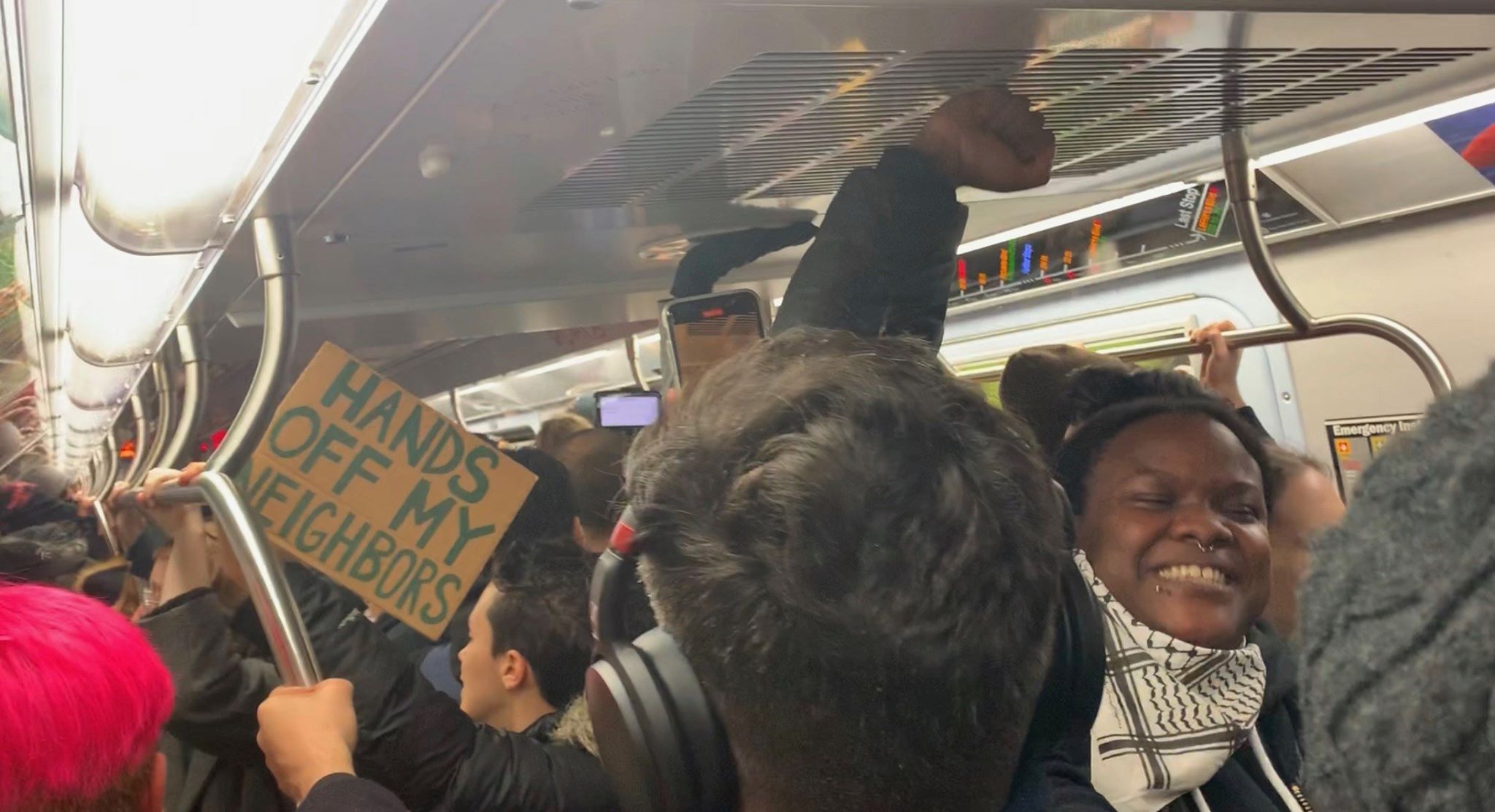 Hundreds gathered on Friday, Jan. 31 to protest MTA fares and police presence in the subways. The protest, which began in the Grand Central Terminal at about 5:00pm, came in response to a call from Decolonize This Place, an activist group based in New York City, for free transportation and the removal of police from subway stations.
  Smaller protests around the city, including the Free CUNY speak-out, erupted during the day, but tensions culminated at the Grand Central gathering, where, according to NBC News, close to a dozen arrests were made within the first half hour. The crowd left the terminal at about 5:30pm, but converged again at the Restoration Plaza in Bed-Stuy, and later moved across Brooklyn towards Utica Avenue on foot.
    "People are screaming; we're all chanting," said Zach Piper, a freshman philosophy major at Brooklyn College. Piper and some friends joined the crowd at Grand Central, and made the move to Restoration Plaza. "People were chaining up doors; people were spray-painting on the walls, filling the swipers with super-glue… drawing all over the train," he said. 
  Piper said that the mood heated up when the crowd arrived at Fulton Street to a large police presence. The crowd linked arms as they marched to Restoration Plaza and then circled the plaza, forming a human wall. Protesters who broke away strayed towards surrounding police officers and "got grabbed," particularly, according to Piper, those wearing masks or scarves obscuring their faces.
  "At that point, people were getting dragged away in handcuffs," said Zach Pellechia, another Brooklyn College student at the rally. "We started chanting: 'We are peaceful, what are you? We are peaceful, what are you?'"
  Pellechia, a freshman film major, attended a rally protesting MTA fares and over-policed subways in Brooklyn last November, the second of its kind organized by Decolonize This Place.
  "This [rally] was a lot bigger," said Pellechia. "I think that shows what New York is upset with. People are getting angrier and they're not going to stay silent," he said. 
  Friday's events answered Decolonize This Place's charge for action on Jan. 31, advertised as #J31, and #FTP3 on the group's social media pages. Graffiti reading "KKK MTA" and "FTP" appeared in subway stations before the morning was over.
  The rallies follow the cities decision last year to hire an additional 500 NYPD officers to patrol subways. The decision, first proposed by Governor Andrew Cuomo in June 2019, immediately prompted a backlash from activists and politicians claiming an intensified police presence would target minorities.
  In recent months, videos of exchanges between cops and minorities in the subway have circled social media, including one of two women selling churros being arrested, and another of a 15 year-old boy being punched by an officer. Videos showing officers arresting homeless people in the subway have also sparked outrage.
  "I've always felt that there was a problem with the police," Piper said. "The police have way too authority…and not in a way where they're trying to keep the peace. It's like they almost get off on having that much power."
  The videos, while viral, are not enough in Pellechia's opinion. 
  "This issue is so understated in the media," he said. "The fact that no one is speaking about it is what makes me so passionate about it."
  He was encouraged by Friday's protest, however, feeling that the crowd's size was a sign of growing solidarity, and the manifestation of one of the protest's reoccurring chants: "We keep us safe."
  "This is a sign the city is starting to hear our cries," he said.