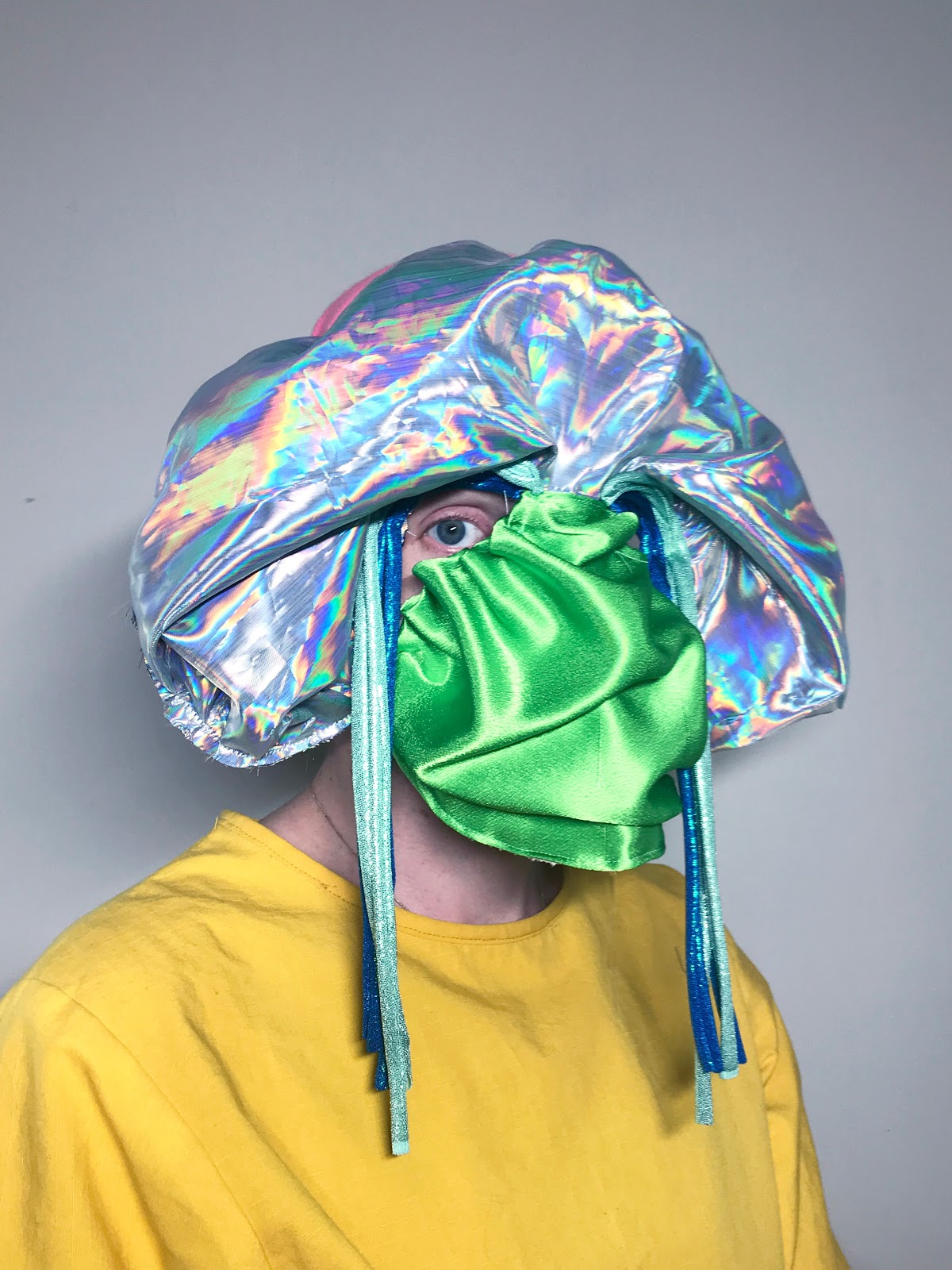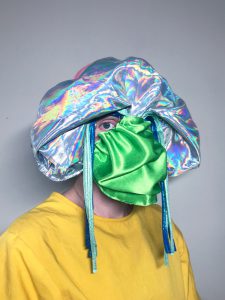 Last November I interviewed Ak Jansen in his studio on the fifth floor of Boylan Hall. There was a small crowd of clay vessels, some painted and glazed with delicious blues and golds, some not yet at their full potential for fabulousness. They loomed over their smaller, hand-sewn, quilted, pillow-like siblings who slunked around and about. With that same quilted textile, a few larger than life-size pillowy hands were tacked to the wall next to the many sewn drawings of wildflowers on layered panels of mesh, which, before getting close, resembled textured watercolor sketches. All this, as well as a few colorful canvas tops and jumpsuits which Jansen designed and sewed himself, mingled with queer histories like David Wojnarowicz's Close to the Knives, and art books like Joseph Albers' Interaction of Color. 
   We spoke about his move from a small town in the Netherlands to New York, and about the work that he was currently making as a first semester MFA student at Brooklyn College.
At the time of the interview, Jansen was thinking about sculpture and craft in the context of communal care, how to fuse this with his background in textile design. 
   "I've been looking for a way that a sculpture community could exist on terms where they take care of each other," Jansen told me in November.
   On Wednesday, Mar. 4, I skipped my last class of the day to head over to the Meatpacking District. Just before I was about to make my third lap around the triangular brick building which separates 9th Avenue from Hudson Street, I spotted an eccentric older couple on the sidewalk calling an elevator car. I figured they were going where I was trying to go. Some people got out, we got in, and the three of us made our way up to Ivy Brown Gallery, where Ak Jansen was having his first solo show, entitled "WE'RE HERE." 
   The show functions as an active reminder of the deeply historical, fervent and still very much present queer sensibility in an age of white-washed gayness. In the center of the gallery space, on three wooden tables (their legs carved by Jansen), a posse of those familiar vessels flaunt their delicately textural and vibrantly painted outer layers. Those patchwork textile forms tie themselves around their clay counterparts like cock rings, and emerge from their orifices like fabric ectoplasm. Together, these ceramics have attitude; they power-clash in style and form. 
   On the concrete wall opposite the sculpture display, thirty-six pillowy-hands are tacked on the wall and hung like a shower of invitations in a deconstructed homage to the AIDS memorial quilt. Appearing at the other end of the space are a number of those sewn drawings of wildflowers, some with a quilted frame, others left bare and skeletal like the dainty stems and petals. Lining the adjacent wall is an array of small watercolor anatomical studies of the show's sculpture work. These are (of course) adorned with glittery threads which weave in and out of the painting. 
   Each piece interacts differently with its own composite set of materials, seamlessly imparting the conceptual and historical frameworks that Jansen had been ruminating on since the previous semester. As a community of their own, the collection supports one another, and in that way they are present, as subjects with their own, playful, volition.
   On March 11th, exactly a week after the opening, all classes were moved to an online format in response to COVID-19's rapid spread in and around New York City. Jansen and I had scheduled an interview for the following day to discuss the show, but that was tabled for a later date, perhaps in a few days, I thought. I ended up being "one of those" and headed to Jersey to quarantine with my family, while Jansen got to work and began sewing face masks to be used as personal protective equipment. 
   We were finally able to catch up and chat about his newest work, a collection of vibrant anamorphic masks made in response to the novel coronavirus. Over the weekend, pictures of the artist wearing these masks were posted on the Instagram page of 601 Artspace, a non-commercial gallery in the Lower East Side which hosted the 2019 MFA end of year show. Under the working title of "Extravagant Hiding," the masks were chosen for an online exhibit, a practice which is becoming ubiquitous as galleries try to adapt and strategize in this time of social distancing. 
   "As soon as you wear a face mask, so much of your identity is taken away. I'm surprised at, say, not being able to recognize people who I know," said Jansen from his Park Slope apartment, where he and his husband, Sunder, are staying quarantined. 
   But the endeavor is not necessarily to make oneself recognized, the nine or so (and counting) ruched and draped assemblages of red and green plaid, blue and white gingham, iridescent and shimmery pink polyesters and silks cover the face entirely, leaving only the eyes visible.
  "A lot of communication is lost, so it was important for me to put identity as well as emotion into the masks," he told me. "And they are emotional, some are happy, funny, or joyful, some of them are even crying."
   Despite the glittery, tear-like tubes streaming from their eye-holes, and the semi-apocalyptic circumstances which prompted their creation, these masks resist despair. Embedded with the long history of queer craft-making, and in Jansen's play with proportion and stylistic textile hodge-podgery, the masks assert themselves. They wear the face. 
   "This all helps me to stay sane with all of these feelings and pent up emotions," said Jansen. He tells me that art is always important, not just now, and that his masks, which he refers to as "characters" can offer much respite. "It always reflects the political, social, mental period that we're living, and it allows for a different road map, different ways of perceiving things, than you might get in something like a dry news article."
   As we spoke over our screens, I didn't realize how optimally quiet our surroundings had been for an interview. Then an ambulance with its sirens blaring drove by his apartment. In any other instance this would have been New York normal, but the searing high-end of my laptop speakers served as an urgent reminder of the circumstance of the world.
   College life – life in general – has changed, especially for BFA and MFA students. For Jansen, there's no ceramics kiln, no Boylan Hall studio, and there's no telling what the MFA end of semester reviews will look like. It sounds like small fish compared to the suffering of many, but these are the fibers which make up the threads of our day-to-day lives, and while they're fraying at the moment, Jansen continues to sew the seams.