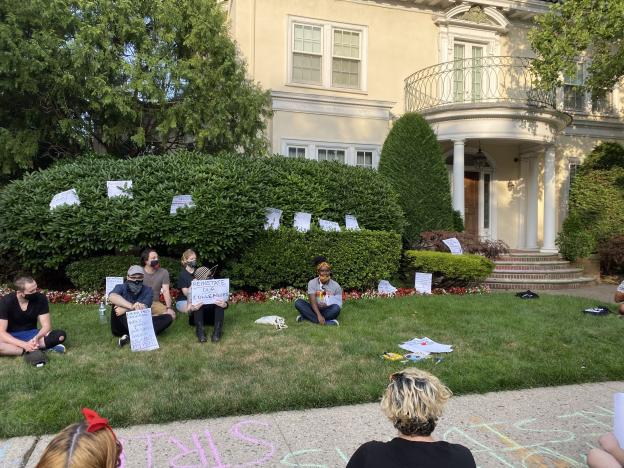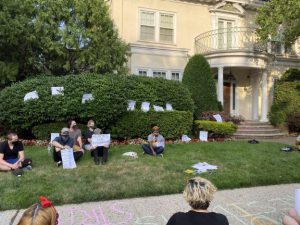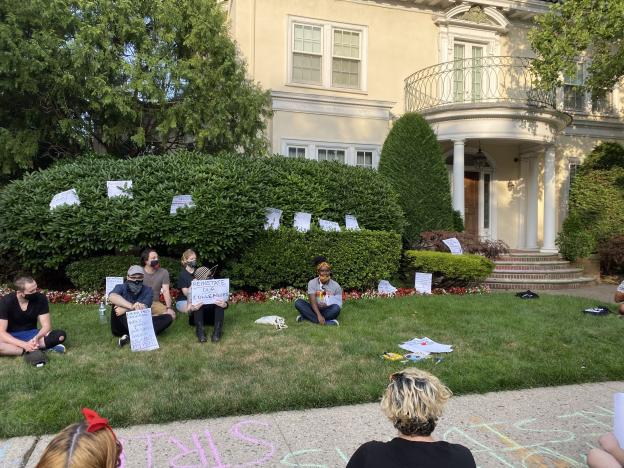 Sitting on the trimmed lawn of Brooklyn College President Michelle Anderson's home in Prospect Park South, several BC and CUNY adjuncts held a teach-in to protest firings and what they call the college's failure to implement anti-racist policies. 
    Organizers, mostly from the Rank and File Action group, littered the sidewalk and lawn in front of President Anderson's reportedly 1.6 million dollar, CUNY-financed home with signs and chalk calling for action from the campus administration. The adjuncts wanted to draw attention to the home, a regal two-story with a balcony, paid for by CUNY funds, and was previously occupied by Anderson's predecessor, Karen Gould. The goal was to juxtapose the lavish nature of the house with the plights facing students and professors during the pandemic, namely those of at least 52 adjuncts who have lost their health insurance or been fired since the outbreak. 
    "She shouldn't be living in this house," said one adjunct.    
     "We wanted to highlight the mass firing of adjuncts and the enduring racism of BC," said Conor Tomás Reed, Africana Studies professor and one of the event's organizers. The event specifically wanted to comment on Michele Anderson's tenure as BC President. "There's a legacy of structural racism under Michelle Anderson's tenure as BC President," said Tomás Reed, criticizing President Anderson's lack of acknowledgement of African Studies and Puerto Rican and Latin Studies majors, as well as her "Stand Against Hate" initiative, which critics have called performative. 
    The point of the demonstration was not just to protest, but to work as a teach-in, so the organizers brought in CUNY-connected speakers to talk about the issues they wanted to address. Robbery Cuffey, a CUNY grad and organizer with the Democratic Socialists of America NYC AfroSocialist Caucus, spoke about a history of racism and some of his own personal struggles as a social service worker during the pandemic. He discussed trying to get PPE for his coworkers, but being told by his supervisor to stop using outside vendors. "It's a society that does not value or prioritize human need," he said. 
    Another speaker, former BC graduate student Julia Steiner, spoke about her difficulty pushing the need for Indigenous studies and research at Brooklyn and CUNY, saying there are "Actions to keep professors that identify as Indigenous and People of Color out." 
    Organizers hope this will be the beginning of a continuing conversation on how to better the Brooklyn College community, and believe the buck stops with President Anderson. 
    "She should address these issues for a better place to work," said Tomás Reed.