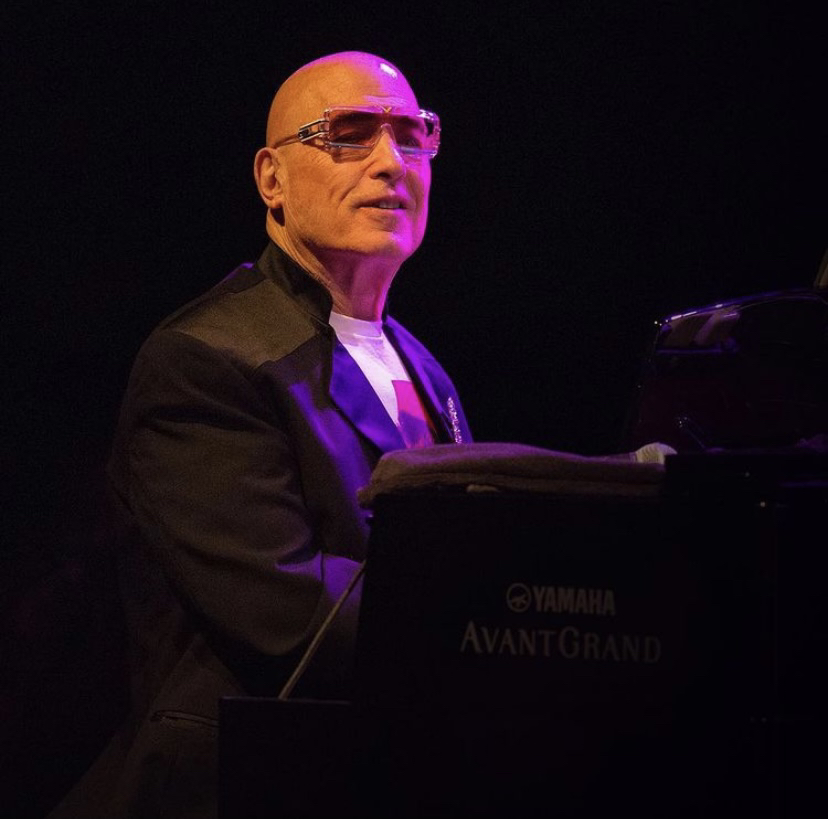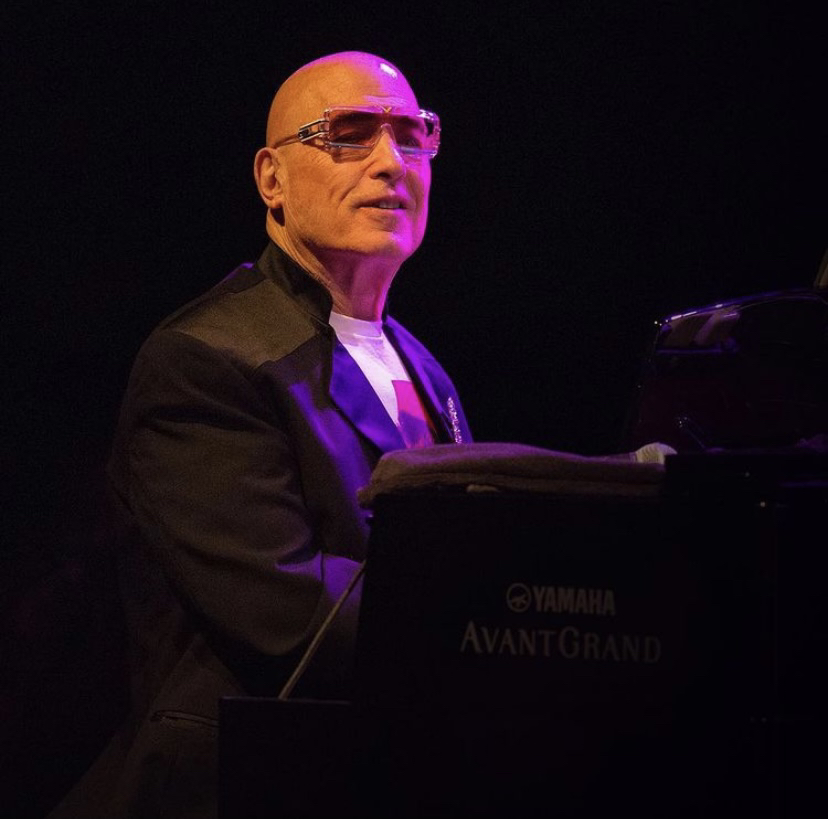 "In the middle class society in New York, or even the world today, every parent says 'you need a backup plan, you need a backup plan,'" pianist and Brooklyn College graduate Mike Garson told me from his home in California. "So you could always teach — you could always go into the system and teach and get a minor in education. Well, it's 50 some odd years since then. And I never needed a backup plan. I just play music."
   Garson, a graduate of the class of 1970, did indeed ditch the backup plan when he auditioned for David Bowie in 1972. Bowie, by then already a star with numerous hits like "Space Oddity" and "Suffragette City," was seeking new musicians to back him up. Garson got the job and hit the road, touring and recording with him for nearly five decades.
   "I looked out from the piano where I was being auditioned by his lead guitarist, Mick Ronson," he recalls, remembering that pivotal day. Only moments before, he had been at home in Brooklyn, teaching a piano lesson when his manager had called. Mid-audition, Garson felt out of place. 
   "And he [Bowie] was in the control room at RCA studios, which might have been like 40 feet away, behind a glass panel, watching. But each of the guys in the Spiders from Mars [Bowie's band at the time] and David, they were all like, decked out in the craziest clothes and hair and makeup. And I'm thinking, 'Where am I? I'm in jeans and a T-shirt. Where am I? It's seven o'clock during the week, and you guys are looking like this?'"
   Bowie offered him the job, touring America in support of his recently released album, The Rise and Fall of Ziggy Stardust and the Spiders from Mars.
   "I realized within weeks, he was a genius," Garson said of the man he would go on to tour with for the next half century. 
   However, Garson's impressive musical career had sprouted long before Ziggy Stardust came to town. 
   "When you grow up in a family in Brooklyn — a Jewish family in Brooklyn — there's a piano." he said. "That's just the way it was then. So it was written in stone: that's what I was going to be doing."
   His early listening included copious amounts of classical music and jazz pianists  — Bach, Beethoven, Ch
opin, Dave Brubeck, Erroll Garner, Art Tatum, Oscar Peterson, Bill Evans — and soon he began to develop an ear for the style that other musicians took note of. Encouraged by his mother to perhaps explore another avenue of expertise — a doctor or lawyer perhaps — he enrolled as a pre-med student at Brooklyn College. But something was off.
   "I had a very advanced teacher in biology, and he had just written his PhD on DNA when it was just being discovered," he said. "And I'm thinking, 'why am I reading this? I don't know the first thing about the simple things of biology,' but he was excited about his PhD, and that was the manual we got. Then, within a few months, I'm dissecting a pig — totally destroyed the pig. And I sorta get a failure on my course, and I go up to the teacher, and I walk him over to the window, and I pointed to the music building and I said 'I think I landed in the wrong building. Could you let me out of here?'"
   So off to the music building Garson went. And although he was already beginning to stake a claim in the local music scene as an impressive jazz pianist, he wasn't all that interested in the nitty-gritty music theory classes and lectures, and his grades dropped to a D level.
   "Well, guess what? Karma is a bitch. It was during the Vietnam War," he said. "So I was going to be drafted unless I could get my marks up to C."
   To remedy this as quickly as he could, he headed to Adelphi University on Long Island for the summer to take a few courses and get his grades up enough to avoid the draft. It didn't work. When he returned to Brooklyn, the transfer credits only bumped him up to a C minus. This forced Garson into something of a temporary Plan B: joining the United States Army Band.
   "I thought, 'Well, at least I'll be playing music,'" he said. "So we used to jam and I really got my foundation and discipline because I was lazy at the piano — maybe I'd do an hour or two a day — I started playing for six, eight hours a day, because that's how you got rated your marks and that's how you get higher."
   After three years with the army band, Garson came back to Brooklyn College to finish up his music degree in 1970, after which he continued to play around town as well as on a few albums, like Annette Peacock's debut solo record, I'm The One. The album caught the attention of none other than David Bowie. Peacock was an avant-garde performer and musician — the exact type that Bowie was searching for for his Ziggy Stardust tour. He asked Peacock if she might join him on the road, but when she declined, she offered up Mike Garson's name instead. Despite his growing transnational success, Bowie's name was unfamiliar to Garson.
   "Did you have any idea in any way who he was? Or what he was about?" I asked him. "Zero," Garson replied. It merely sounded like an interesting gig.
   "He didn't bring a piano player, which in itself was insane, because he was doing songs like 'Life on Mars,' and 'Changes' and you needed piano."
   But when Garson agreed to the position, he not only accepted a job, but a lifelong artistic partnership, one that seemed like destiny. 
   "Our relationship was always based on the creative process," he said. "And I think we felt the same way. We're both very spontaneous. We both love playing how we felt in the moment and creating how we felt in the moment. And we both were very hard workers."
   Garson ended up becoming Bowie's longest standing member of the band — someone Bowie turned to again and again even as his own musical personality shifted and changed colors like a chameleon. 
   "I was able to change styles with him, not because we were friends, which we were," he said, "it was more like, I was flexible, because I had played classical and pop and rock and fusion, and country and every style. He recognized my gifts more than I did, I must say, because I was kind of a self deprecating musician, like most are. I didn't believe in myself. And he did."
   And while there were periods of separation — Garson also spent time playing with dozens of other artists like The Smashing Pumpkins, Nine Inch Nails, and St. Vincent — their collaboration was unlike anything Garson had ever experienced with other musicians.
   "Of course, I loved playing for singers, and I loved playing music," he said, "but he had the largest vision, and it was never micromanaged. It was like, he'd give you a rough idea what he was going for, and trust you…If you're a true artist, when someone trusts you, there's no end to what you will give them."
   When Bowie died in 2016, it wasn't immediately clear what direction Garson wanted to take — until he realized that he could play a vital role in ensuring the music of Bowie lived on. For the last several years, he's been touring with dozens of former Bowie band members as  "A Bowie Celebration," a group dedicated to playing his music and sharing their stories of their time with him. The fans have been grateful for the continuation of a legend that, in Garson's opinion, would still be out touring today were he alive. 
   "I had no plan on doing this," he said. "When he died, my thought was: maybe I'll do some solo piano concerts, maybe have a singer and just do some of the songs, but it turned into this thing. Because I think there was a need and want for it." 
   When the pandemic hit and musicians were forced off the road, Garson had to figure out a new plan. It came in the virtual form, as many concerts have in 2020. This January, he's launching the same Bowie Celebration, but via a livestream for fans across the world. 
   The planning keeps Garson pretty busy, but not too busy to continue his other work, which recently included playing on the forthcoming Duran Duran album. Still, Bowie and their extraordinary friendship is never far from his mind.  
   "If I have one regret, it's: I took some of it for granted," he said, "because when you're there and you're on a bus and you're touring and he's your friend, and you're playing show after show — the last tour he ever did got cut at the three quarter mark because he had a heart attack, but we had done 113 shows — that's your family."
   "I've always been very supportive and will be my whole life," he said, "but Mike Garson is Mike Garson, and now is starting to, in a way, creep out. And that's interesting, especially since I'm 75. But it feels like my career is beginning."